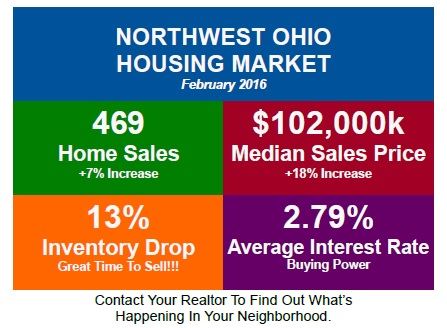 Northwest Ohio Local Market Update - February 2016
According to the Toledo Regional Association of Realtors, closed sales and media sales prices continue to be better than the same period of 2016. 
In February 2016, the market closed 469 sales, a 7% increase over the same time last year. Total sales volume generated was over $55 million, which was up 13% over 2015.
The median sales price increased 18% over 2015 to $102,000 while the average sales price was $120,929! Year over year prices are positively trending with an average increase of 8%.
The months' supply of inventory shows that February had 13% fewer listings than this time last year.
Full Report: http://toledorealtors.com/img/pdf/housing-statistics/2016/LocalMarketUpdateFebruary2016v1.pdf