2015 Summer in the City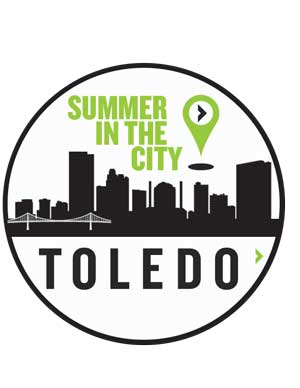 Summer in the City was created by the Toledo Regional Chamber of Commerce to provide an opportunity for interns and new employees to network and explore the Toledo Region. The program is an experience that provides participants with social opportunities to explore the lifestyle and vibe of the Toledo Region.
In the inaugural year, the program is hosting over 100 interns representing 70 cities, 32 colleges and universities, 20 companies, 19 states and 3 countries.
Throughout May, June and July, participants have the opportunity to:
Catch a Mud Hens games at Fifth Third Field
Taste some beer and wine at Veritas Cork & Craft
See downtown Toledo during the EPIC T-Town Dash
Learn about the Metroparks at the historic Stranahan Manor House
Experience Play Time at the Toledo Museum of Art
Take a tour of downtown apartments and lofts
Explore the new aquarium at the Toledo Zoo
Sip a matcha green tea with Councilwoman Sandy Spang at Plate 21
The Let's Do Lunch series provided the chance for the interns to network with employees, tour facilities, and learn about the industries and the economy of the Toledo Region. Hosts included Hickory Farms, Toledo Lucas County Port Authority, First Solar, Health Care REIT, Toledo Museum of Art and NORTH Design.
In addition, all participants were matched up with an EPIC Toledo member. EPIC Toledo is the Toledo Regional Chamber of Commerce's young professional initiative. EPIC, which stands for engaging people, inspiring change, is based on the belief that a region influenced by diverse young professionals is a region that can attract and retain them. These EPIC members live and work in the Toledo Region, so they were great resources for questions about the region.
To celebrate a great summer, send the interns off to school and encourage them to come back (like a boomerang), the Chamber will host a Boomerang Party on Wednesday, August 5th from 5:30-7:30 pm on the 8th floor patio of the Edison Building.
This is an opportunity for community and business leaders to interact and promote Toledo. Summer in the City Interns, Chamber Board Members, EPIC Advisory Members, sponsors, local media and participating companies are all invited to attend.
Summer in the City was made possible by the generous support from the following sponsors: