Local Leaders Recognized at 20 UNDER 40 Ceremony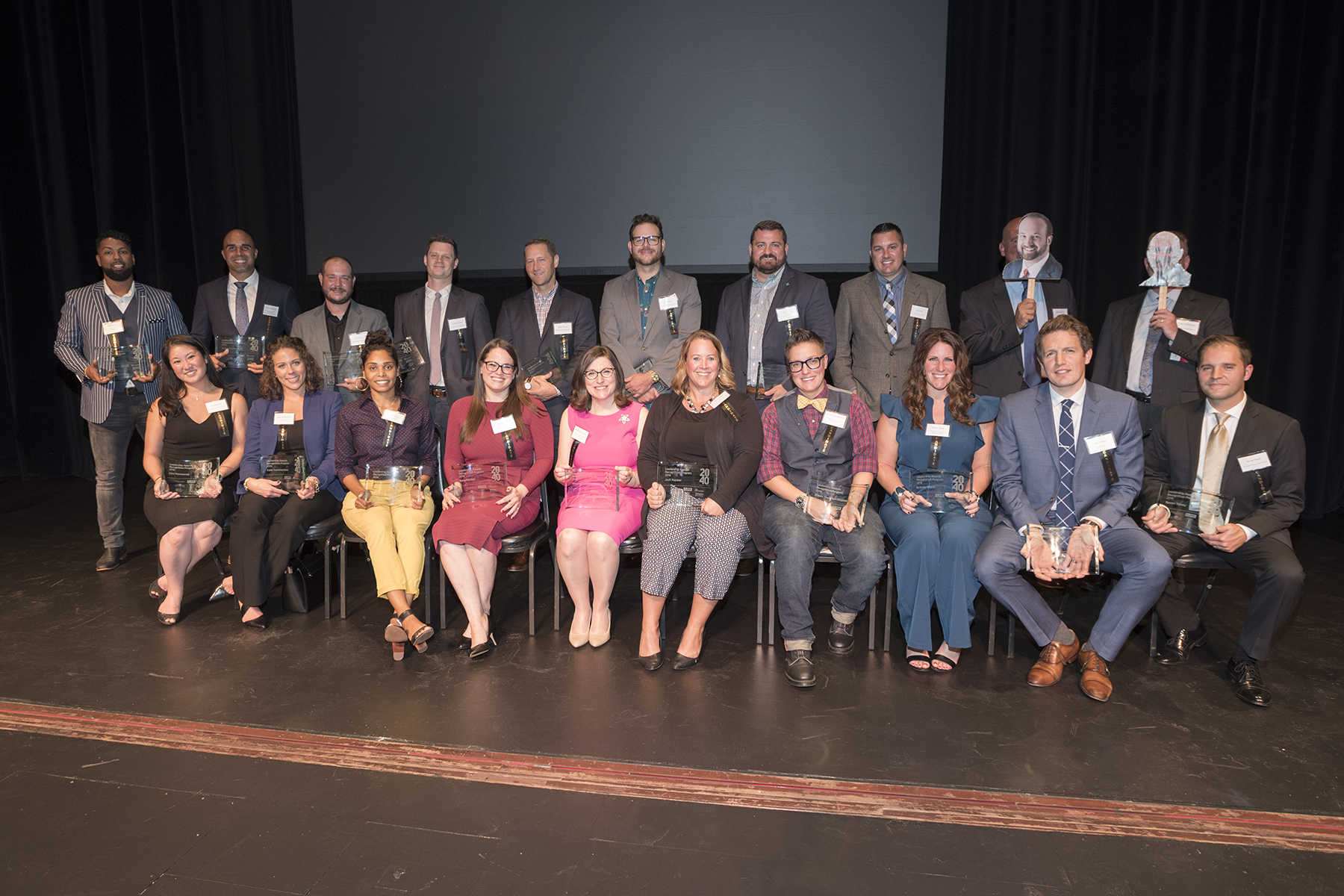 Celebrating the 23rd year of the 20 Under 40 Leadership Recognition Awards program, sponsors recognized 20 young leaders who joined the 440 previous recipients bringing the total to 460 awardees.  This year's recipients were selected from a record number of 255 candidates and announced at the September 24th awards ceremony at the Valentine Theatre.
The 2018 20 Under 40 Recipients:
Matt Bell Team Recovery/Midwest Recovery Center
Megan Casiere Lucas County Commissioners
Michael Craig Mercy Health           
Kate Decker Shumaker, Loop & Kendrick, LLP
Brady Fineske TDC Investment Agency
Jordan Garza Department of Justice, U.S. Attorney's Office
Bruce Gradkowski NFL/Social Gastropub/ProMedica/Pilgrimage Hospice
Lisa Hanasono Bowling Green State University
Alexis Hayman-Staples Harold Jaffe Jewelers/Collingwood Arts Center
Rob Krain Black Swamp Conservancy
Angela Lucas City of Toledo
Sam Melden ProMedica
Aaron Montz City of Tiffin
Joshua Murnen Lucas County Land Bank
Jodi Rucker ProMedica Memorial/Fostoria Community Hospital
Kate Sommerfeld ProMedica
Kevan Toney Toledo Police Department
Josh Wagy FuseTech, Inc./Kengo Sushi & Yakitori/Smashing Toledo
Britney Ward Hospital Council of Northwest Ohio
Dave Zenk Metroparks Toledo
An independent panel of judges selects the 20 candidates for recognition. The 20 Under 40 program focuses on the accomplishments of individuals under the age of 40 who have distinguished themselves in their career and/or as a volunteer in the community. It is intended that the program will further motivate young leaders in our area. Award recipients are not announced in advance of the program. 
"Each year 20 Under 40 receives hundreds of nominations for individuals whose abilities and achievements are worthy of recognition and this year exceeded all past years in numbers of nominations.  While only 20 can be selected, all candidates are to be celebrated because someone recognized their accomplishments and chose to nominate them," said Bob LaClair, Regional President, Fifth Third Bank, Northwestern Ohio, and a long-time sponsor of the event. "As sponsors, we are encouraged by the volume of candidates, their accomplishments and the continued success of our alumni," he added.
Individuals are nominated via an on-line nomination form and then required to fill out a candidate profile form. Nominees who were under 40 through June 30 became candidates by completing the on-line profile which was then reviewed by the judges.
This year's judges included:
Dave Schlaudecker , Retired Leadership Toledo Exec. Dir.
Nick Ulrich , Partner, Ulrich-Pinciotti
Lisa McDuffie , Exec. Director, YWCA
Lydia Mihalik, Mayor of Findlay
Kristi Hoffman, CEO, Total Package Global
Program sponsors include Eastman & Smith, Fifth Third Bank, Plante Moran, The Andersons, Inc., University of Toledo Alumni Association and Sauder Woodworking Co. The Toledo Business Journal serves as the media partner, Leadership Toledo serves as the community partner and The Creative Block is the website partner.  Community support is provided by EPIC Toledo, The Toledo Symphony, Toledo Lucas County Public Library, Toledo Museum of Art, Toledo Opera, Toledo Zoo, Ulrich Pinciotti and the Valentine Theatre.