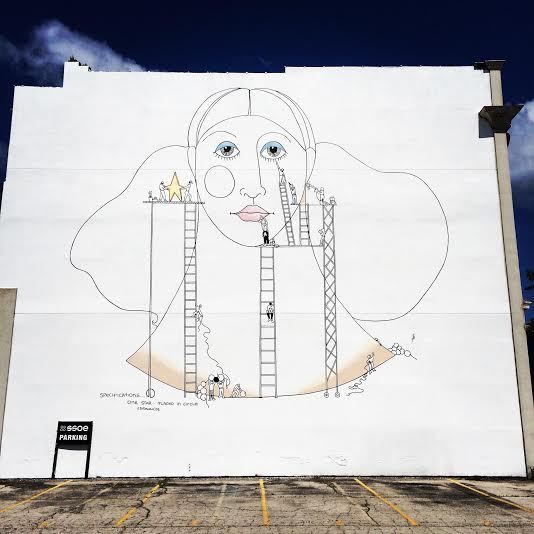 Murals, Murals, Everywhere
2015 is a very big year for murals in central city Toledo neighborhoods and beyond. In its fifth year of community organizing and public art coordination, Art Corner Toledo was granted funding from Toledo City Council as well as the Lucas County Commissioners to cover administrative and artist fees. This has made it possible to take on over ten projects to be completed before October of this year. The result will certainly be an explosion of murals to round out the summer.
The first two projects to be completed this year were painted over the Winter by lead artist, Yusuf Lateef, with help from neighborhood volunteers from the OWENI neighborhood as well as Martin Luther King Jr. Day of Service volunteers from BGSU. These two murals were painted on panels at the Collingwood Arts Center and installed in March and April on walls on Detroit Avenue and Delaware Avenue. The first was a partnership with OWENI (a neighborhood organizing group- Old West End Neighborhood Initiative) and the second was a partnership with Toledo Fair Housing Center to celebrate their 40th year of service.
The next project to be completed was an adaptation of a Judy Dilloway piece. Judy was a local artist who passed away in 2006. She lived in the Old West End and was instrumental in the beginning of WOWE (Women of the Old West End) and the first years of the Old West End Festival. She was very prolific as an artist but most of her work ended up in private collections and never really got public exposure until after she passed away when a retrospective of her work was on exhibit at Diva Restaurant. This summer, Art Corner Toledo hired local artist, Maura Amato, to project and trace the image of the drawing on a wall at Adams and 11th Streets in Downtown/UpTown Toledo. With help from Dilloway's family and friends, the wall was patched, primed, and prepared for Maura to recreate the piece on a 40 foot tall by 50 feet long wall. The project was completed in one month. In-kind donations were provided by Behr paint organized by Home Depot and Skyworks Lift Equipment. Financial contributions were made by Dilloway's friends and former colleagues and Toledo Metro Federal Credit Union to purchase primer and other materials. Storage space and hospitality was provided by All Crumbs Bakery as a neighbor to the mural. This was a truly a community collaboration.
Remaining projects for this summer are currently underway. They include a mural in Point Place being painted by Patrick McDonagh which highlights the history of Point Place, a pet rescue themed piece by Bradley Scherzer to be painted on Adams and 13th Streets perpendicular to The Love Wall, a Mud Hens and Toledo treasure themed piece at St. Clair near Washington in the Warehouse District, and 12 separate pieces at 129 N. Huron near the Toledo Farmer's Market to be painted by 12 different local artists. Each of these projects incorporated elements of community organizing, volunteerism, and resource sharing to perpetuate the fact that murals bring people together and promote Toledo as a city full of artists and activists. The Village on Adams, Laborers Local 500, Toledo Metro Federal Credit Union, The Warehouse District Association, Buckeye Cablesystem among others have all helped to raise necessary funds and in-kind support tJudy hat make these projects possible.
Keep an eye out for these exciting additions to Toledo!
And for additional information or to find out ways to contribute, contact Rachel Richardson at Art Corner Toledo at artcornertoledo@gmail.com.