The Inspiration Behind Toledo Tech Company, AudiblEye
Have you ever noticed something a little out of place and thought to yourself, "Someone should fix that, it doesn't make any sense?" One Northwest Ohio resident did just that and has declared Sylvania, Ohio home for himself and the headquarters of his new business.
When Jerrod Witt first went off to college at Bowling Green State University, little did he realize that in four short years he would be launching his own business and pursuing a new dream of helping the visually impaired with technology. Instead of following in the footsteps of his many peers, he graduated and decided to take a risk – not pursue a full time job and instead dedicate his time to developing his idea for an application that would provide the blind and visually impaired assistance with indoor navigation. A self-proclaimed "nerd", Jerrod began his journey during his sophomore year at BGSU and recently launched his new app, AudiblEye, at The Sight Center of Northwest Ohio.
Toledo Region (TR): What inspired you to create the AudiblEye?
Jerrod Witt (JW): During my Sophomore year at BGSU, I was getting lunch at the student union and I noticed a braille sign about 10 feet high and I thought to myself, "how is someone that is blind supposed to know that is there?" This got me thinking, and I began to notice more and more braille signs in ridiculous locations. I have always considered myself pretty "nerdy" and have always been obsessed with technology, so I decided to see if there was a smartphone application that provided blind and visually impaired users with indoor navigation. I found that there was nothing out there and began to think of how I could use technology to provide indoor navigation to the blind. I didn't really think much of my idea, but I mentioned it casually to my roommate Loren Branch who told me about a program at BGSU called The "Hatch". Loren introduced me to Kirk Kern, Director of the Dallas Hamilton Center at BGSU. I talked with Kirk briefly about my idea and he also encouraged me to apply. I was accepted into the program and had the opportunity to develop my idea and pitch to a panel of alumni investors where I received an investment to begin the development of my company!
TR: What an awesome idea! Could you share more of your journey with us and how you got from the "Hatch" to The Site Center of Northwest Ohio?
JW: After receiving the investment during The "Hatch" program, I began to develop the idea further. I discovered that we could use Bluetooth beacons that work with the phone to triangulate the user's position within a building. So we created a prototype of the application and installed beacons at the College of Business at BGSU and the Cleveland Sight Center. This application was only a beta version and was not on the Apple app store, so I could not demonstrate the app unless I was physically at the location where our Bluetooth beacons were located. After installing at these two locations, my developer informed me that he had recently received a promotion at his full time job at a college in New Jersey, so he would not be able to provide as much assistance due to an increased workload and pursuit of his doctorate degree. This lead to a pivot in the company's growth and development, and I began to research other developers and found that we would need more money in order to move forward.
During this time, I was in my last semester at BGSU and graduated in May of 2015. I decided rather than to pursue a full time job with my degree that I would continue to pursue AudiblEye and only take a part time job. I was working to find a new developer and was unable to acquire additional funding to pay for the development. However, I attended a White Cane Walk that The Sight Center of Northwest Ohio was holding here in Toledo. I spoke with one of their board members and explained the issue that I was having and she told me that they may have a solution to my problem. I began to work with The Sight Center of Northwest Ohio and they have invested in the development of our application so that it could become fully realized. Once the app was fully developed, we were ready to install at The Sight Center of Northwest Ohio and held our "Grand opening" event on Tuesday March 22, 2016. The Sight Center of Northwest Ohio is the very first fully equipped demonstration facility, and we are very glad to be working with them as this will allow for the product to be demonstrated effectively!
TR: So you've launched successfully and are officially up and running, congrats! What are your plans for the future of AudiblEye?
JW: Now that we have a fully functioning installation, we are able to demonstrate the product to potential customers. Our plan for the future is to expand into many facilities locally and also nationwide. My ultimate goal is to get legislation passed so that all public buildings will be required to implement the technology so that blind and visually impaired individuals can navigate independently within a building. Our target market includes hospitals, hotels, shopping malls, airports and other public buildings that may be difficult to navigate otherwise.
We are currently looking for additional locations to install the product and will begin to conduct temporary installations at conventions across the nation. The great thing about this technology is that it can be permanent or it can also be installed temporarily for specific conventions or events. AudiblEye will primarily focus on permanent installations, however we are open to temporary installations as well.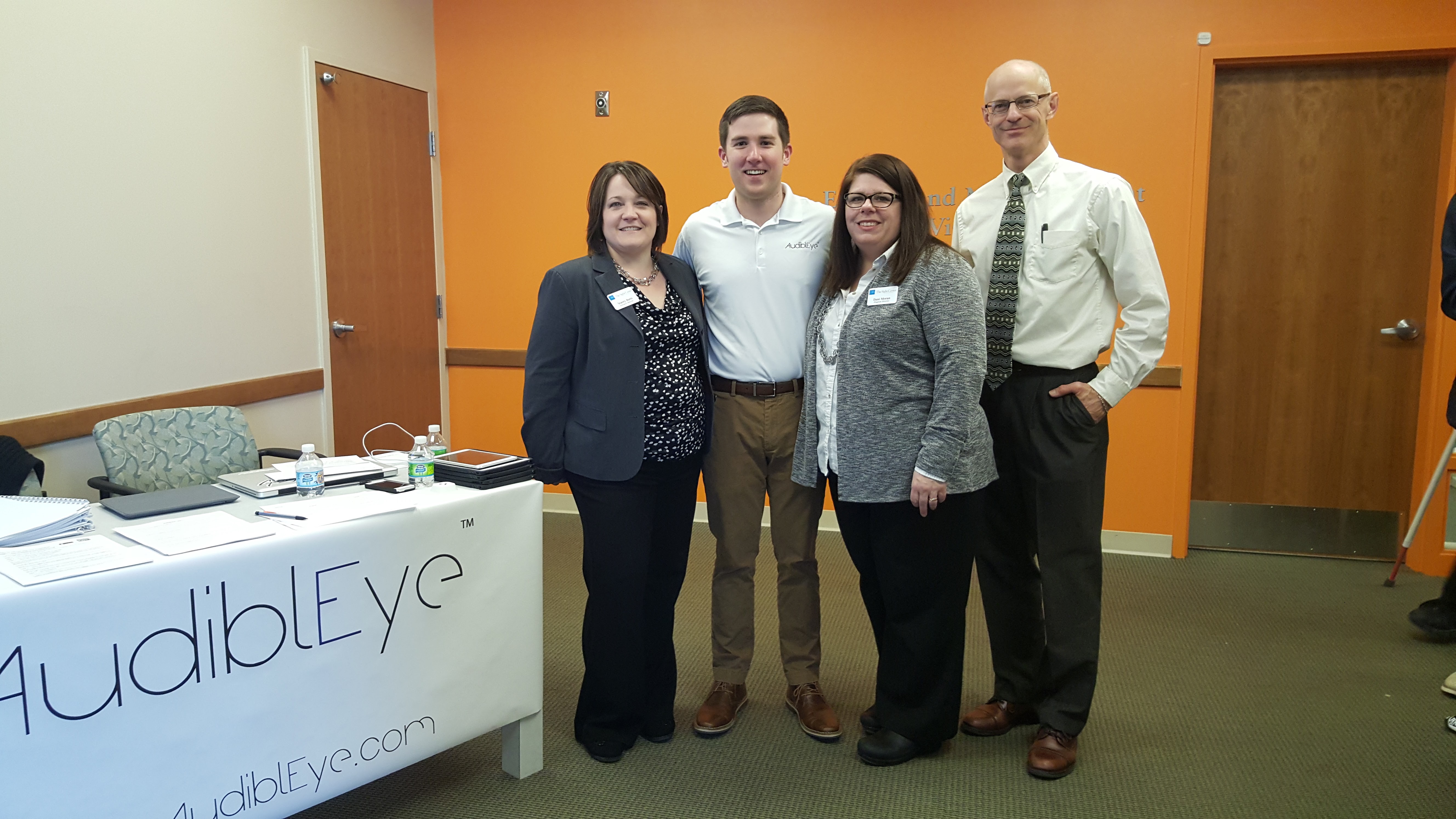 TR: It is so exciting that you've chosen Toledo as home base for this breaking technology. What attracted you to this area for the launch?
JW: I was born in Findlay, Ohio, and my family moved to Sylvania after my father received a new job. I attended Sylvania Schools and graduated from Sylvania Southview in 2011. I then decided to go to BGSU and study business and graduated with a Bachelors of Science in Business Administration with a marketing specialization and minor in Entrepreneurship. After graduating in May of 2015, I moved back to Sylvania, Ohio where I now call home.
I chose Toledo for the launch of our product because we were able to receive the support of The Sight Center of Northwest Ohio. This center is extremely helpful to individuals who are blind or visually impaired in the Toledo area, and they provide invaluable services that improve the quality of life for sight impaired Toledo residents.
I believe that Toledo is a great place with a great diversity of people who care about each other. I plan to stay in Toledo because I think that this city is great, and I hope to expand AudiblEye so that we can create jobs for local individuals.
TR:  What are the next steps for you, the brand, and the app?
JW: The next steps for me include marketing this product to businesses and individuals nationwide. We are working with an organization called MDSupport that is located in Missouri, this organization provides a similar application to AudiblEye, but on a temporary basis for conventions that are conducted by organizations such as the National Federation of the Blind (NFB) and American Council of the Blind (ACB). AudiblEye has been contracted to complete 4 of the 7 conventions in 2016. At these events, we will install Bluetooth beacons and equip the conventions with indoor navigation capabilities. We hope to obtain customers by conducting these conventions and to promote the brand at each one of the events.
We are looking to improve the application and add additional features to the app. We are actively seeking feedback on the app and will take each bit of feedback into consideration in future updates to the app. My mission is to provide an application that includes features that are the most beneficial to the blind and visually impaired community.
TR: So who is "we"? You have big plans for the future, how many people are helping you build the company?
JW: Currently, the only two individuals that are behind AudiblEye are myself and my co-founder, Austin Eckert. We are hoping to expand our team as we have an eventual need for individuals to complete installations and to help with the maintenance of the Bluetooth beacons. To date, we have somewhat bootstrapped the company and have not been capable of reaching full potential due to our monetary constraints. We currently have two investors, so we are seeking additional investment to help us take the business to the next level. We also look forward to working with the community's business support agencies as we further develop and grow.
Thank you Jerrod for sharing your story. You can learn more about AudiblEye on their website and follow their latest news on Twitter.
Interested in sharing your story? Contact Jeff Schaaf, jeff.schaaf@toledochamber.com!