In the Limelight

—
Daniel Woodcock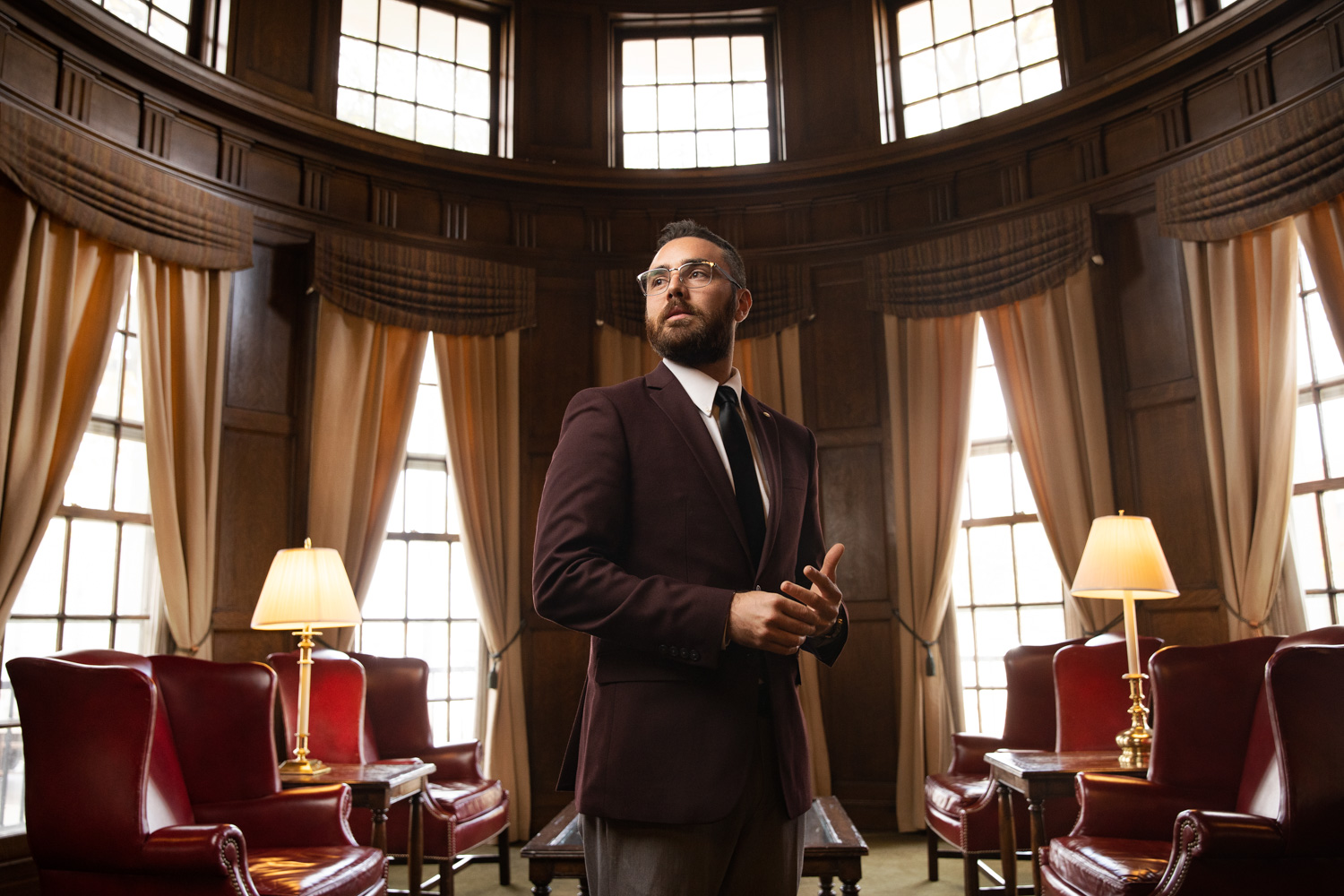 Daniel Woodcock wants everyone to see Toledo the way he does
When Daniel Woodcock rides his bike, walks his dog or grabs a coffee downtown, he sees a beautiful, bustling city. He sees growth and excitement, and is thrilled to be a part of it. When he moved here from Chardon, Ohio, to attend the University of Toledo in 2010, however, he saw a disconnect in how some residents perceived the city.
So, he sought out to change that perception.
"Some of the bad things that some of the people had told me about, frankly, I didn't see. I looked out my window and said, 'Wow, look at these bridges and this river,'" Woodcock says. "There's all this new opportunity, new things coming up, business ventures, new breweries. It felt like there was a momentum that I felt like I had an opportunity to be a part of and impact."
Woodcock graduated from UT with a marketing and business degree, and set to work to improve his new home. He wanted more people to look past prejudices and see Toledo the way he sees it; as a bastion of opportunity. He had gotten a job at a local advertising agency, but he felt he could influence the region in a more hands-on way. So, he quit and started his own business: Peacock Social.
Woodcock saw a major hole in the way local businesses were marketing themselves, and wanted to bring his expertise in social media marketing to the region. But he didn't just want to do it for anyone; he wanted to focus on the entities he really cared about.
"I noticed from working at two ad agencies that there was a big hole, and I wasn't able to do what I wanted to do at a larger agency. I also noticed that I wasn't able to do it for the type of clients I wanted to do it for," Woodcock says. "The Metroparks, Symphony, Imagination Station, Epilepsy Center, Boys & Girls Club, St. Francis de Sales School; all those groups that, when you do things with them – and the Chamber, too – you can feel a bit of passion."
On top of starting his own business, Woodcock helped launch the Toledo Matters Podcast and the @Downtown419 Instagram account in hopes of reminding residents what lies in their back yards.
"When I first started my company, I told people I had a mission to make Toledo look better on the internet," says Woodcock. "Now I think my purpose is transitioning a little bit from making Toledo look better on the internet to making Toledo a better place to live."
Woodcock serves on the International Services Committee for the Rotary Club of Toledo, on the board of directors for the Toledo Uptown Association, on the board of trustees for the Toledo Area Regional Transit Authority (TARTA), on the Advisory Council for EPIC Toledo and is on the board of directors for Downtown419.
Toledo may not be Woodcock's hometown, but there's a reason he puts so much time and energy into helping to improve the place he lives.
"Toledo's done very well by me. The opportunity to live here is so affordable, the people here are so kind and generous," he says. "Everyone kind of wants to help everyone else."
However, nothing gets Woodcock fired up quite like a discussion on public transportation. His passionate work through TARTA exemplifies that. When asked about public transit, he'll start with a disclaimer: "Well, first, this is going to be a long rant."
"I think public transit has a big opportunity. … Our job is to keep wheels on the road, get people to church and see their families," he says. "To not be able to do that really, really disarms me."
Woodcock loves to travel, and is inspired by transit systems in other communities around the world. But with transportation changes throughout the region and across Ohio, he sees a major opportunity for Toledo to get involved, too.
"We have the possibility that one of those Hyperloops are going to come here, so if we match that with a quality public transit service that goes countrywide, all of a sudden we're a suburb of Cleveland and Chicago," Woodcock says. "Then we have a handful of new tenants, handful of new businesses – maybe more than a handful – but it becomes more active."
Travel is just one of the ways Woodcock spends his seemingly scarce free time. Trips to China, Costa Rica and the Netherlands stand out. He's able to travel so much, he says, thanks to the affordability of the region, but he's always happy to get back home.
"I always feel so relieved and relaxed when I get home," he says. "There's a comfort of being home, but Toledo's downtown is so extraordinary and unique. … You can walk around without much congestion, not much traffic, not many horns honking. It's very safe; I ride my bike everywhere."
You can catch Woodcock riding his bike through downtown, at one of the many coffee shops in the city or at the Toledo Club, where he spends most mornings working. Every morning, Woodcock makes it a point to start the day off on a positive note.
"I'm one of those nuts who thinks it's really important to be in the right mental state when you start a day, so the first thing is write three things you're grateful for," he says. "It's usually something silly, like I'm really happy to have heat because it's cold. Or, like, I'm really happy to have Cairo, our dog."
Despite how hard Woodcock works every day to showcase how great the region is – and help improve it along the way – he acknowledges that he's not alone.
"It's amazing to see the tenacity of the community," he says. "If I had to tell someone from outside Toledo anything at all, it would be that we're coming up. We're coming up strong and we're coming up fast."