In the Limelight

—
Sada Tadesse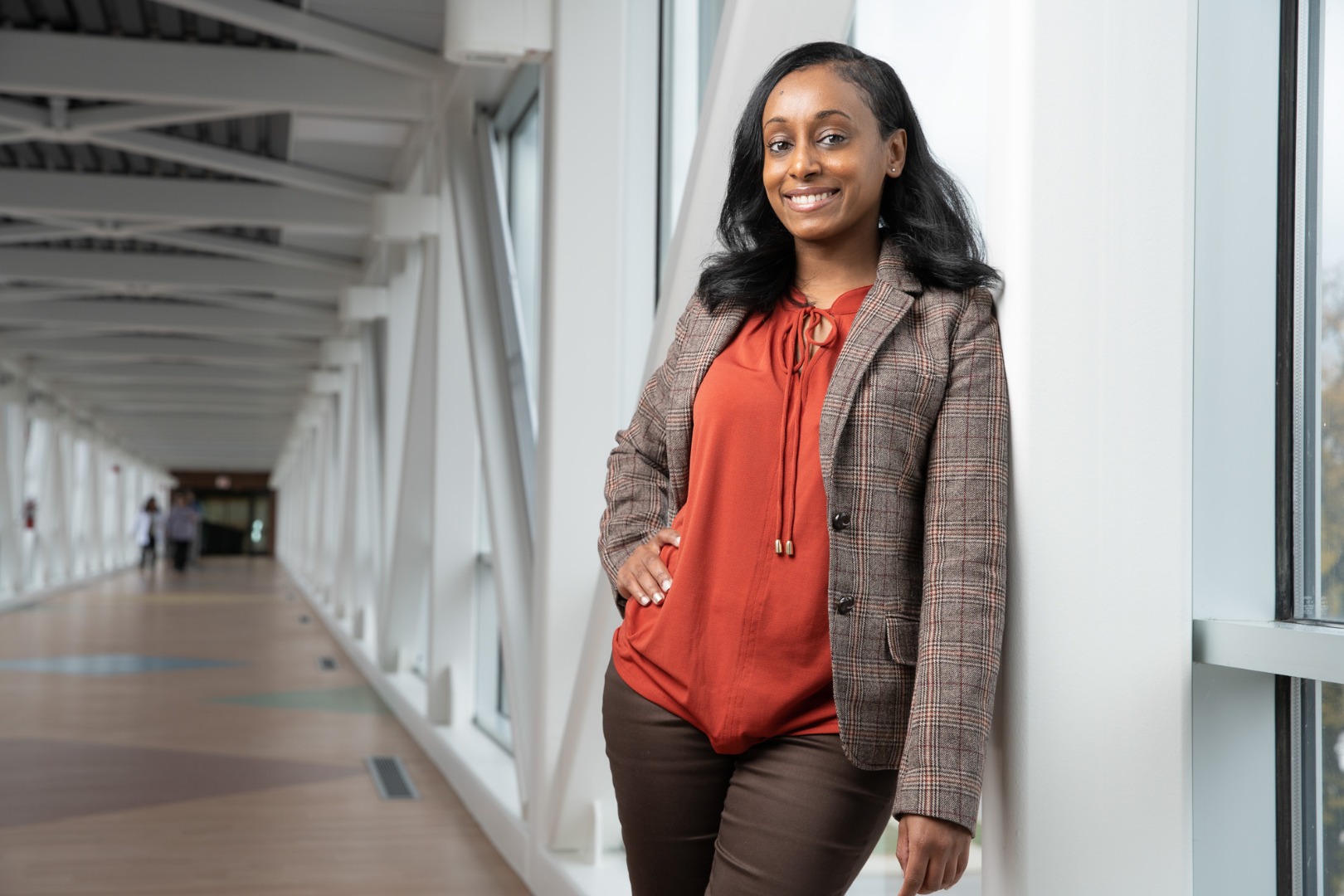 Sada Tadesse thrives personally and professionally in northwest Ohio
Ethiopian-born, Erie, Pennsylvania-raised Sada Tadesse knew she wanted to explore health in her professional career, but she wasn't sure exactly what area. Luckily, Pennsylvania State University had a master of health administration program that combined undergrad and graduate.
As she looked toward graduating, she was faced with two choices: go directly into employment or explore an administrative fellowship. Tadesse took the second option. She was accepted to two hospital systems: Mercy Health and a system in St. Louis, Missouri. When she explored both systems to discover which aligned more closely with her goals, the choice was clear.
"I grew up and served in poor areas and my mother's been a housekeeper for 25 years," Tadesse says. "I think their mission really resonated with me because I felt like the reason I got into health care in the first place was to help people that needed it most. Knowing their mission I felt like I was able to do that."
Tadesse and four of her colleagues were placed in the Mercy system, and Tadesse was placed here in Toledo at St. Vincent Medical Center. Without any connection to the area and family spread across Erie, Cleveland and Atlanta, Georgia, the 22-year-old moved to Toledo with mixed emotions.
"It was exciting because I was embarking on a new journey, but it was also scary because I knew I had to embark on it on my own with no family or support," she says. "I knew I had to work a little bit harder in order to make it, especially because I wasn't from here."
As soon as Tadesse got started, she flourished. She began four years ago as an administrative fellow and has risen to her position now as director of support services. The hard work has paid off but, Tadesse says, a lot of credit belongs to her mentors. She mentions Matt Sapara, vice president of operations and regional development for Mercy Health – Toledo.
"I owe it all to my mentors and my sponsors. I really wouldn't be where I am today. There's a few leaders that I can call off that really believed in me and gave me an opportunity, and really gave me that chance," Tadesse says. "I feel like (Sapara) has allowed me the room to grow and learn and even if I stumble along the way, how to get to that end goal without telling me how to get there."
To immerse herself more in the community, she got involved outside Mercy as well. Tadesse went through Leadership Toledo's adult program; joined EPIC Toledo, now serving as vice chair; and serves on the board of the Dental Center of Northwest Ohio. She also met some of the people she now considers her best friends through the Toledo Young Black Professionals group.
"It's funny looking back on it now. I didn't know it at the time but two or three of my closest friends, I was going to meet then and there," she says. "You sort of think it's going to be harmless, you're going to be social, meet new people, not really thinking much of what's going to come out of that."
Tadesse says most of her closest friends here are people that she was able to bond with over being newcomers. While many Toledoans' families have been here generations, there is a large community of transplants who are looking to get more involved in the community, make northwest Ohio a better place to live and to support other new Toledoans.
"I've met some really great people unexpectedly, not thinking I would make those connections or those friendships," she says. "The ones that do have family here, I think, have embraced the fact that some people don't have that, so what can they do to make sure (newcomers) have a great experience?"
While every community has people who are kind and welcoming, Tadesse says Toledo is especially welcoming due to its size and its tight-knit nature. It's perfect for young professionals on the job search or for established professionals who are interested in getting more involved in their community.
"One of the greatest things about Toledo is the ability to make connections and sustain those connections, because at the same time it's a city, it feel like a town at times where everybody knows everybody. That five or six degrees of separation is, like, one here," Tadesse says. "The job market is booming here and there's a lot of opportunity for young professionals to be able to grow here. I also think it's a city where you're able to make meaningful connections and friendships."
Tadesse has seen an incredible amount of growth in the short four years since relocating. She says that, when her sister and mom came to help her move in, downtown was a very different place than it is today.
"The development and growth as a city and the ability to get involved in a little bit of everything or find something you want to get involved in – there's something for everybody," she says. "I think it's fantastic the way they've been able to turn around and boom. It's a place where young professionals do want to be and live and hang out and go out. It's been awesome to see the transition."
Tadesse loves to explore the food options around Toledo, and she says there are spots in northwest Ohio for whatever she's craving, whether that be Italian, Jamaican or Middle Eastern cuisine. She also enjoys going to festivals like the Old West End Festival, the Toledo Museum of Art, and the Toledo Zoo and Aquarium. Tadesse also says that, thanks to the region's cost effectiveness, she's been able to manage her money in ways that wouldn't be possible elsewhere.
To young professionals who find themselves in the position she was in four years ago, Tadesse recommends reaching out, making new connections and be willing to explore new things.
"Be open to meeting new people. And sometimes, you know, things may not be handed out to you. You've got to be willing to work for them," she says. "I think you'd be surprised how willing they are to connect or to get to know you or to figure out how they can help you succeed in Toledo."