Urban Innovator 

—
Amir Khan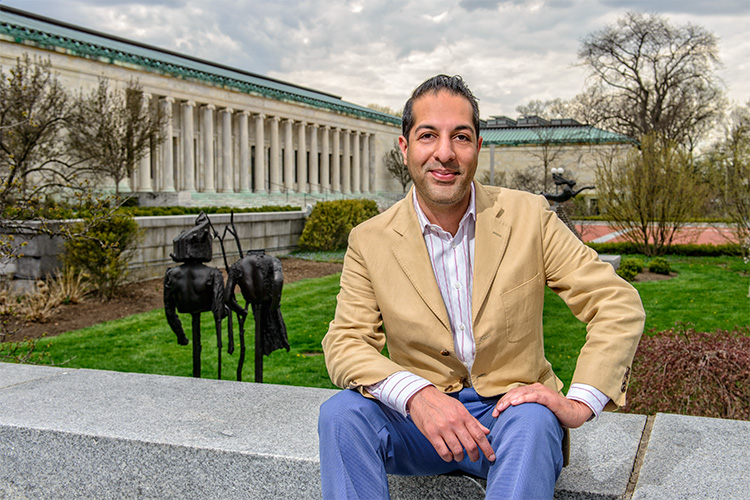 Striving to make art more accessible
New Jersey-born and Toledo-raised, Amir Khan grew up going to the Toledo Museum of Art and even had his first internship there. Now, he's involved with the Museum as the past president of Circle 2445, an engagement group for young people and those new to the Museum, and he's on the Museum's Board of Directors.
As a co-founder of Circle 2445, Khan served as president for four years and is proud of how well the group has been serving its mission to make the Museum more accessible.
"One of the things we wanted to do when we started the Circle was to give a level of access to the museum — which you could normally only get if you were a major donor — to people who were younger," he says. That includes special events and tours, like the annual Kentucky Derby Party, which fills the museum with games, food and plenty of fancy hats.
Though he was interested in the arts since a young age, thanks in part to teacher David Burkett at Maumee Valley Country Day School, Khan was initially unsure about his career path.
"Medicine was sort of a default for me because my parents are both doctors," he says. "When I didn't know what to do, that's what I decided to do."
But after dabbling in architecture and eventually getting a degree in political science from The Ohio State University, he headed back to Toledo, got a job in advertising and decided not to go to medical school.
He now owns Black Swan Interactive, a software company that provides data visualization, app development and other services for advertising agencies and marketing firms. The name refers to a theory of improbability: "I thought it was fitting for me because all of these things had to come together for me to end up in this position to start the company."
Those things include learning web development and getting laid off in 2008 — right before a design company he was affiliated with landed business that included interactive components, which spurred him to start the company and bid to work on those interactive components.
Khan is well-connected in Toledo, thanks in part to regular squash games at the Toledo Club, where he gleans business from a largely older generation. There's no generation gap when it comes to business, though.
"The general strategy of how to succeed in business has always been the same," Khan says, noting that age doesn't matter because businesspeople have always needed to understand market needs and competitive advantage, among other things. "They provide tons of mentorship and great advice, especially strategic and theoretical advice."
More connections are cultivated through the Toledo Museum of Art. At 34 years old, Khan is the youngest member of the Museum's Board of Directors and enjoys the chance to help reinvent the Museum, which is privately funded.
"[The private funding] gives us the ability to operate in a very unique way, which is that we can be super progressive and do really unique events, like big-scale events that don't generally come to the Midwest," he says.
Khan knows he's lucky to have so many Toledo connections, and he knows it's not the same for all business owners.
"One of the things I wish was better in Toledo is a more traditional-style incubator, business-advisory type thing. When you start a business, there's all this stuff you don't know," he says, noting that business owners do have more resources in the city now than when he started Black Swan Interactive. "Stumbling through that distracts a lot of new business owners from growth."
There was a lot of stuff Khan didn't know back when he landed that first internship at the Museum, which he thought would be easy. The internship with the development office turned out a little differently. The gig required him to walk all around the Museum and document who donated each piece of art — a document he's still not completely sure the Museum didn't already have, and definitely not the easy summer job he was hoping for.
Overall, Khan is happy with the direction the Toledo Museum of Art has been taking, especially in terms of bringing in diversity.
"Getting people inside the walls, even if it's not to look at paintings, is art education to us now, which is really cool," he says.
Toledo Urban Innovator Gallery
—