Urban Innovator 

—
Andrew Newby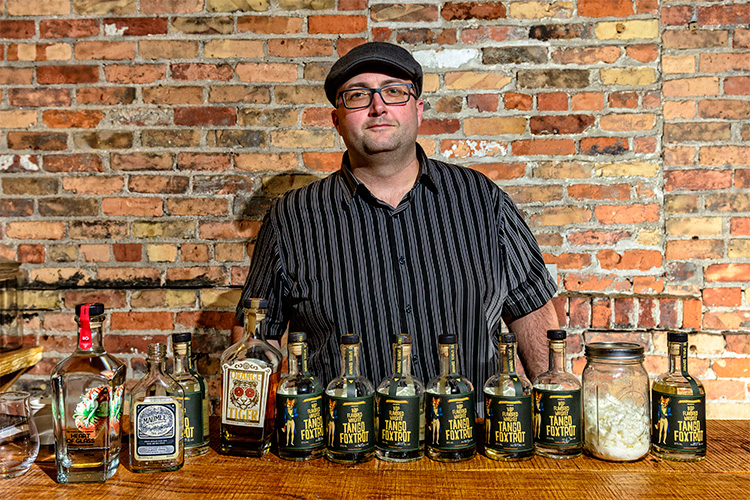 Making Whiskey - and Software - In Toledo
Andrew Newby didn't have a background in computers or technology when he started the business and sales software company Avatar in 1997. It didn't matter. In 2013 he started a distillery with some friends — the Toledo Spirits Company. He didn't have a background in that industry, either, and it still didn't matter. He figures it out as he needs.
"What have our challenges been in starting Toledo Spirits? Not knowing a single thing about manufacturing, process, and inventory," he says. But he's learning, and though the Toledo Spirits Company has only been open for three years, many people have sought his expertise and advice. It helps that Newby and his partners are willing to make mistakes and learn from them.
"There's a lot of trial and error because we've got to figure out our own recipes, our own process, our own way of doing things," he says.
Newby isn't Toledo born and raised, but he's been here since 1992, so he definitely feels like he's from Toledo now. The Toledo Spirits Company is his newest venture; though he was interested in the farm-to-table concept, he didn't exactly want to start a food business. Whiskey seemed like the perfect fit.
"We've got three natural resources in northwestern Ohio," Newby says. "We've got a lot of grain, we've got a lot of glass, and we've got a lot of water, and the best possible thing you can do with those three ingredients is make whiskey."
He wants to use those resources as much as possible, and prefers to buy ingredients locally. Corn's been difficult, he says, but rye comes from a local Community Supported Agriculture (CSA), Shared Legacy Farms, and they're able to get some barley from Cleveland. Local fruit has a place in the Toledo Spirit Company's products, too, including apricots, strawberries and apples.
Local sourcing is inspired in part by Black Kite Coffee, the coffee shop his wife has owned in the city's Old West End since 2012 that also buys locally.
Newby knows everything can't be local, but he makes a good effort: "In every single bottle [of Heart of Glass strawberry vodka], at least some of those strawberries have come locally."
When the company was starting out, it was important for Newby to have "Toledo" somewhere in the title. The naming trend continues with some their products, like Maumee Moonshine. Naming is an important process, something Newby and his partners discuss over beer.
"We usually go drink and then come up with good ideas," he says, noting that The Attic on Adams is their go-to spot. "There's something to that. We're having fun doing this, so this isn't sitting around a conference table."
When he's not figuring things out at Toledo Spirits, he's working on his other business, Avatar — which, conveniently, is in the same building on North Summit.
"I've been doing it now so long that it's kind of like I grew up doing it," he says. "I started Avatar when I was 22."
Newby was always into computers and was amazed he could get paid to work in the technology space. He realized he liked marketing technology and quit graduate school to open his business with a few friends, none of whom had a background in computers. Newby was going to graduate school for philosophy; his friends studied astrophysics, photography and math.
But the lack of formal education wasn't a problem, and Newby says they each brought a fresh perspective to the team. Being young, however, was a challenge, because they had to convince people to take a chance on them.
These days, Avatar is focused on ecommerce and helping clients bring their businesses online, which includes helping customers think through sales, distribution, and manufacturing.
"We're going to their location, and we're sitting down with them to really work through how they should be doing business online," Newby says.
While Avatar is clearly established, the Toledo Spirits Company is still getting there.
"Whiskey's kind of the ultimate slow food," Newby says. "There is no way to rush it, and so that's why we've been doing this for three years and are still kind of in our startup stage."
Newby has more plans for Toledo Spirits, but like the whiskey, it's all a slow process: "My short-term plan is going to take about 100 years, but I really see this as a fantastic industry for Toledo."
"You've got to want it," he says, noting that being a business owner has its challenges. "You've got to kind of hunt for answers, got to figure it out, and you've got to get involved, but there are a lot of fantastic people here to help."
Toledo Urban Innovator Gallery
—