Urban Innovator 

—
David Mann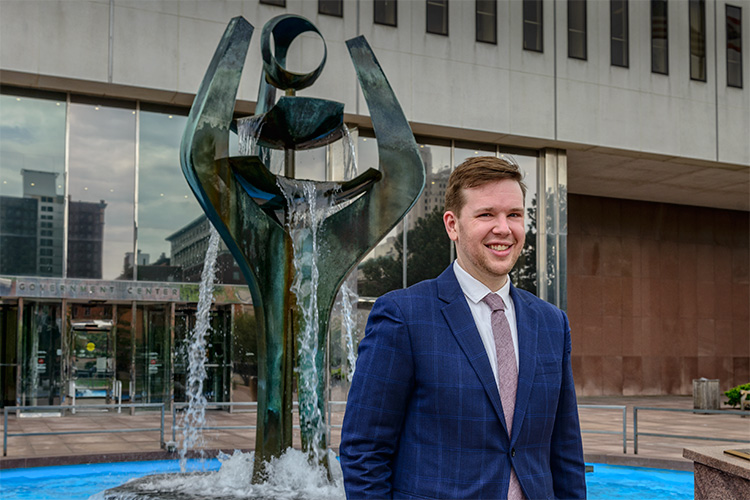 How the Lucas County Land Bank is reclaiming Toledo's vacant lots
Many cities have vacant properties or empty lots, sitting there year after year, becoming an eyesore or a burden on the city. Toledo is no exception. However, the Lucas County Land Bank aims to change that. Their mission is to take vacant, abandoned properties in the county and turn them around, says David Mann, president of the Land Bank and its first employee.
"The Land Bank takes control of those properties in order to really strengthen the neighborhoods so that they fit in and also help preserve the property values of the community," Mann says. "Because when a property is sitting vacant, it is very likely to be the target of vandalism or crime or nuisance conditions like animals."
Since it was organized in 2010, the Land Bank has acquired almost 3,000 properties with plans to improve them. The Lucas County Land Bank was the second in Ohio, after a change in state law allowed them to be created following a successful first land bank in Cuyahoga County. Mann says there are now almost 40 land banks in Ohio because so many communities have realized how helpful they can be for dealing with vacant property.
The reasons why properties might be abandoned are complex and can vary, Mann says. The 2011 economic downturn is certainly one reason — foreclosures are common, and sometimes even the banks decide they don't want a property after they get it back, which leaves the property without an owner and no one to take care of it.
There's also been an uptick in out-of-town buyers who think they're getting a good deal on a cheap property but don't actually know what they're buying. Often those buyers decide to abandon a property after they discover it's in poor condition.
Like many cities in the Midwest, Toledo has seen a population adjustment over the last three decades. "We just have more properties that were built up when we had a larger population than we now have people to actually want them," says Mann.
The Land Bank acquires most properties through foreclosure — a vacant property is transferred directly to them if they want it. Mann says this process works because the Land Bank goes on to find a better use for a property that would otherwise sit abandoned, and because unpaid property taxes are unlikely to ever be paid.
"If the community is never going to collect those taxes, then what we really need to be focusing on is not the past, but the future," he says. "And the Land Bank then steps in and finds a way to take that property from a non-tax paying status, that is potentially harming the neighborhood and hurting the other property values on that block or in that community, and then put the property back into private hands so that it's tax-productive again."
The Land Bank acquires both residential and commercial properties. Often the property is then sold to individuals who understand the need to renovate. In fact, they have to renovate, because the Land Bank still has control of the property during the renovation phase to ensure that it's being put to good use.
"When somebody buys a property from the Land Bank to renovate it, they get a pretty good deal usually, but they've made some commitments to us about making sure that it's renovated to the proper standards, making sure they have the financial resources to do it correctly," Mann says.
Sometimes the property can't be renovated and must be demolished, but the Land Bank still puts it to good use. One way is with urban gardens, which gets the neighborhood involved and allows to lot to be functional. Another way is the Land Bank's Side Lot program, which gives homeowners the opportunity to buy neighboring vacant lots for just $100. Mann says the idea is that the homeowner would then pay taxes on it, their property would be worth more, and they'd have a much larger yard than before.
As president and sole employee of the Land Bank, Mann has myriad duties within the organization, including meetings with city officials and neighborhood groups, as well as plenty of paperwork. He also works closely with the Board of Directors to help focus the organization. With so many things the organization could be doing, Mann says it's a challenge to narrow it down.
"You know, we don't try to do everything, we don't try to go really outside of our core mission, but what we do is really important so we help set those priorities," he says.
Mann is from Dayton and moved to Toledo in 2000 to attend the University of Toledo. He says the city feels like a second home because that's where he's spent his whole adult life. Although he studied English and Women's and Gender Studies as an undergrad, he eventually turned to law.
"I think that the law really has the power to help improve people's lives if you take advantage of the knowledge and the tools that you're given to do that," Mann says. "I always have looked at the law as a way to really help people who may be in a disadvantaged place, change the direction of their lives, change the direction of their neighborhoods, change the direction of their community."
"I love the fact that Toledo is the kind of place where you can do and enjoy just about anything that you could ever really want to enjoy in a very large city." he says. "I think it's the kind of place that really feels like home."
Toledo Urban Innovator Gallery
—