Urban Innovator
—
Joel Marcovitch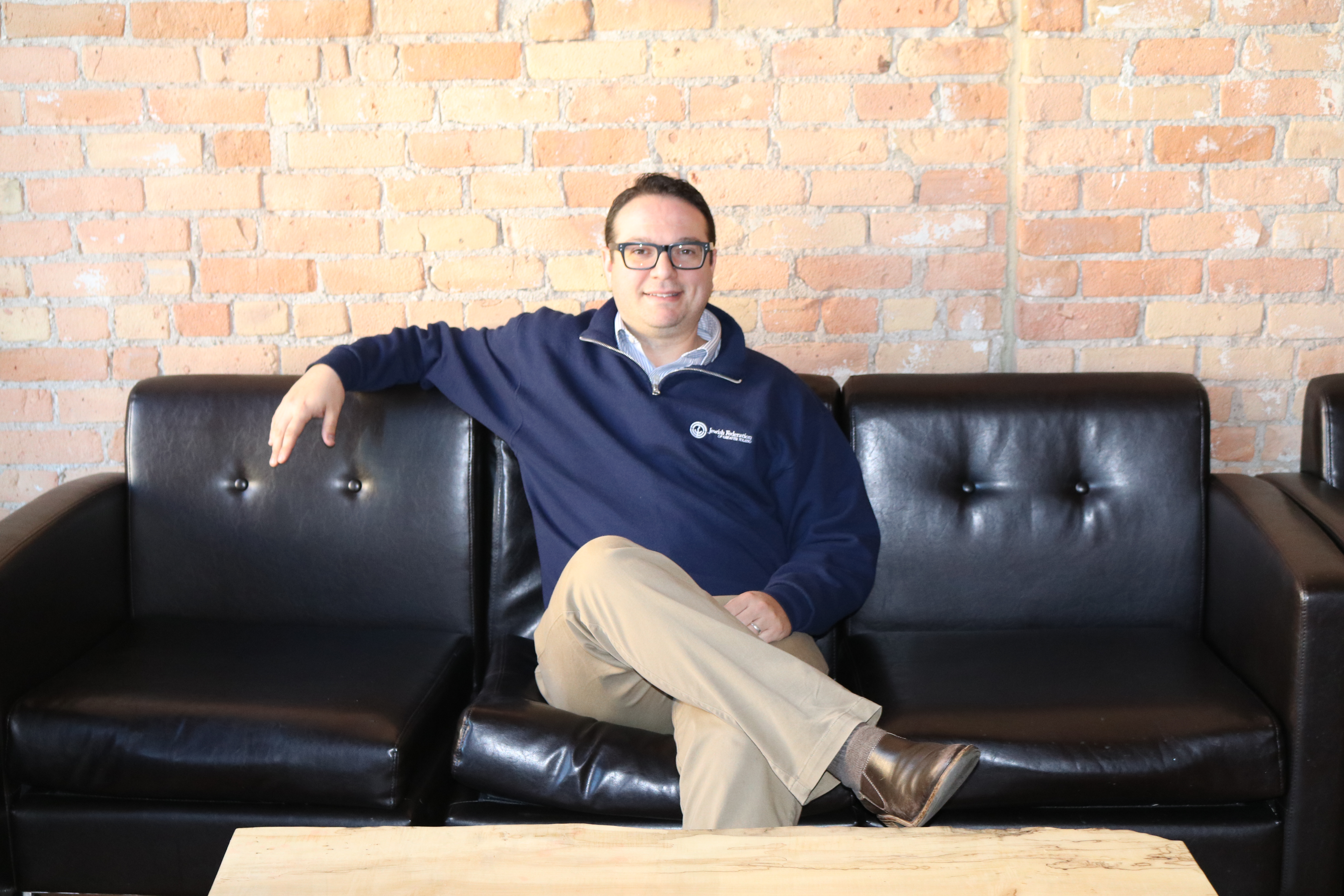 Growing Toledo's Jewish Community
Toledo's Jewish population is a lot smaller than it was at its peak, but the community of 2,200 is extremely involved and striving to make the entire city a better place, says Joel Marcovitch, CEO of the Jewish Federation of Greater Toledo.
"I look around at the Jews we have here and they're still very much involved in the betterment and social justice in our city and making sure the community is taking care of itself," he says. "I think it's an incredibly generous community."
The Jewish Federation of Greater Toledo oversees numerous Jewish organizations and programs within the city, from the Senior Adult Center to Gan Yeladim Preschool. The federation also has partnerships with three area congregations, Etz Chayim, Congregation B'nai Israel and Temple Shomer Emunim.
Originally from London, Marcovitch moved to Toledo to work at the Federation in 2012. Before that, he held various positions with Hillel, an organization focused on Jewish life at universities.
Marcovitch and his wife Erin have a 22-month old daughter and are expecting another baby in August: "We're committed to growing this community, literally through ourselves," he said with a laugh.
Of course, Marcovitch has plans to grow Toledo Jewish community in other ways, too. One strategy focuses on marketing to young families in large cities like Chicago or San Francisco, who are likely paying high rent for a small space and spending a lot of time in traffic. The Federation is working with local human resources directors and the Toledo Regional Chamber of Commerce to figure out how to help them get jobs or move their businesses to the area.
"A stronger Toledo bodes well for a strong Jewish community, so if Toledo gets all the things it needs to do right to build itself and become a powerhouse like we believe it can be, then it will bode well not only for the Jewish community but for the entire community," Marcovitch says.
Jewish families are attached to Toledo for the same reason any other family is, Marcovitch says, including museums and the Toledo Zoo. The amount and quality of Jewish cultural events play a part too.
Though the community is small, Marcovitch says they raise about $1.1 million each year. That money is used for the Federation's many community programs, including Jewish family services and the Jewish Historical Society.
Marcovitch is proud that the Federation has programs and events for every life stage. It starts from birth to age six, when children receive a book each month meant to inspire Jewish bedtime stories. After that, they attend kids-focused programming at local festivals, and then they move on to Jewish summer sleepaway camp. Young adults in college can be a part of Hillel and then be a part of Young Jewish Toledo. The offerings continue on to the Federation's "amazing senior program" that features educational programs, exercise classes and more.
"It's a tremendous asset that the Federation offers something for you at every phase of your life," Marcovitch says.
There's a special emphasis on children and young people in the Jewish community in order to instill a sense of Tzedakah, or  , Marcovitch says. That means teaching them to give back to the Jewish community and the community as a whole.
"They're our legacy," Marcovitch says. "They're our future. The Jewish community is closely looking at the next generation of Jews to take over in leadership positions. We're training them to think globally, act locally."
The Federation tries to reach non-Jewish kids in the community, too, with Diversity Days, where 600 kids hear about the Holocaust from a survivor. The program has become so popular that in 2017 the venue is moving from the Toledo Lucas County Public Library to the Valentine Theatre in hopes of reaching even more kids.
Overall, the Federation's goals are to make Jewish life in Toledo the best it can be, and to take care of those in the Jewish community who are in need.
"We have a long-standing commitment in this community to make sure that Jewish life will always be here," he says. "It will always be relevant, it will be cutting-edge, and not only will we be leading the Jewish community here, but we will do our utmost in order to help lead and advise and help with the greater, non-Jewish community of Toledo as well."
The Jewish Federation of Greater Toledo receives calls from other Federations across the country trying to learn how to better help their, often larger, Jewish communities. Marcovitch says he and the Federation staff are always proud to receive such calls.
"Since I've arrived, I've always wanted Toledo to be a shining example of how to do Jewish in a community," he says.
Toledo Urban Innovator Gallery
—