Urban Innovator 

—
John Eikost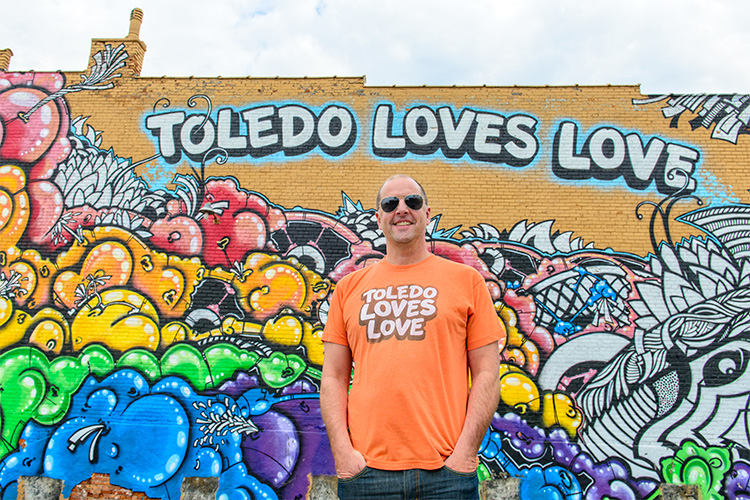 Toledo Loves Gloves project warms up Toledo
On Toledo's Adams Street, the colorful mural is clear: "Toledo Loves Love." But for a wordsmith like John Eikost, that's pretty close to "Toledo Loves Gloves," and it set in motion a project to help the city's less fortunate.
Since 2013, Toledo Loves Gloves has collected donations for gloves, hats, scarves and the occasional coat. Eikost estimates that about 1,000 pairs of gloves were collected the first year and about 2,000 pairs were collected in both 2014 and 2015.
"I had no idea if I was going to get 10 pairs of gloves or a couple hundred," he says. The first year there was one drop-off location; as word of the project spread, local businesses helped collect gloves, and YMCA and JCC of Greater Toledo locations added donation boxes too.
The winter gear is sorted and delivered around town to shelters and organizations like St. Paul's Community Center, Family House, Frederick Douglass Community Center, YWCA of Northwest Ohio and Boys & Girls Clubs of Toledo.
Beyond the support Toledo Loves Gloves has received from local businesses, Eikost says the size of the city has played a part in the effort's success, noting that it can be harder to get support behind grassroots projects in larger cities. Overall, Eikost has found that people in Toledo love good ideas and are eager to get behind them.
"If you work hard to network, it's not hard to figure out who your allies are in the city, and who can help you make a project successful," he says.
Eikost had the advantage of being well-connected before he started the project. As the editor of Toledo.com, individuals and businesses often reach out to him to discuss city culture and events. Plus, he's a native. He grew up in south Toledo, which is part of the reason he returned in 1990 after attending Miami University in Oxford.
Upon his return, Eikost says he started to see Toledo as more than a place to have fun—he also saw it as a city where he could make a difference. When he started Toledo Loves Gloves, he assumed the gloves would be given to homeless people, but later he realized that even people with homes sometimes need social service assistance, and there are organizations serving them that could distribute gloves.
One of the biggest supporters of Toledo Loves Gloves is the Toledo School for the Arts (TSA). Eikost says his friend TSA teacher Mel Prior offered extra credit to students for donating gloves, and that brought numerous pairs of kid's gloves to the project.
"I think it's inspiring that it's a bunch of young people," he says, noting that sometimes adults will donate after realizing kids are doing it.
Every year, more people want to be involved with the project, and that's just fine with Eikost. He finds that more people makes for quicker work. During the first year of the project, gloves took over his home and his life. Now, instead of covering his kitchen floor for weeks, friends take some gloves. And when it's time for the gloves to be sorted (some shelters specifically help women or men, while others take all manner of gloves), Eikost and friends can sort them all in one night. By himself, it would take Eikost a week.
Eikost, an "idea guy," makes no promises for the future of Toledo Loves Gloves, though he thinks it will happen again in 2016. Ideally, he'd like for the project to inspire something bigger in the city and for more people to get involved on a deeper level.
"My hope is this type of small project sheds light on the organizations that are doing the really hard work with the homeless and brings to light their needs, both for funding and community support," he says. "Hopefully there won't be a need for Toledo Loves Gloves in the future."
Eikost says that through Toledo Loves Gloves he's learned why the clichés are true: it definitely is better to give than to receive, and a little kindness goes a long way. He thinks those donating the winter wear have figured that out, too.
"You can usually get a pair of gloves for a pretty reasonable price, maybe even for the price of a cup of coffee," Eikost says. "I think it's just one of those quick, feel-good things where people can participate and they can get as involved as they want."
Toledo Urban Innovator Gallery
—