Urban Innovator
—
Jordan Justice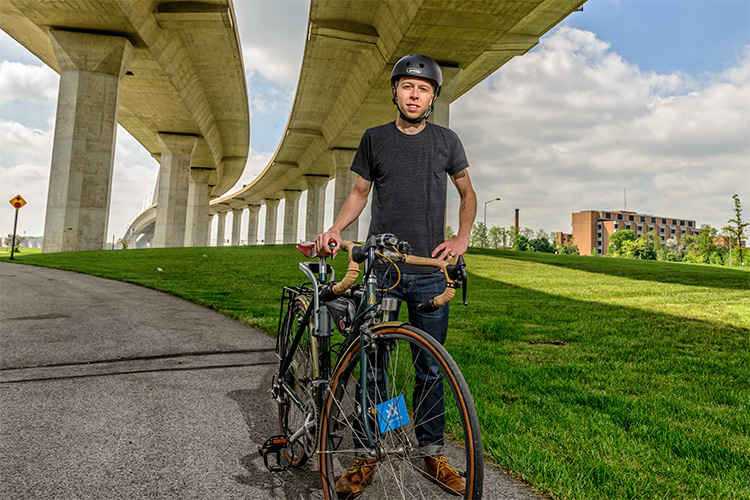 Moving toward a bicycle-friendly Toledo
By Elizabeth Xu
Toledo isn't known for being a particularly bike-friendly city, but Jordan Justice is trying to change that. He's the founder and board president of the Toledo Bike Coalition, which he started in January 2016 with other bike-lovers in the city. Their goal is to make Toledo a city where everyone's comfortable biking, and their first mission is to make area businesses more bike-friendly.
The Toledo Bike Coalition is working with businesses specifically to create more bike parking, which Justice says is lacking.
"Bike parking is one of the best ways to create a more bike-friendly city," he says. "People generally think it's all about lanes or trails, but bike parking is a huge piece of that because it encourages people to feel safe coming to a business and leaving their bike and knowing that it's going to be there when they come back out."
Justice says that people in the area are supportive of the Toledo Bike Coalition, whether they want to get involved, donate or buy a t-shirt.
"There's still a real hunger for some kind of community advocacy group that is looking at a holistic approach of what is happening there" in terms of bike-friendliness, he says.
Justice moved from Cleveland to Toledo when he was 10 years old, so he feels like he's from the city. His love of biking grew in Cleveland though, thanks to the many bike trails there. His interest in biking trickled off when he got his driver's license, but it was renewed when he started dating his wife, Dana, whose dad was interested in biking.
Cohen, the Justices' two-year-old son, is starting to love biking just like his dad.
"Whenever we get ready to go he grabs his helmet because he knows exactly what we're doing and he just gets to see birds and animals and big trucks," Justice says. "He always lets us know when there's a big truck around."
Justice says the last few years have seen more biking events and organizations in the area. 30 Days of Biking is a national event he brought to Toledo in 2015. It encourages people to bike every day in the month of April. For every 30 people who sign up, a bicycle is donated to Free Bikes 4 Kidz, a nonprofit organization that gives bikes to children at no charge.
April might not be the best month for biking in Ohio, and Justice admits he found it difficult some days. He says about 100 people signed up to participate in both 2015 and 2016. And Justice says biking in April really does have some benefits.
"Bikes are really fun and we want to have fun riding in the community," he says. "If you can ride through April, you're probably going to be set up pretty well for May, June, July, August, September."
Other local biking initiatives include "slow rolls," where groups of bicyclists ride together "really slow through neighborhoods most people don't normally ride through." "Glow rolls" offer a similar idea, but are held at night and include glow sticks and blinking lights. Justice estimates that 30-90 people participate in each event.
While Justice is an avid cyclist and often bikes his 24-mile round-trip commute from West Toledo to Sylvania, he says biking in the area does have its challenges. One is infrastructure and the lack of bike lanes, and another is awareness.
"When you see a bicycle in a lane, a lot of people are kind of thrown off guard by that and they're not sure what to do," he says. "They think bikes belong on sidewalks or it makes them instantly furious because they're not aware of the law that bikes are allowed on the streets."
Justice has several favorite places to bike in the Toledo area, including Maumee Bay, downtown Toledo and a trail that takes cyclists under the Veterans' City Skyway.
"You can kind of wind in and out and get this perspective of the bridge down there that you will not get anywhere else, guaranteed," he says. "You can marvel at the architecture that's actually this modern bridge. It's incredible."
Looking ahead, Justice sees the Toledo Bike Coalition tackling long-term projects like infrastructure issues and simply building a bigger biking community in the area. Justice says people don't have to have fancy equipment or be life-long cyclists to get involved.
"Biking can be very inclusive and you can ride whatever bike has been sitting in your garage," he says. "You can ride even if you haven't been riding for 10 years."
Elizabeth Xu is an Ohio-based freelance writer and happy to call Toledo home. Follow her on Twitter @ElizabethMXu or visit her website: www.elizabethxu.net.
Toledo Urban Innovator Gallery
—