Urban Innovator 

—
Jordan Keefe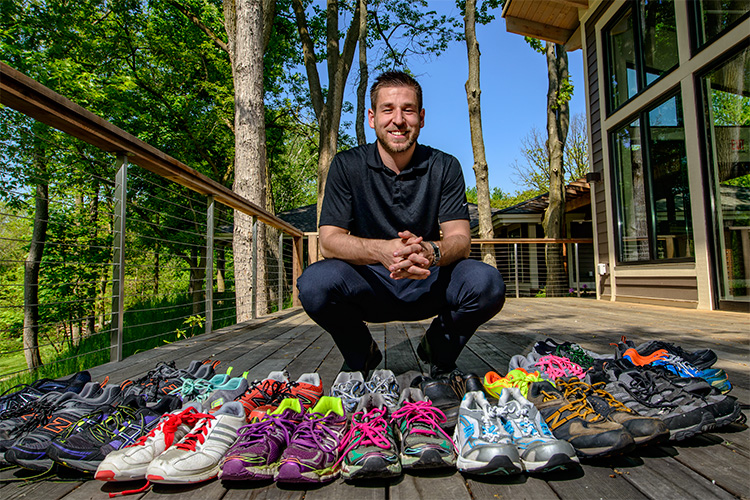 Saving feet, one pair of shoes at a time
"I don't know if you've ever seen 15,000 pairs of shoes, but they take up a ton of space," says Jordan Keefe, president and CEO of Save the Feet, a non-profit organization focused on getting unwanted shoes to those in need.
Keefe and his wife Frances, vice president and CFO of Save the Feet, store the shoes in their one-car garage before sorting them and sending them on. With their garage "packed full to the edge," Keefe hopes they can eventually find a location to store the shoes, maybe in a local warehouse or business that has excess space.
Save the Feet was created in 2013 after an elective class Keefe and his wife took with Dr. Sammy Spann at the University of Toledo. A trip to Haiti during spring break was a class requirement, and students were to look for something that touched them or pushed them to try and help in some way. For Keefe, it was kids who weren't playing soccer.
"Growing up, I played soccer my entire life, so while I was there one of the things that really struck me was that kids wouldn't play soccer and I just couldn't understand why," Keefe says. "Why in the world would kids not play soccer in a country where there is no other entertainment?"
The answer: no shoes.
"They won't play soccer because they can risk getting a cut on their foot or getting an injury that could lead to some serious consequences due to the fact that they don't have regular medical care down there," Keefe says. "And so that, to me, was just — it was eye-opening, and it was powerful, and I knew that I wanted to do something because of just how important soccer was in my life."
So when Keefe returned to Ohio, he made a simple request to his Facebook friends: Give me your unwanted shoes.
"We really had no idea or any plan as to what that was going to turn into, but I think within the first week we had collected a hundred pairs of shoes and that, to me, was crazy," he says.
By the end of the first month 1,000 pairs of shoes had been donated, and while Keefe doesn't have an exact number on the shoes that have been donated to date, he knows it's more than 15,000. These days, donations come from churches, schools and individuals who drop them off at places like Dave's Running.
Whether they're high heels, soccer cleats, work boots, sandals or tennis shoes, Save the Feet takes them all. Keefe says most of the shoes they receive are gently used, though they receive a good number that are still new in the box, too. Shoes that are too worn are recycled, but useable shoes go on to Haiti or other countries in need.
"We're in the process right now of working with a group out of Ohio who's sending shoes to the country of Jordan to help out some of the Syrian refugees who basically left everything," Keefe says.
Shipping containers of shoes to Haiti is expensive, so Keefe is thankful for donations from places like Principle Business Enterprises in Bowling Green. He's also received awards and grants from the Rotary Club of Toledo, University of Toledo and the Toledo Community Foundation.
The original plan for Save the Feet was to collect shoes and hand them out to individuals for free. After some research, however, Keefe discovered a better way: opening a store in an orphanage.
"You do a lot of damage when you actually take a large amount of just one good and hand it out for free, and that's something that we wanted to stay very, very far away from," Keefe says, noting that many people in Haiti make money from selling shoes on street corners and Save the Feet's original plan would've put them out of business. By helping an orphanage become a shoe wholesaler, though, Save the Feet can help the orphanage, shoe sellers and people in need.
The first store opened in February 2016 and Keefe hopes more will follow.
In addition to Save the Feet, Keefe is a web developer at Black Swan Interactive. But he has hopes that running Save the Feet will be his full-time job someday: "It would be a dream come true if that were to happen."
Keefe was born and raised in Toledo, attended Northview High School in Sylvania and is currently a graduate student at UT.
Although he studied engineering in college, Keefe also took many entrepreneurship courses and says he's always had an entrepreneurial mindset. But even with his entrepreneurial side, Keefe's happy to be a part of Save the Feet with his wife, in part because they have different strengths.
"There's nothing like working with your wife and she, honestly, is the brains behind the organization," he says. "She's the one that sort of makes all the wise decisions and I like to think of myself as the strong hands that put it all together. But a lot of the things that have come our way, I think, are due to her hard work and the effort that she puts into it."
After visiting Haiti twice, Keefe says he feels most proud when he can help people in person.
"It's not glamorous when you're down there," he says. "It's dirty, it's not a fun place to be, it's painful, there's poverty everywhere, there's sickness, there's hurting, there's death. I mean, the stuff that you see when you go there is so incredibly painful that you sort of have to figure out how to deal with it on your own. But the look that you get when you actually help someone, it cannot be replaced by anything else."
Toledo Urban Innovator Gallery
—