Urban Innovator 

—
Jules Webster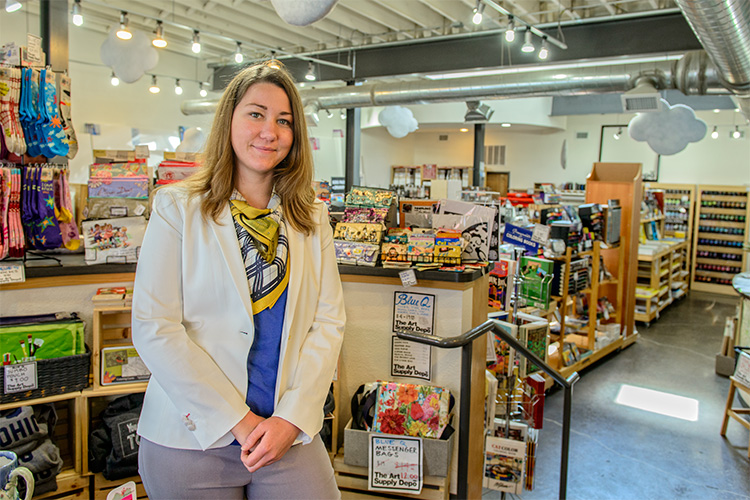 Local artist cultivates a community at The Art Supply Depo
Sometimes young people aren't sure where they belong. They might seek new opportunities, new experiences, in new places. They might venture beyond their hometown, like Jules Webster did, only to learn that they never really needed to leave. 
Then they might come back and launch a successful business. Like Jules Webster did. She's the owner of The Art Supply Depo in Toledo.
Born and raised in Toledo, Webster went searching for more after graduating from the University of Toledo. She ended up in North Carolina at the Penland School of Crafts, where she studied for two months. But soon Toledo was calling her name, and she answered.
"I didn't really need to go to another part of the United States or another part of the world to figure out what I wanted to do," Webster says. "When I was at Penland I learned that I basically belonged in Toledo. You don't have to go out into the world to reinvent yourself; you can do whatever you want in your own town."
After coming back to Toledo, Webster quickly found her ideal job as a studio coordinator at a gallery, a position she held for three years while also starting her own ceramics company. After she determined she'd need to make an unreasonable number of pieces a month to keep her business sustainable, Webster started looking for new ideas.
Along with Dana Winfield, former co-owner of The Art Supply Depo, Webster realized the city was lacking a quality art supply store. They changed that in 2011 when they opened a store in the Warehouse District. They chose the location so they'd be in an area everyone knew, but also in hopes of bringing more businesses to downtown.
Although the community is supportive, Webster says many people initially thought her idea wasn't sustainable, especially downtown. As her business grows, she's happy to prove the naysayers wrong — but more importantly, she's hoping that her success can show other people what's possible. In the five years since she's had a business there, Webster says the block has changed a lot and she's happy to see a diverse mix of businesses in her area.
An artist herself, Webster knew art supply stores were lacking in the area. Before The Art Supply Depo, she says local artists were carpooling to cities like Detroit to find supplies that weren't carried locally. They'd rent a van, pack it full of the necessary supplies, and head back to Toledo. Now, out-of-towners are coming to her.
"I didn't expect how broad our customer reach would be," Webster says. "I first opened this store for the art community, but we have people who will drive from 45 minutes or an hour and a half away just to come to our store. They'll make a day out of it."
That's partially because Webster and her staff do their best to get to know customers, how they use the supplies they buy and what supplies they'd like to see carried in the store. The staff are all trained artists and all used to be customers of the store before they were hired. An artist herself, Webster understands how an artist's life can be lonely, so she and her staff try to make sure artists connect at The Art Supply Depo, especially if they have similar interests.
After five years of owning a business, Webster has learned a few lessons, the biggest being how much her stock has to constantly change. Chances are, most people buy many of the same things at the grocery store every week. Artists don't do that at an art supply store. They want new items. And yes, some come in every week. Webster says that artists need to be constantly inspired. To help with that, she makes sure her store always has a variety of products, and she changes up how they're displayed.
The quality of supplies at an art store is also important, and that's one thing Webster says sets her store apart from larger stores in the area. The Art Supply Depo carries a wide array of supplies and colors, including some professional-grade items. Overall, they try to carry the products Toledoans of all age groups need.
In addition to art supplies, The Art Supply Depo holds monthly classes and events that bring the community together — everything from drawing and painting classes to birthday parties for all age groups.
"The core of everything we do is to educate and inspire people to do better work, to connect with their community, to connect with each other," Webster says. "All we try to do is educate and inspire the people of Toledo and the people that take the time to drive from far away."
There are several perks to being an artist in Toledo, Webster says, starting with the fact that the art community is small and tight-knit. Artists tend to know each other and communicate often. The size of the city makes it affordable for artists to obtain studio space and become well-known faster than in a city like Chicago or New York.
As she sees Warehouse District growing, along with the city as a whole, the Toledo of today isn't the same city she left nine years ago for North Carolina, Webster says. And for her, that's a good thing: "Toledo's a lot hipper than it used to be."
Toledo Urban Innovator Gallery
—