Urban Innovator 

—
Kim Sanchez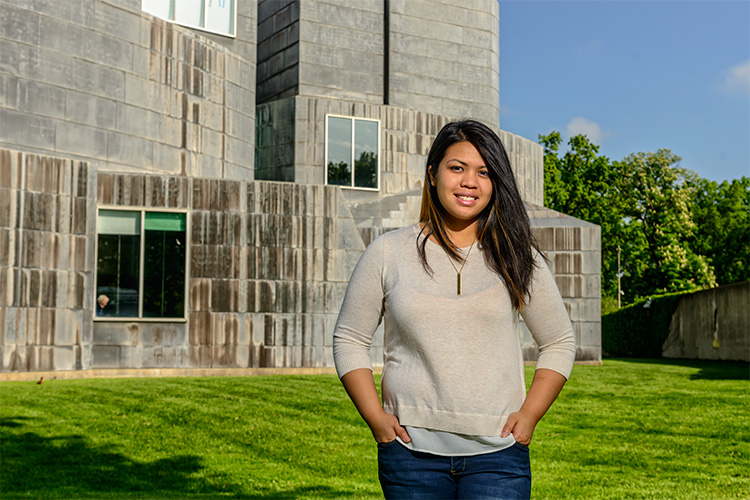 Why Toledo could be a great place for filmmakers
Kim Sanchez came to Toledo to attend the University of Toledo and study video and film production in 2010. Her decision to attend UT was a good one, she says, because building her network and finding success has been easier in Toledo than it would've been in other cities.
Sanchez, who's from Columbus, has a wealth of knowledge about Toledo's art community thanks to her work with The Arts Commission, a nonprofit organization where she's been a community engagement specialist since 2014. An application to The Arts Commission led to an invitation to AmeriCorps, a government-funded service program, which Sanchez accepted. The position is only for two years, so her time at The Arts Commission is almost up. That means Sanchez is putting in applications around the city.
"I like Northwest Ohio and I like everything that it has to offer," she says, noting that she really enjoys living in the Old West End, where she knows her neighbors. "I'm praying and hoping that something opens up so that I can stay here."
Sanchez says her position at The Arts Commission led to numerous connections in the city, and she's enjoyed working on community-based projects and getting people to care about what was happening in their neighborhoods.
"Your responsibilities aren't normal 9-to-5 paper pushing," Sanchez says. "You're doing that, to an extent, but you're also out in the community and you're trying to better the community."
Many of Sanchez's projects at The Arts Commission focused on creative placemaking. Sometimes that meant getting neighborhood artists involved in the effort to reimagine public spaces and teaching them leadership skills.
In 2014, Sanchez and her friends started Reel Ohio, a film production company. As a collaborative group, one of their recent projects is Reclaiming Spaces, a documentary focused on downtown Toledo's development.
"[Reel Ohio] started as a way for my friends and I to not compete against each other and to make films together," she says. "We all have a different set of skills, we all have different equipment."
Sanchez has been interested in filmmaking since she was a kid, but living in Toledo inspired a love of documentary filmmaking specifically.
"I got involved in documentary filmmaking because there are a lot of stories around here to tell," she says. "There are a lot of untapped resources [in Toledo]."
Although Sanchez says filmmaking in Toledo can be difficult because there's not really a film industry in Toledo, she says there are advantages to that as well.
"It's easy to get your film shown in a local theater," she says. "It's easy to get involved in stuff because right now there's not a lot of people doing it. You don't have a lot of competition. At the same time, when you want to do something, it's actually welcomed."
In 2016, a focus on films came to Toledo in the form of The Glass City Film Festival, which took place May 19-21. It's part of a larger revitalization project in the city's Old North End that hopes to restore the Ohio Theatre, a once-grand community space. The Arts Commission worked with the nonprofit United North to make the whole project happen.
"Everything that's happened in that place has been volunteer efforts, from cleaning the building to planning the event to running the concession stand," Sanchez says. "It comes down to finding the right people. Luckily there are a lot of artists, a lot of film lovers and filmmakers that want to see it happen, so we've gotten a lot of support."
Sanchez hopes the film festival brings more awareness to Toledo's burgeoning film scene and the opportunities that come with filming here, including the diversity of the landscape — city, suburban and rural shots can all be had in a 15-minute drive.
"We're bringing in national filmmakers to come here and showcase their work," she says. "We're really trying to put ourselves on the map in terms of filmmaking. I think part of encouraging artists to be artists is having a place for them to show their work and grow their skills and network."
Toledo Urban Innovator Gallery
—