Urban Innovator 

—
Prakash Karamchandani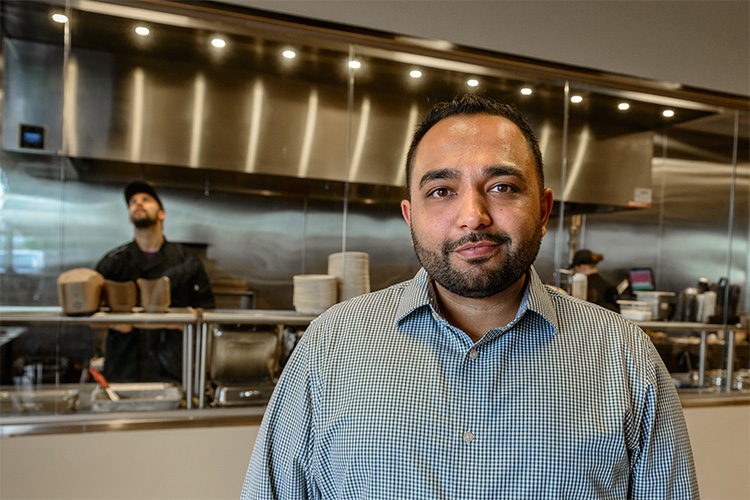 Changing Toledo's Restaurant Scene
He's the co-owner of three Balance Pan-Asian Grille restaurants and Bubble Tea, a standalone space focusing on the popular Asian drink, but Prakash (PK) Karamchandani didn't set out to be a restaurant owner. He met his business partner, Ho Chan Jang, in college while he had his own IT company. And before that, his parents had a different plan in mind.
"My parents had two career options for me: either be a doctor or be an engineer, or really, just be a doctor," Karamchandani says. "There were multiple levels of parental disappointment for the first few years, but they got over it and they see that I love what I do and they're cool with it."
Balance does things differently than a lot of restaurants, and that's a source of pride for Karamchandani. Ingredients are prepared in-house daily, and they're always fresh. While local foods aren't as abundant as he'd like, they source from places like Shared Legacy Farms as often as possible. And Balance restaurants don't have microwaves or freezers. "What you see is what you get," Karamchandani says.
Their approach isn't rocket science, Karamchandani says. It's just the simple preparation of real foods — onions, peppers, tomatoes and more — that are cooked briefly for maximum nutritional value. Yet many restaurants prefer to rely on pre-cut or pre-cooked ingredients.
"We're the anti-restaurant; we kind of do everything backwards and different," Karamchandani says. The menu at Balance changes seasonally, but he has a few current favorites, like the kale salad with sriracha sauce and the Soho tacos.
Karamchandani and Jang graduated from the University of Toledo in 2008 — in the middle of a recession that might've made most new grads think twice about starting up a new business. Not these co-owners.
"Toledo was unfortunately hit kind of hard and, as bad as recessions are, they're also a great time to start an idea because your barrier of entry is a lot lower," says Karamchandani, who was born in Houston but grew up in the Toledo area.
So they decided to open an Asian restaurant, which was Jang's specialty as a chef and something he knew a little bit about, since his parents own a Chinese restaurant in Bowling Green. They traveled around to get ideas, but mainly discovered what they didn't want in a restaurant — including full-service dining, processed foods, and little technology.
Karamchandani and Jang use a lot of technology in their Balance restaurants. iPads in particular play a big part, from the iPads used at the point of sale to the iPads in the kitchen that receive orders. They also use data and software in a number of ways, including to analyze customer wait times, which have gone down from 11 minutes to eight minutes. From beginning to end, Karamchandani wants the whole process to take six minutes.
"Even though we definitely hit the marks that we want to be hitting, we can always do better, we can always serve food faster, it can always taste better," he says.
Now with Balance restaurants in Maumee, Sylvania and Perrysburg and Bubble Tea in Toledo, Karamchandani has no regrets about opening a restaurant with a concept that might've been risky.
"We grew up in Toledo, so we had that to our advantage," he says. "Our families are here and when you're starting something, you need all the resources you can get."
Beyond the family connection, Karamchandani says he enjoys owning restaurants in the Toledo area because of all the talent he sees around him, from the woodworkers in downtown Toledo to the plumbers and electricians who fix things at his restaurants.
"It's always mind-blowing to me, the amount of talent and passion at every level of this city," he says. "And then how people from the outside just look at it like it's a dull mirror. If you look deep, it's really pretty awesome."
Karamchandani is also thankful for the professional connections he makes in the city, and is quick to invite other professionals out to coffee to connect and learn. He counts his former University of Toledo entrepreneurship professor Dr. Sonny Ariss as one of his mentors.
Even after all his business successes, Karamchandani is most proud of the fact that he and his business partner didn't fail. Next, they're looking to amp up things at their packaging distribution company, find ways to either source or grow more local food, and make their restaurants as efficient as possible.
Is a new Balance Pan-Asian Grille location in his future? Karamchandani isn't certain, but since he and Jang have made it a habit to open something new once they feel like they have a handle on their current locations, the answer is likely yes: "I'm sure I'll get bored and I'll want to open another one."
Toledo Urban Innovator Gallery
—