Urban Innovator
— 
Roshawn Jones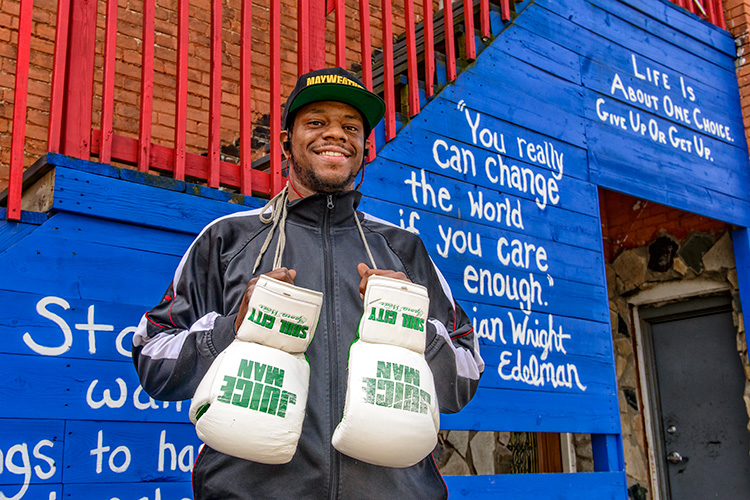 Giving kids more than sports at Soul City Boxing
As the United States Olympians walk out for the Opening Ceremonies in Rio this summer, one Toledo resident will be beaming with pride.
Roshawn Jones will be looking on with a smile as Charles Conwell represents the red, white and blue at the 2016 Summer Olympics. For the past four years, Conwell has been traveling from Cleveland to Toledo for training at Jones' Soul City Boxing gym.
Jones, a Toledo native, opened the gym in 2009. A former athlete who competed in myriad sports in high school, including football, wrestling, boxing and track, he wanted to give children without a place to go — a place to go.
"We want to keep kids out of gangs and out of the streets," Jones says. Twenty kids joined the gym in its first year, and the numbers have only grown since then.
Conwell, 18, is a success story — and a magnet that draws other kids to the gym. He's been training at Soul City Boxing since he was 14. Young children are able to look up to Conwell and know that if they stay in school and avoid gangs, there is a success story waiting for them, too.
"It's very exciting to see people succeed and have an alternative way other than the streets," Jones says. "It's a blessing to see those kids be able to make it."
For Jones, being from Toledo helps him relate to the kids at Soul City Boxing, and the gym is a demonstration of his commitment to his hometown. Most of the kids who come to his gym don't have easy access to transportation, so having a gym in the neighborhood helps.
Soul City Boxing does a lot more than offer kids a gym, though. It has tutoring hours, gives out meals for children, and tries to keep children healthy overall.
"We focus childhood on obesity, education, tutoring, and feeding kids after school," Jones says. "During summer we feed them lunch and dinner." Children's Hunger Alliance helps provide the meals, which vary, but usually consist of milk, fruit, and kid-friendly fare like ravioli and tacos.
Education is also important at Jones' gym. GED courses and ACT classes are two other vital opportunities Soul City Boxing gives students to help them succeed.
Jones says that Toledo has been good to him with donations and partnerships to help the gym, which is a 501(c)(3) nonprofit organization. A Toledo Mud Hens grant provided $7,000 for computers and other school supplies used for tutoring.
The gym also has resources for adults, from yoga to female self-defense classes. On Thursdays, the gym hosts a course for young adults to learn how to balance a checkbook and get some basic financial education.
Jones is grateful for the community help.
"It's holy Toledo," he says. "That means [there are] very good people here."
While Jones will take great joy out of seeing Conwell represent his country and home gym, Jones is aiming for a larger prize: giving hope to those who don't see hope in their future.
"We give stories how people become successful and famous," Jones said. "[They] don't have to die in order to become famous. A lot of people from the hood think they have to die before they become famous."
He takes pride in two young adults in particular that were going down a different path before they joined the gym.
"One just got out of a federal penitentiary; he's 25," Jones says. "When he got out he went straight to the gym. He wanted to be doing something positive."
The other was in a gang and involved in various crimes, Jones says. But with Jones' help, he was able to get a job and leave the gang.
"It's rewarding in the simple fact that you are saving lives," Jones says. "The more lives you save, the better you feel. There is not much money in this type of business."
Soul City Boxing might not exist if Jones hadn't experienced a setback himself: He was a wrestler in his last year of high school with an offer from Cleveland State University when, during the final match before state championships, his neck broke. With that, he no longer had the offer from CSU and instead turned his attention to business management and helping others.
Jones will cheer fiercely for Conwell in the Olympics, but he knows he still has work to do. For every professional boxer out there, there are seven kids who come to his gym that need to find their own success story, he says.
Toledo Urban Innovator Gallery
—