Urban Innovator 

—
Ryan Bunch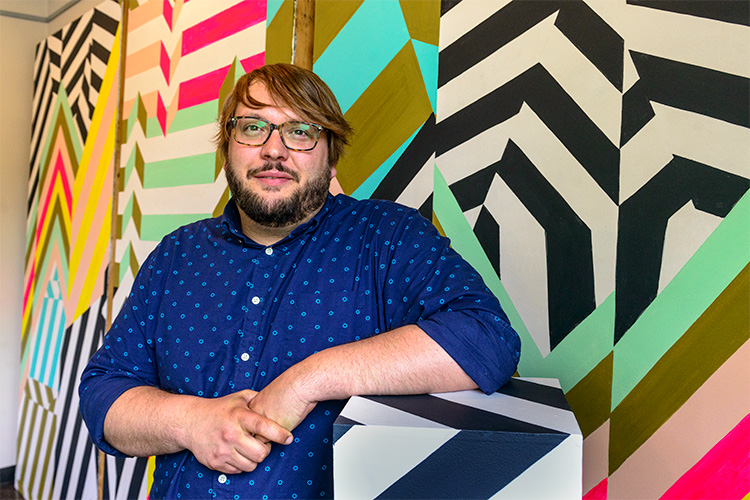 Making an impact on Toledo's arts and small businesses
Growing up in Ida, Mich. wasn't ideal for a self-professed weird kid with creative tendencies. His family worked blue-collar jobs, including in the auto industry, but Ryan Bunch was always interested in making books, writing poems and drawing.
"It was not quite Footloose extreme, but it was very much that kind of town where it was like, 'Well, that's all well and good, but what do you wanna do with your life?'" he says. A four-month internship in Washington, D.C. showed him it was possible to make a living in the arts, and he decided to do that in Toledo.
Bunch is the Communications and Outreach Coordinator at The Arts Commission, a nonprofit organization and the oldest arts commission in Ohio. In his position, Bunch is involved in community programs, telling the public about them, attending community meetings to learn about new projects and so much more.
In short, Bunch lets people know about all the great arts-related things happening in Toledo so they don't go looking for them in other cities: "The grass is always greener, it always looks funner to live somewhere else, but we really have all of that same stuff here."
Toledo's art scene isn't new, but it has been evolving, Bunch says, citing all the "weird" art he used to see when he moved to the city in 2004. Back then, he spent time at art openings and in coffee shops "looking for the weird kids that were sitting in the corner." He says social media has brought more awareness to the arts community, as well as art events in Toledo.
Of course, a supportive community doesn't mean there isn't room to grow. Bunch sees the city as being at an interesting place in terms of the supply and demand of artists and arts-related events: every weekend there seems to be more arts-related events than there are people to attend them.
"Right now it's at a weird tipping point where the same community that would be attending those things is the same community that's doing those things," he says. But as awareness grows, more people will come out to support the events and artists, he says.
When it comes to the future, Bunch isn't sure where Toledo's art scene is headed, but he's OK with that.
"Any other time that I've lived here, I've sort of felt like I could see where things were moving a little bit. I really don't have any idea right now, which is exciting to me," he says.
In addition to his work with The Arts Commission, Bunch is also a founding member of Toledo SOUP, a non-profit that helps local businesses and organizations get funds from community members who pay $5 for a meal made by local chefs and then vote on who receives the money.
"It's sort of a live-action Kickstarter," Bunch says. "It's a way to generate funds, small dollar grants on the spot to give to organizations, start-up businesses, who otherwise don't have access to get their hands on $1,000 or $1,500."
While quite a few organizations have received Toledo SOUP funds, two stand out to Bunch. The first is Glass City Pedicabs, because he says people feel invested when they see the pedicabs around town at sporting games or other downtown events.
"Every time one of those things goes by or you hop on one to get somewhere, you kind of inherently feel like, 'I helped make this happen!'" he says.
The second Toledo SOUP winner that stands out to Bunch is Soul City Boxing, a gym for kids that aims to help curb gangs and violence, as well as help kids with academics.
"They won and they were humble and so excited that they actually donated a portion of their winnings to the other two organizations they were competing against," Bunch says, noting that after Soul City Boxing's generosity, several other organizations have followed their lead and shared some of the winnings.
Beyond his work, Bunch is passionate about his community as a whole. In 2005, Bunch moved to Toledo's Old West End, an area where he spends most of his time and money, he says. He heard about the area's reputation of being home to many musicians and artists and found like-minded artists in the area—some of his best friends, in fact.
Toledo is a unique place that isn't necessarily for everyone, Bunch says: "I say all the time that our number one export is cool, talented people." In fact, Bunch almost left the city a few times but stayed thanks to the encouragement of others and the desire to really make an impact on Toledo.
It is for a lot of people though, including the artists who enjoy the city's creativity and affordability, and those who want to be involved in something cool.
"I think there are a lot more opportunities for young people in the creative community to get involved in and make a significant difference in the growth and development and revitalization of Toledo," Bunch says.
Toledo Urban Innovator Gallery
—