Urban Innovator 

—
Will Lucas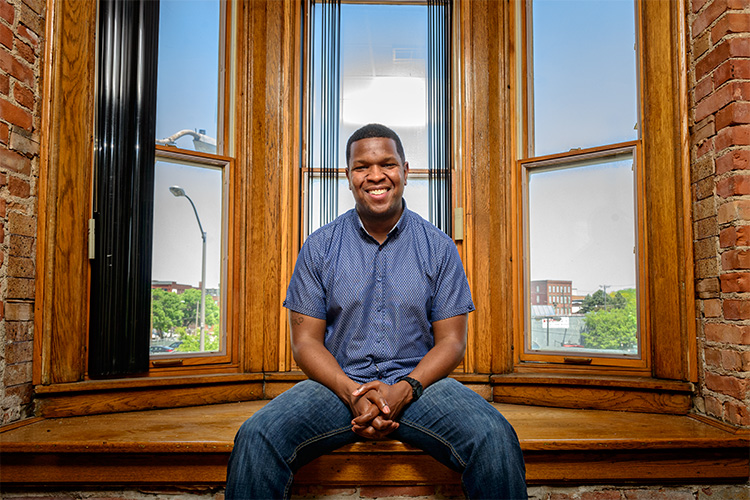 A Born Entrepreneur
Growing up in Toledo, Will Lucas saw his dad involved in a lot of projects as an entrepreneur. He knew he wanted to take a similar path and pursue big ideas.
"I always knew that I didn't want just a traditional career," he says. "I wanted to live a life that had meaning to the world beyond my reach."
Lucas lived in Atlanta for two years to follow his musical dreams. He returned to Toledo because of the opportunities in the area, and because he had the desire to "build a dream" with the people he knows and admires in the city.
Part of that dream has been Creadio, a company Lucas founded in 2007 that focuses on custom radio and TV for various brands, including McDonald's and The Andersons stores.
"We think of it as a radio station but custom built for a brand," he says. "So in between the music, you'll hear a DJ come on, or on TV between the news or whatever, there will be content about that particular business product and or services."
Lucas is also the co-founder and CEO at Classana, a tech startup that Lucas describes as  "Pinterest for education." Users input their interests, and Classana suggests classes, books and events tailored to those interests. Classana can even predict what students will like, and it takes notice if someone says they're interested in, say, computer programming — but then spends more time looking into resources on another subject.
"What we want to do is help people find the best resources they can based on their particular and unique profile, to help them get to their career goal," Lucas says.
Lucas says Toledo's size makes it an easy place to do business because "you're one person away from anybody."
"I think that's what's different about living here versus living in New York or living in LA, is you can put in the work and still not meet these people," he says. "But in Toledo, if you're doing good stuff, you can get around the right people."
In addition to his business ventures, Lucas is the curator of TEDxToledo, the local, community-based iteration of TED (which stands for technology, entertainment and design).
Lucas says he started TEDxToledo to "raise the level of conversation in Toledo" beyond economic development; he wanted to reach out into areas like entrepreneurism, creativity and other types of development.
"What I wanted to do was show the community the best ideas we could bring together and not only be talking about the same things but be pushing in the same direction," he says.
Since the first TEDxToledo in 2012, community awareness of the event has grown and now Lucas calls it "one of the most anticipated events of the year" because so many types of people are involved. "People across all different types of industry, totally different disciplines and for a day, half a day, they get a chance to sit and hear or speak even about the most interesting things happening not only in the community, but ideas that could affect communities far from our own," he says.
Beyond TEDxToledo and his other ventures, Lucas serves as the member of two commissions and one board: The Ohio Dr. Martin Luther King Jr. Holiday Commission, Ohio Casino Control Commission and, most recently, the University of Toledo Board of Trustees.
The Board of Trustees position ties in nicely to his work with Classana.
"Classana is where my heart and soul is, and I believe redistributing education is my mission," Lucas says. "So when I think about my particular journey, I dropped out of college six times. And for me to be sitting on the board of a college was courageous of the governor. I'm not some just somebody who dropped out and then didn't do anything with his life. I worked really hard."
Lucas is involved in so many things that he's had to start saying no because he's doing too much. He still says "yes," though, to the things that matter. He doesn't try to take all the credit for the things he does, citing "a fantastic team of people" who help him out, as well as "a fantastic wife who can help me maintain the other part of my life."
Whether by serving on a board or changing the face of education, Lucas is focused on simply doing good things. Along the way he's received some accolades, such as being named one of Business Insider's 25 Most Influential African-Americans in Tech in 2013. But those things aren't important to him.
"I think what's important at the end of the day is, have you made an impact on somebody's life," he says. "And everything I'm doing is designed to help someone else be better. So the accolades, while they're nice, that's not what gets me out of bed. I want to make a difference for somebody. If I can be a positive impact on somebody's life, that's what I'm going for."
Toledo Urban Innovator Gallery
—