Urban Innovator 

—
Zach Lahey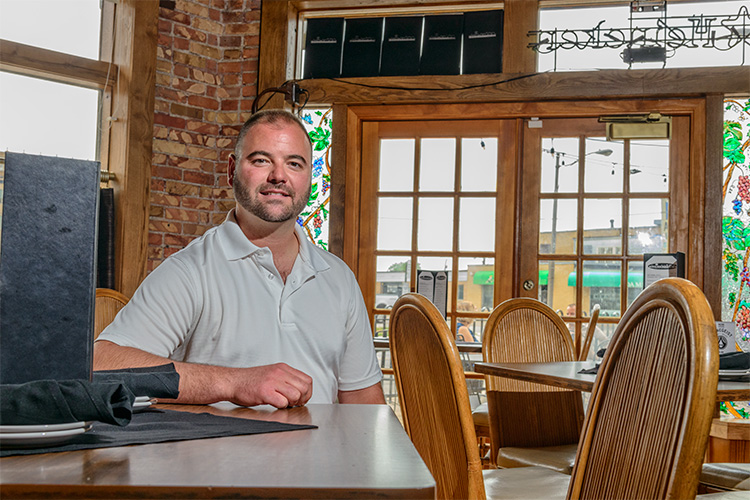 Envisioning a better future for Adams Street
Zach Lahey, owner of Manhattan's Pub 'N Cheer restaurant and treasurer of The Village on Adams, is a true Toledoan: he grew up in the city's South End, in the same half square mile where his mom grew up and where his parents met. But after graduating from Ohio Northern University, his dreams of Broadway called him to New York City.
Auditioning and waiting tables, he lived in New York for four years, on and off, until 2001. He had quit his job at the end of the summer and was scheduled to start at a restaurant blocks away from the Twin Towers on September 11.
When Lahey finally made it to the restaurant that day he was told they were no longer hiring due to the uncertainty of how the day's events might affect business. He searched for another job for two months to no avail — no one was hiring.
"After [9/11] happened I sort of was yearning for home anyway," he says. "I was eager to be around my family and my friends and people I knew. It's hard being in a city with so many people. You feel extremely lonely; it's incredibly ironic that it's the busiest city in the world and it's the loneliest I've ever felt in my life."
By Christmas, he told his New York City-raised roommate he was moving back to Toledo. That roommate, Mike Petrillo, decided to come, too. Together, they decided to make as much money as they could in Toledo and move back to New York City as soon as they could.
While working at Manos Greek Restaurant, however, Lahey spotted the "odd, ridiculous building" across the street and those plans quickly changed. That building was owned by Manos Paschalis, the owner of Manos Greek Restaurant and an old family friend of the Laheys, who encouraged Lahey to open a restaurant in the space.
By December 2002 he and Petrillo had opened a brand new New York-style restaurant in Toledo, Manhattan's. Though Petrillo got homesick after two years and moved back to New York, Manhattan's is still going strong today.
Of course, there have been challenges. A couple of years ago, Lahey transformed Manhattan's into a fine dining restaurant. He liked it, but he realizes now that it wasn't what Toledoans were seeking.
"It was the strangest thing — I thought our food was fantastic, our service was impeccable, the ambiance was right," he says. "The reality was people weren't really looking for that in Toledo, particularly in our neighborhood."
So at the end of 2015, Lahey changed it up again. Now, Manhattan's has more pub-type food and a more relaxed atmosphere. Lahey says it's important that people know they can come in and spend $5 instead of $30, so he brought some old favorites back to the menu and added sandwiches from the lunch menu to the dinner menu.
"That was the right formula and we've basically exploded since then," Lahey says, noting that Manhattan's has "an incredible collection of regulars," including some who come in weekly for a date night.
When Manhattan's opened, Lahey says there were only about three other businesses on Adams Street, but recent years have seen a change. That's thanks in part to The Village on Adams, an organization started in 2014 to liven up Adams Street, adding events like the Zombie Pub Crawl, murals and pop-up parks on vacant lots.
Lahey thinks the area would benefit from yet more bars and restaurants, which is one reason he pursued an open container zone — where people can legally walk outside with open containers of alcohol — for Adams Street in summer 2015. It was a new process for him, and he's thankful for the help he received while figuring out the law and the best ways to go about putting everything into practice.
"The Toledo Regional Chamber of Commerce more or less held my hand throughout the open container process," he says. "They went above and beyond. They showed up at my community meetings when I was trying to get feedback from the neighbors."
This isn't the first time Lahey has focused his efforts on Adams Street. About 10 years ago, Lahey and his dad worked together to make the UpTown neighborhood an entertainment district, which means it's now easier to close streets for events. The districting process also added 15 low-cost liquor licenses for the area; what would normally cost a business owner $25,000 costs only $2,500 in the entertainment district.
After living on Adams Street since 2002, Lahey is excited about what's happening there right now, including the uptick in foot traffic he sees on the street. However, Lahey hopes the city of Toledo will help by maintaining streets and sidewalks to make them even more attractive to residents and visitors.
While some may see more restaurants and bars as potential competition for their existing business, Lahey doesn't. In fact, he welcomes them: "Any time something new opens up downtown, in any neighborhood, it brings more business to Manhattan's or to Adams Street."
Toledo Urban Innovator Gallery
—