In the Limelight

—
Adam Goldberg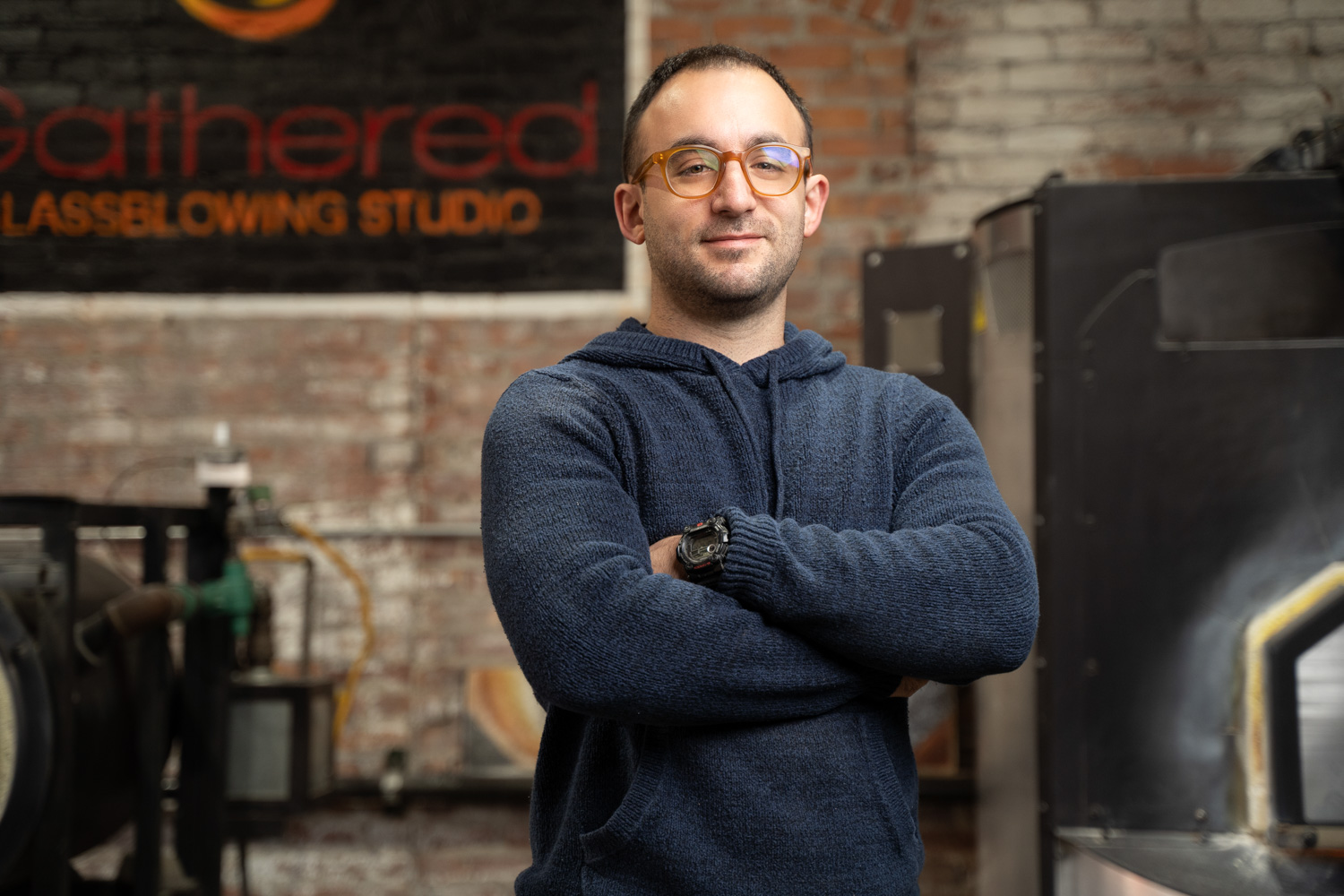 Adam Goldberg carries on the tradition of the Glass City
Adam Goldberg wasn't always passionate about glass. Actually, as a high school student, he didn't really consider himself an artist, either. But he signed up for a workshop at the Toledo Museum of Art (TMA) so he could make himself recreational glassware.
Goldberg found himself gripped by the art of glassblowing and the artists that he met, particularly his glassblowing teacher at the museum, Robin Schultes.
"When you're first starting glass, it's really kind of scary because you're dealing with these temperatures and these scary things that you've never looked at or been close to before," Goldberg says. "She basically told us, just pretend like you know what you're doing. Just pretend. I still do that. I'm literally doing that right now."
Goldberg says that Schultes was the first adult who treated him like an adult, and succeeded in communicating with a bunch of high school students who were working with dangerous materials. After all, glass melts at temperatures around 2,400 degrees Fahrenheit.
But when it came time to choose a college, Goldberg says, as a B student, he wasn't getting into the same colleges as his friends. More than that, he didn't know what he wanted to study. So, he attended Bowling Green State University (BGSU) with an undecided major. At first, he figured geology might be interesting, and began to take some science classes.
Then, he bumped into a friend that he hadn't seen in a few years.
"She said, 'Hey, I got to run, I'm really glad to see you, I've got to go to the glass studio,'" Goldberg says. "I'm like, what? There's a glass studio? What?"
Goldberg declared his major – a Bachelor of Fine Arts with a focus on glassblowing – and got more deeply immersed in the glass community of northwest Ohio. But, here in the Glass City, glass is more than just utility or art. It's history, culture and an indelible piece of the Toledo Region.
"My teacher there, Scott Darlington, he found it really important – building community in the studio was really important," Goldberg says. "So we had a really nice camaraderie, all the students. One way that we really built relationships with each other was he brought in visiting artists for us."
Thanks to Darlington, Goldberg got face time with world-class glassblowers, and he learned about glassblowing not just here in the Toledo Region, but the world over. When Goldberg was awarded BGSU's Stuart R. Givens Memorial Fellowship in 2010, he decided to explore the world of glassblowing more intimately. Thanks to the fellowship, which gives students funding to design their own off-campus experiences that they might not get otherwise, plus additional funding from the TMA, Goldberg bought flights and packed his bags for Japan. There, he backpacked throughout the country for around eight weeks, visiting various glassblowing studios, famous gardens and pieces of architecture, and learning directly from local artists.
"The whole idea was that, over there, they have this rich, local ancient history – or many ancient histories – that influence their contemporary life and design," Goldberg says. "It was interesting to me because we don't really have local ancient history here that influences our everyday."
And while Toledo may not have an ancient history with glass, nor Goldberg an ancient history with Toledo, he and his family has unique roots in Toledo that go back generations – and much of the family has stayed.
Goldberg's maternal family emigrated from eastern Europe and landed in New York, but his great-great-grandfather's sister, Fanny, traveled west alone. She wound up in Toledo, and knew it was where her family belonged.
"She wrote a letter back to her family in New York that said, 'Toledo seems like a great place to make a living and raise a family.' Go, Fanny," Goldberg says. "So, everybody followed her. Her parents came and the kids came, and one of those siblings was (great-great-grandfather) Sam, who started Sam Okun Produce Company."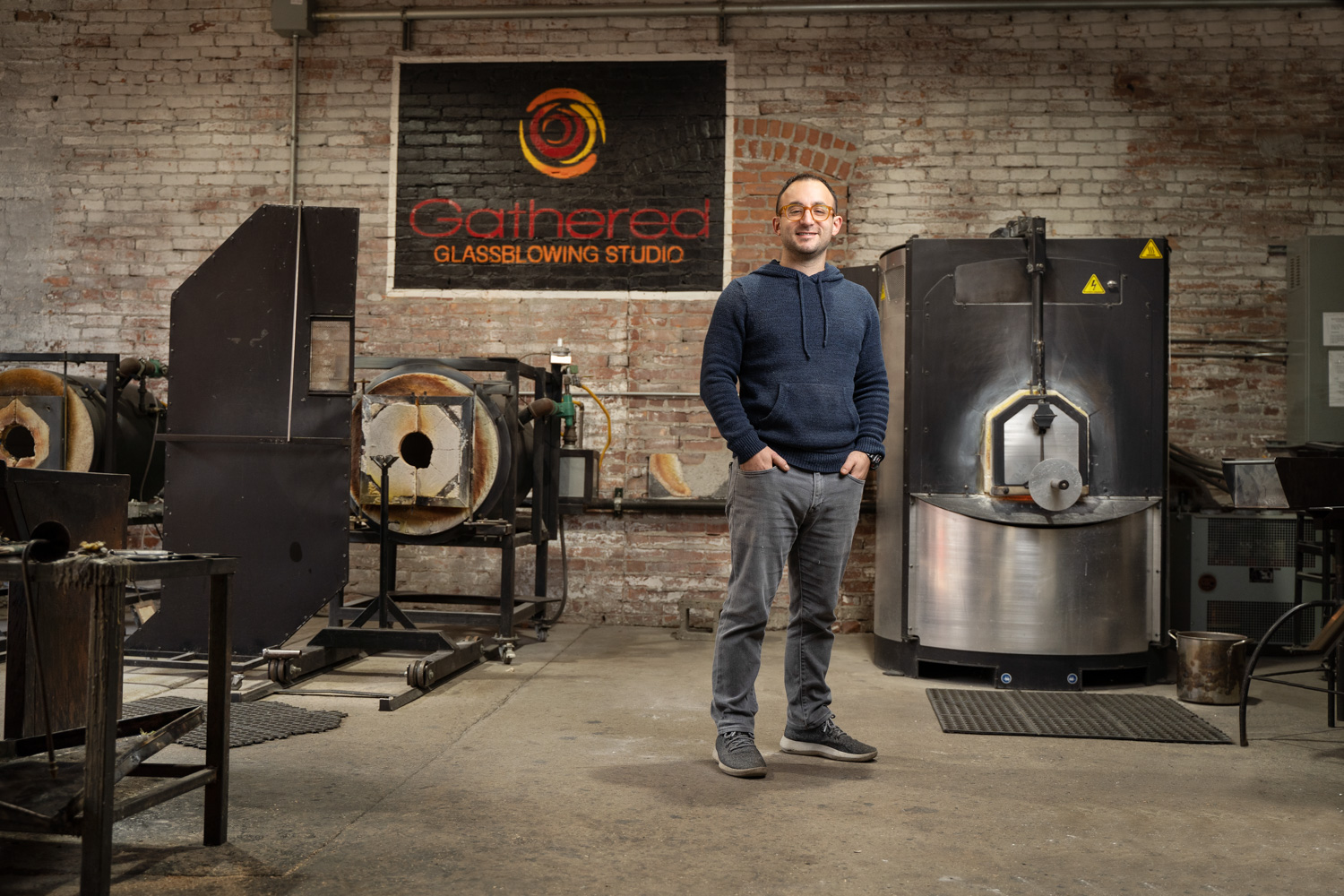 Sam founded the Sam Okun Produce Company on Huron St. in 1914 across the street from the produce wholesaler's current location at 33 N. Huron St. When Goldberg graduated from BGSU, the adjacent buildings were empty warehouses, so his grandfather, Fred, suggested he open a studio in the space next door.
Goldberg graduated in 2011, and he figured he might be able to fix up the space with two friends that would become his business partners, Mike Stevens and Eli Lipman, in time to throw a party for the Annual Glass Art Society Conference in June 2012. So they teamed up, found secondhand glassblowing equipment for sale and began to tear down walls. They outfitted the space with plumbing, electrical and the necessary filtration for a glass furnace.
With the help of Goldberg's Grandpa Fred, Mom Shelly, Dad Stu, partners Stevens and Lipman, and others, they met their goal. Then, the conference ended and they were left with a completely renovated downtown space fully equipped for glassblowing.
"We were just like, alright, let's just keep going. And we've literally been pretending and wheeling and dealing ever since then," Goldberg says. "What's kept us here is the support we get from the community. We've had a successful business for over 10 years now, and that's in large part due to the local community and interest in glass."
Today, Gathered Glassblowing Studio sits at 23 N. Huron St. and is co-owned by Goldberg and Stevens. Together, they hold classes and host glassblowing date nights, in addition to creating installations for businesses around the world, from the new nearby Hiltons at Toledo Downtown to retail pieces sold online through several retailers including Anthropologie and Uncommon Goods. Between the history of glass here in the Toledo Region to Goldberg's family history in the shop his business resides in, the work is personal and uniquely Toledo.
"Toledo is considered the birthplace of the American Studio Glass Movement, which happened in the '60s, and I think there are some reasons why Toledo was the place that that happened," Goldberg says. "Innovation in glass happened here in Toledo and in industry, and I think it's still happening here on the industrial level. I mean, we have Owens-Illinois, Owens Corning, NSG Pilkington, we got Libbey."
And while American glass making may have deep roots here in the Toledo Region, it's always worth reminding the rest of the country – and the world.
"On the bottom of our cups, it says Toledo, Ohio. So, we're selling these glasses and people look at it and it says Gathered Glass, Toledo, Ohio," Goldberg says. "We are, slowly I guess, continuing that story that glass comes from Toledo."
Now, Goldberg is putting down his own familial roots here in the Toledo Region. He met his now wife, Andrea, an Akron native, at an overnight summer camp in Cleveland when they were children, and they stayed in touch over the years. Goldberg invited Andrea to the studio to watch as they turned on their glassblowing equipment for the first time in 2011, and they have been together ever since. In February, Goldberg and Andrea welcomed their first child, Aster, into the world.
Even without the history that informs his personal and professional lives, the Toledo Region is where his family has found a home. Toledo's low cost of living makes traveling easy, and Goldberg loves to garden and visit the parks with Andrea and Aster. And even just since Gathered moved into its space in 2011, the region has grown and expanded around them.
"No other block can you see produce delivery, glass blowing, a massive fiberglass tree being fabricated by Graphite Design + Build and the Mud Hens … and have a world-class painter, Leslie Adams," Goldberg says. "I think a lot of people think that they have to go outside of Toledo to find greatness. I'd like to change that. I try and change that."