In the Limelight

—
Ambrea Mikolajczyk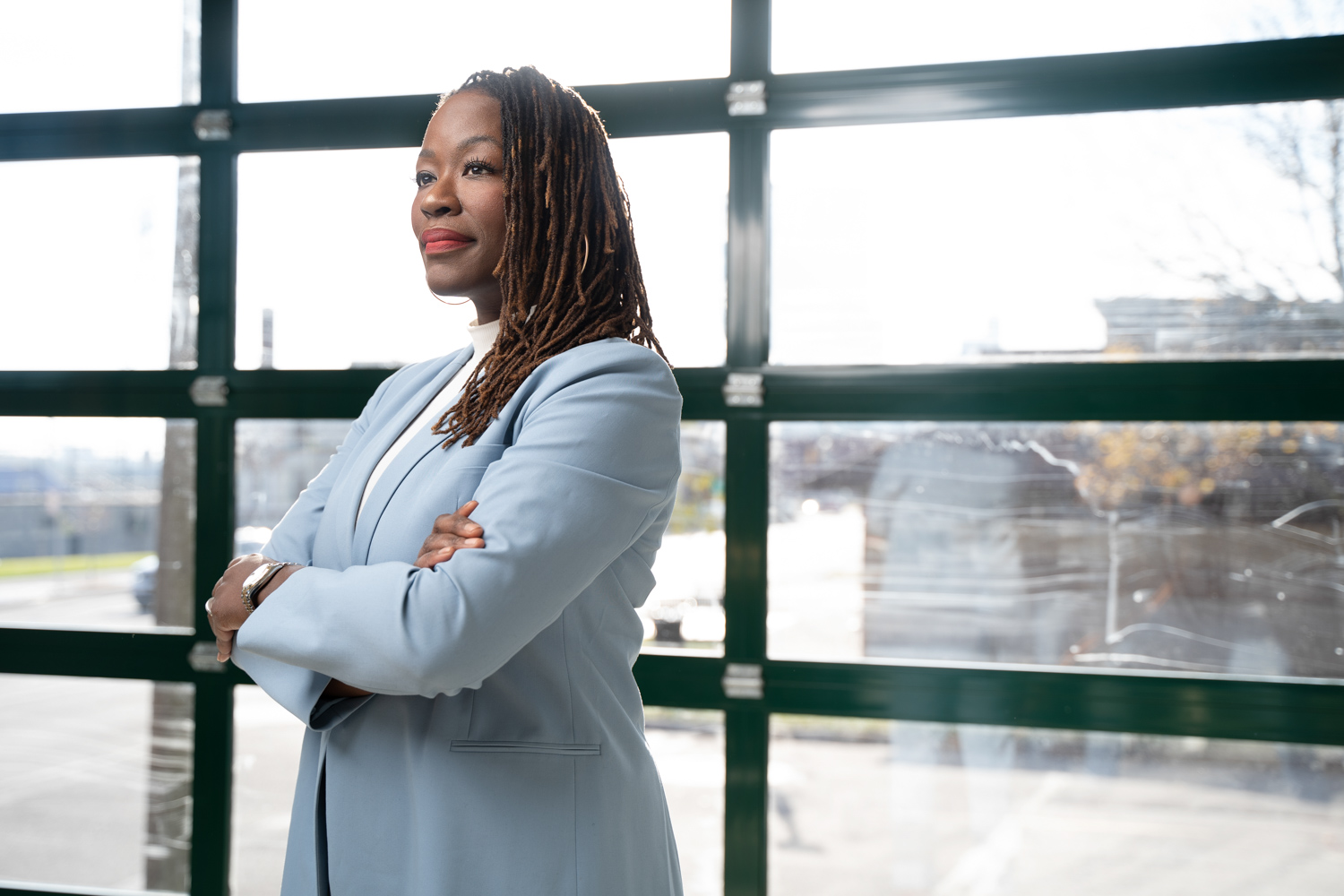 Ambrea Mikolajczyk is revitalizing Toledo and blazing a trail for those who will follow
Here in the Toledo Region, Ambrea Mikolajczyk's name is synonymous with ARK Restoration and Construction, and synonymous with the revitalization of northwest Ohio real estate. But her career didn't start in construction.
Ambrea, who grew up in west Toledo, attended the University of Toledo College of Pharmacy and Pharmaceutical Sciences and pursued the sales route. She built a successful career in pharmaceutical sales, but soon after she married her husband, Kevin, in 2005, the pair discussed the possibility of investing in real estate.
"I didn't know much about real estate, other than wealthy people like Warren Buffett typically have property holdings as a part of their portfolio." Ambrea says. "I'm one of those people who isn't afraid to take a calculated risk; I weigh the pros and cons really quickly. If the pros beat the cons, I go for it."
So, they showed up at an auction in 2007 and purchased two fixer-uppers, a duplex and a house, both in West Toledo where the pair grew up. The Mikolajczyks had no renovation experience and turned to Google and YouTube to learn about products and techniques from manufacturers, and hired contractors to do work they couldn't. Kevin and Ambrea's fathers are handy, and pitched in as well. Their first renovation projects were a success.
"Before we knew it, we had done it, they looked great. I couldn't see selling them after we had put our blood, sweat, tears, time and resources into them. I couldn't see giving my babies away, so what are we going to do now?" says Ambrea. "So, we decided to rent them out and become landlords, even though we knew nothing about the subject matter yet again. We had to learn what it meant to be a responsible landlord. What are the fair housing rules and regulations? Where do I get a lease from? How do you screen tenants? The list just kept going on and on."
While Ambrea admits there was a steep learning curve to becoming a landlord, and they were burned a few times at first, she soon fell in love with it. Any chance they got to buy new real estate at a great deal, Ambrea says, they went for it.
By about 2010, the Mikolajczyks had transitioned from single-family homes and duplexes to multi-family homes and apartment buildings with multiple units. Plus, they'd had two children. The business was successful and busy, and they decided that Kevin would quit his job to manage the real estate full time. Ambrea wasn't ready to quit the job that she loved.
"I was still very much solid in my career, I loved everyone I worked with and was climbing the corporate ladder – until we purchased an old factory in 2015 in downtown Toledo, a two-story warehouse, a former tobacco factory. That's when everything changed."
When the tobacco factory, where the family lives today, got to a state where it was safe for visitors, the Mikolajczyks hosted tours through Wander the Warehouse District, an annual event that brings visitors through downtown Toledo's oldest buildings during their renovation. Soon, visitors began to ask how they could hire the Mikolajczyks for their own renovation projects. She was shocked.
"I couldn't believe people wanted to hire us; I didn't think of the renovations we were doing as something that could be a business. I wasn't putting it all together. We had been doing the work for ourselves, I was unsure about doing it for others," Ambrea says. "Then I realized we had been doing construction management services for ourselves as the clients – we were negotiating with lenders, managing a budget, timeline, schedule, subcontractor relationships, vendor services, navigating the city permitting processes and then it just made sense. We had acquired all this development, construction, and property management knowledge over the past 10 years to be regarded as experts and help others do the same."
In 2017 Ambrea left her pharmaceutical sales career and officially launched ARK Restoration and Construction. The name is a dual meaning, Mikolajczyk says: Ambrea, Kevin and all four of their children's names start with either the letter A, R or K. The second meaning is biblical.
"It was very much like Noah's ark. It started with a leap of faith, hard work and a lot more faith that God had a plan for the work that we do," Ambrea says. "Not having construction or real estate background but being willing to work hard, figure it out and surround ourselves with a team who knows more than we do and constantly looking for ways to get better and improve."
While renovation began simply as a way for the Mikolajczyks to grow their portfolio, it has become much more than that to both their family and the entire Toledo Region community. Mikolajczyk says their impact became apparent while they were renovating an eight-unit building in the Old West End on Collingwood Boulevard. The building was vacant for years and had become a site for drug deals and other illicit activity, and a sore spot for the neighborhood.
"While renovating we met several neighbors who had been there 20, 30, 40, 50-plus years who had raised their kids and now grandkids in the area. They spoke about their love for the neighborhood, the many memories they have and who lived there," Ambrea says. "Their home, as well as the surrounding homes, were a huge source of pride for them. It was the first time I realized we were building back community, something much bigger than what we could have ever known would be the result of us showing up at an auction all those years ago."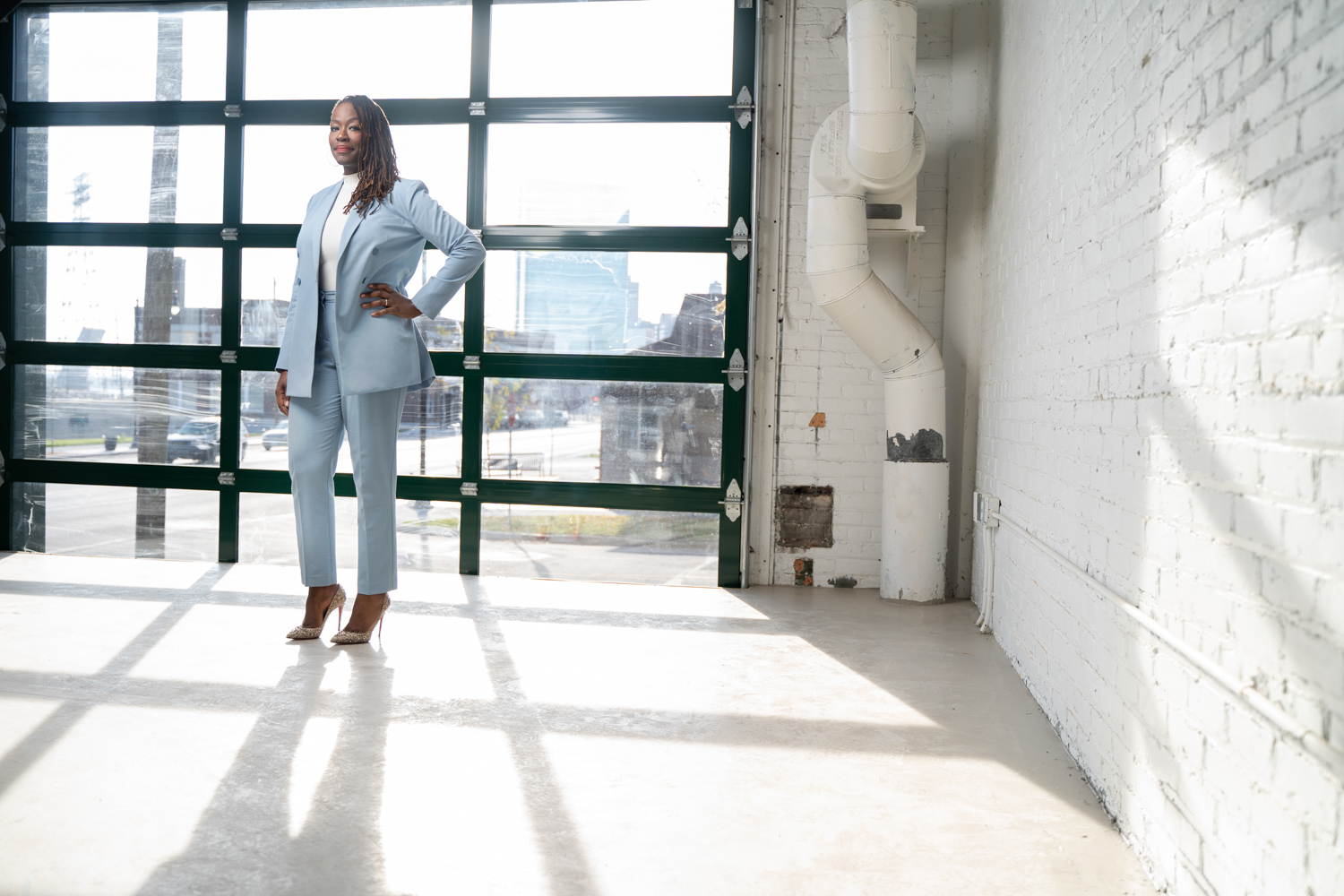 While ARK was working on the building, something unexpected happened – something that they now see happen during each of their projects.
"During the Collingwood renovation the neighbors next to us started cleaning up their yard, they demolished the garage that was falling apart, they removed the chipped lead paint and painted the house, they got rid of all the run-down cars in the driveway," Ambrea says. "Progress was being made not only with our build but the surrounding homes as well. I thought to myself, 'This is it, this is it,' everyone can and should live in quality homes, beautiful neighborhoods and have properties that retain their value over time, and the work we do is necessary in achieving this."
Mikolajczyk isn't just making waves in the community for eradicating blight and uncovering the original beauty of the Toledo Region, however. As a Black woman in the construction industry, she is often the only person in the room who looks like she does. The pressure can be immense.
"I definitely experience a unique set of challenges on my own as a Black woman in this space; the industry is led by white men. When they look at me, they want to know how I got here," Ambrea says. "I'm incredibly proud to be in this space and have the impact I do despite the obstacles. I definitely feel like I'm exactly where I'm supposed to be at this point in time to change the narrative, so when other Black and brown women who look like me think of pursuing real estate and construction their road won't be as difficult, that I would have paved it a bit wider for them, an easier passage."
To date, Ambrea and Kevin have renovated around 30 structures throughout northwest Ohio and have assisted numerous clients with their homes, offices, businesses, commercial, retail and industrial builds. They manage their real estate portfolio comprised of nearly 250 units valued at $20 million. Ambrea credits her strong and skilled team of 22 real estate and construction professionals for the success ARK continues to have.
"I couldn't do what I do without my team, I'm very blessed they make the decision every day to work with us," Ambrea says.
It's apparent that Ambrea's children take after her, particularly her daughters, who she says she admires for their fearlessness. The Toledo Region is a great place for her family, as her four children, Kaden, 14; and Karson, 12; Rowan, 10 and Reagan, 6, have so many activities to choose from between Imagination Station, the Toledo Museum of Art, the Toledo Zoo and Metroparks Toledo. Plus, Ambrea says, they will have an abundance of opportunities thanks to their roots here.
"Toledo is a great place with so many opportunities. Obviously, it's home, home is where your heart is, right? But I want my kids to have a sense of pride in their hometown," Ambrea says. "You can have a major impact by doing what you're passionate about and what you love in Toledo."
As Mikolajczyk brings hope to Toledo's neighborhoods and shines a light where darkness existed for too long, she also blazes a trail for the women and girls who will follow in her footsteps. And for those reasons, she says, this work is well worth it. It's all for the legacy – a word she has tattooed on her hand as a reminder.
"When I'm struggling, having a bad day or going through unnecessary barriers, I take a beat and remind myself of what I have been tasked to do," Ambrea says, "so, I dust myself off and get right back in the game, for there is much work to be done for the future and building back community."