In the Limelight

—
Anna Toney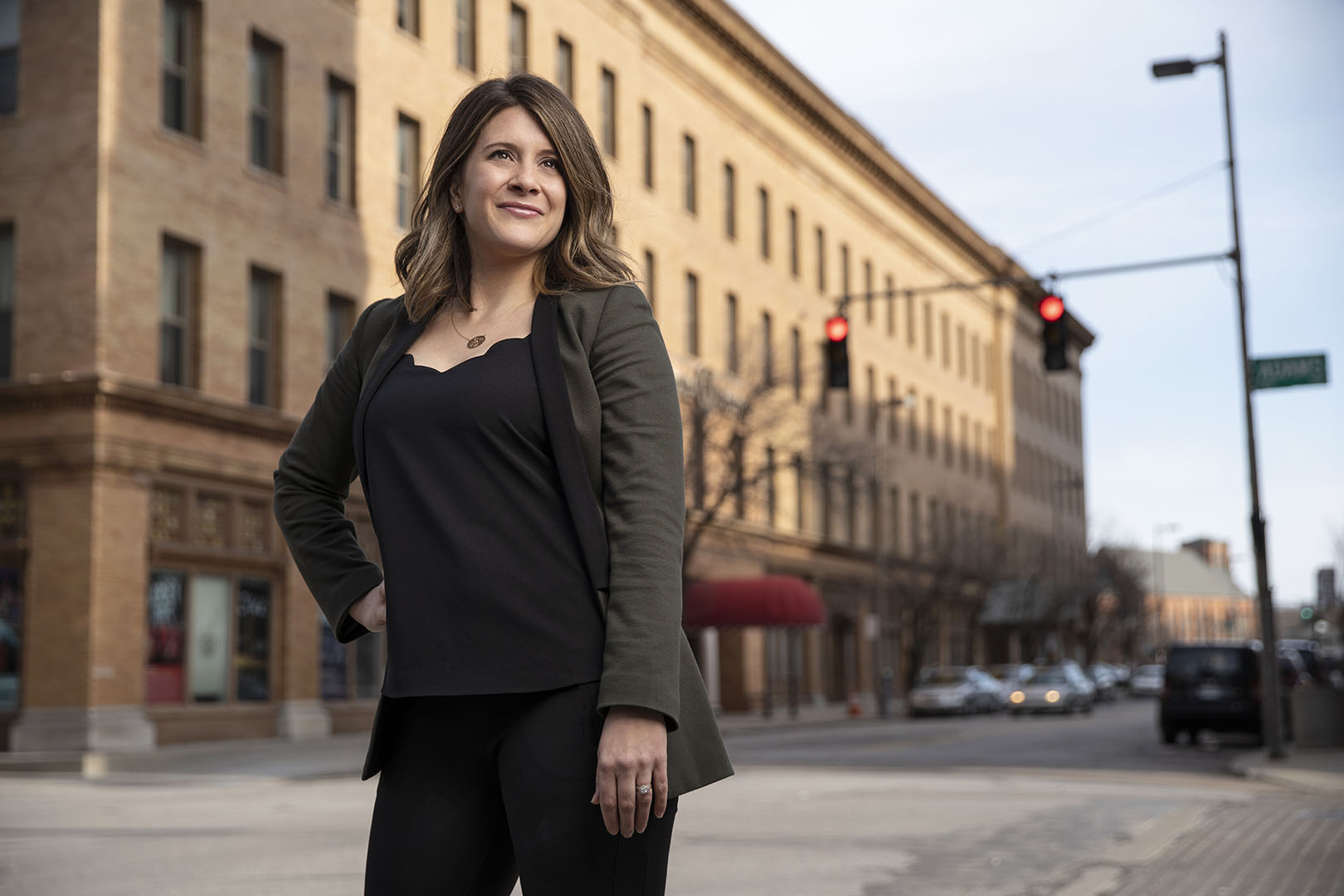 Anna Toney loves Toledo now more than ever after returning home
For Anna Toney, it's easy to see what makes Toledo so special.
She grew up here, in Old Orchard and Holland specifically, before leaving Ohio for Indiana University to get a degree in musical theater. Then, she left for New York City to pursue her dreams. Her husband, Toledo native Kevan Toney, had been living in Austin, Texas, and Toney was preparing to move south. That is, until Kevan got a job offer with the Toledo Police Department in 2011.
At first, Toney wasn't sure about moving back home, but with her and Kevan's parents still here, she figured she'd give it a shot. At any rate, she knew she wanted to get re-immersed back into the region.
"I went through the Leadership Toledo signature adult program. That really got me immersed back into the community, and especially the non-profit world," she says. "When I was moving back, there was a really positive energy going on around Toledo and this revitalization."
A few months after going through the program, Toney was invited to join the Leadership Toledo staff. Then, in 2017, she took over the executive director role; a position that gives her the opportunity to be a fully engaged community member.
The organization, which offers programs both for adults and high school students, strives to "inspire community volunteerism and expand awareness of community issues." It exposes residents to leadership and volunteer opportunities and educates them on how they can make a positive and lasting impact on their community.
"It's so cool because at Leadership Toledo, I get to be so involved in the community as my day-to-day job," she says. "I mean, every week I feel like I'm going to a different workshop or a different lunch. It's so fun."
But it's not just fun; it's hard work, too. Work to make the northwest Ohio region a more connected, giving and forward-thinking community.
"Toledo is a great place to live, but at the end of the day, we just want to inspire involvement," says Toney. "So, wherever these kids go, wherever the participants go from our adult class, they recognize that, whatever community they're in, it's important to be involved."
However, Toney says that Toledo today has evolved from the Toledo she grew up in. Since moving here, she and Kevan have started their family, and now have two daughters and a son.
"I cannot imagine a better place to raise our children. There's a lot to do, it's affordable, we're close to family. There's just a lot of great opportunity here," Toney says. "The energy and vibe, especially what's happening downtown, has been really cool to see and watch that blossom."
Despite the incredible growth, it's important not to see the community through rose-colored glasses, says Toney. That's why she urges everyone to get involved in one way or another; to continue helping the region to thrive and fill the gaps that exist.
"In order to be a leader in your community, you have to know your community. You have to be willing to understand the challenges that we face, the opportunities that we face," she says. "The importance of identifying what fuels your soul, what drives you, what you're passionate about and finding ways to plug in – that's really what we try to do at Leadership Toledo."
Right now, Toney says, business leaders have a unique advantage, as the region is rife with untapped young talent. That young talent may have left for bigger cities or ones with more career opportunities in the past, but now they're seeing the region's advantages.
"I think you're finding a lot of young people that want to find a reason to stay here now," Toney says. "The talent that we have in this community is great. I do think we need some more opportunity for that, so I think you can really access high-quality talent here."
Toney calls out the many schools, metro parks, concerts and summer festivals, Toledo Mud Hens, Toledo Zoo and Aquarium, and museums as entities that are moving the region forward; facets of the city that make it a great place to live and raise a family.
"We want Toledo to become a place that people are like, oh, I want to go to Toledo because of the opportunities that are there versus the circumstances that are bringing me there," Toney says. "I think Toledo's really working hard to make that the situation here."
On both a personal and professional level, Toney cares about getting residents involved in the community. When asked what advice she would give to those considering a move to Toledo, she immediately shouts, "Do it!"
"You do have to step out and get involved in things. So, I think, finding the areas of interest to them and plugging in to those, because that's where you're going to find your community of people," Toney says. "Give Toledo a chance and really share in the excitement, because when you do, you'll find more of that fulfillment and pride. You have to be open to it."