In the Limelight

—
Bradley Scherzer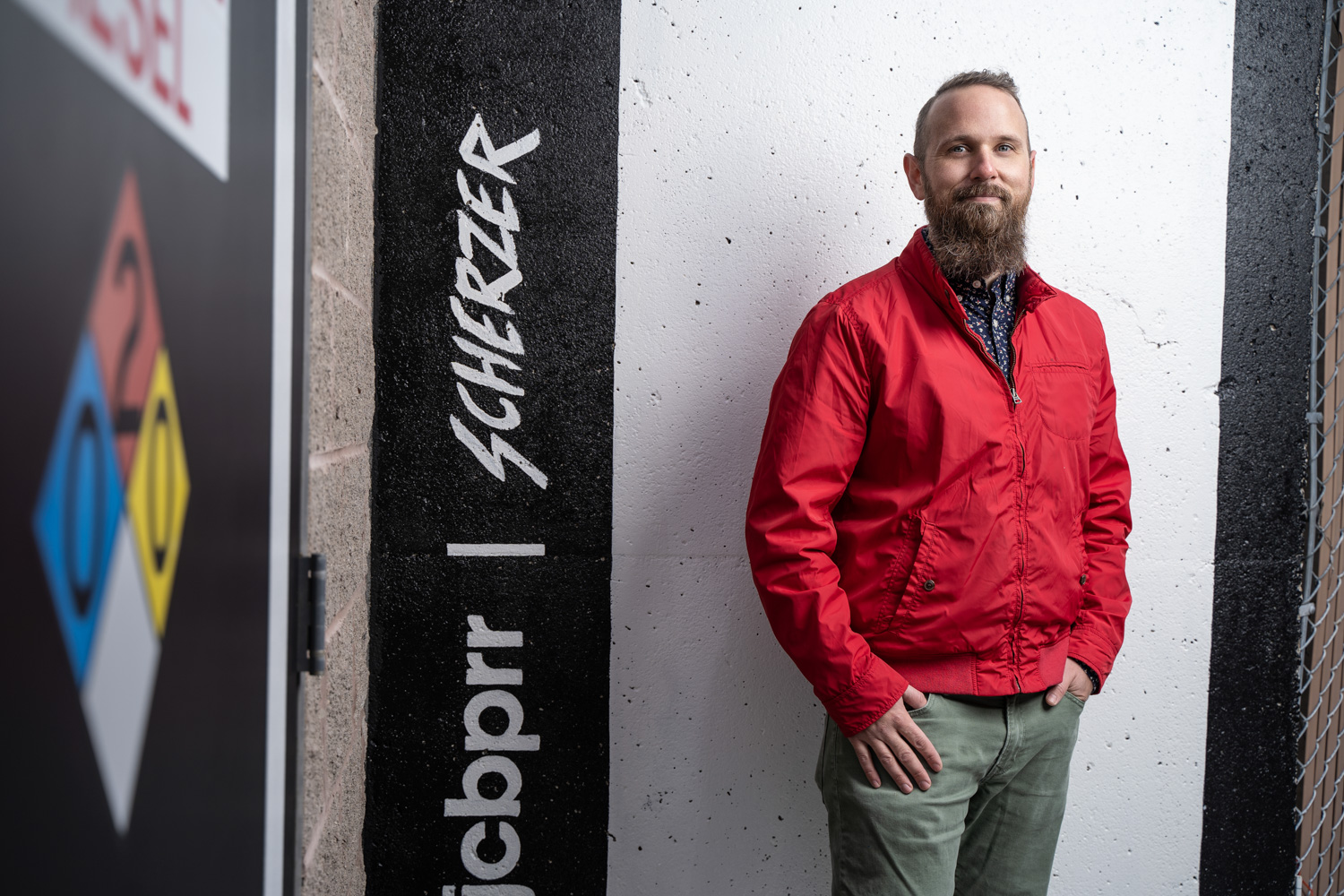 Bradley Scherzer is an artist, teacher and all-around problem solver
If you've walked around in northwest Ohio, you've probably seen Bradley Scherzer's work.
From the buttered bread and chicken and waffles that adorn the second-story walls of Fowl & Fodder to the Tribute to Bernadine Stetzel public mural in Fremont and the dynamic walls of Condado Tacos, Scherzer has quite literally put his mark on nearly every corner of the region.
The working artist and Fremont Ross High School art and design teacher is equal parts inquisitive dreamer and analytical problem solver. It's simply in his DNA.
"Both sides of my family are creative, like, they're troubleshooters, mechanics, builders or engineers," says Scherzer. "You know, we're just clever, funny people."
Scherzer is originally from Point Place and Waterville, and went to Bowling Green State University for art education and 2-D studies. And while Scherzer might be most recognized for his murals, he might be better described as a mad scientist than a muralist. Take Poof! for example, which may as well be the monster to Scherzer's Dr. Frankenstein.
"I was interested in geodesic domes and I was interested in light reactivity, and I really started investigating pneumatic tube systems to see how they work," says Scherzer. "And then I wanted somebody to fund me to build the geodesic dome, and there was an interactive thing. So it was basically like, let's combine all this stuff together. Let's just make something out of it."
That something became Poof!. The temporary art installation is a massive dome composed of a series of tubes and PVC pipes with a mouth for participants to enter through. Similar to the pressurized air tubes at a bank drive-thru, Poof! relies on participants to feed it, sending "poofs" through the pressurized tubes which spiral in and out of PVC piping and up through large doughnuts at the top of the dome. At night, the structure is lit up by UV spotlights, making the entire piece glow.
"It's a symbiotic relationship that you develop with an art organism. It doesn't have any arms or anything, so it relies on giving you joy to feed it," Scherzer says. "So, I teach people to feed it and then they perpetually interact with this thing. It's hard to get kids to leave it."
Scherzer succeeded in getting the project funded after he received the INTER/ACTIVE grant from the Arts Commission of Greater Toledo as part of the city of Toledo's One Percent for Art program. His work on Poof! earned Scherzer a spot in the Arts Commission's 2019 Momentum Festival, and he was the only local artist to have a major installation featured in the event.
Whether it's a structure, mural or something entirely his own, Scherzer wants everything that he creates to be an active experience for the viewer. Tribute to Bernadine Stetzel, created after the painter passed away in Fremont in 2016, challenges viewers to find objects like a magnifying glass, thermometer, lightbulb and more hidden within the mural.
"You can only get so much out of a passive experience," says Scherzer. "If you don't have an experience that stimulates your mind, you're probably not going to remember it. So, if you don't notice something clever or something you can communicate to somebody else, there's not a lot of value in it."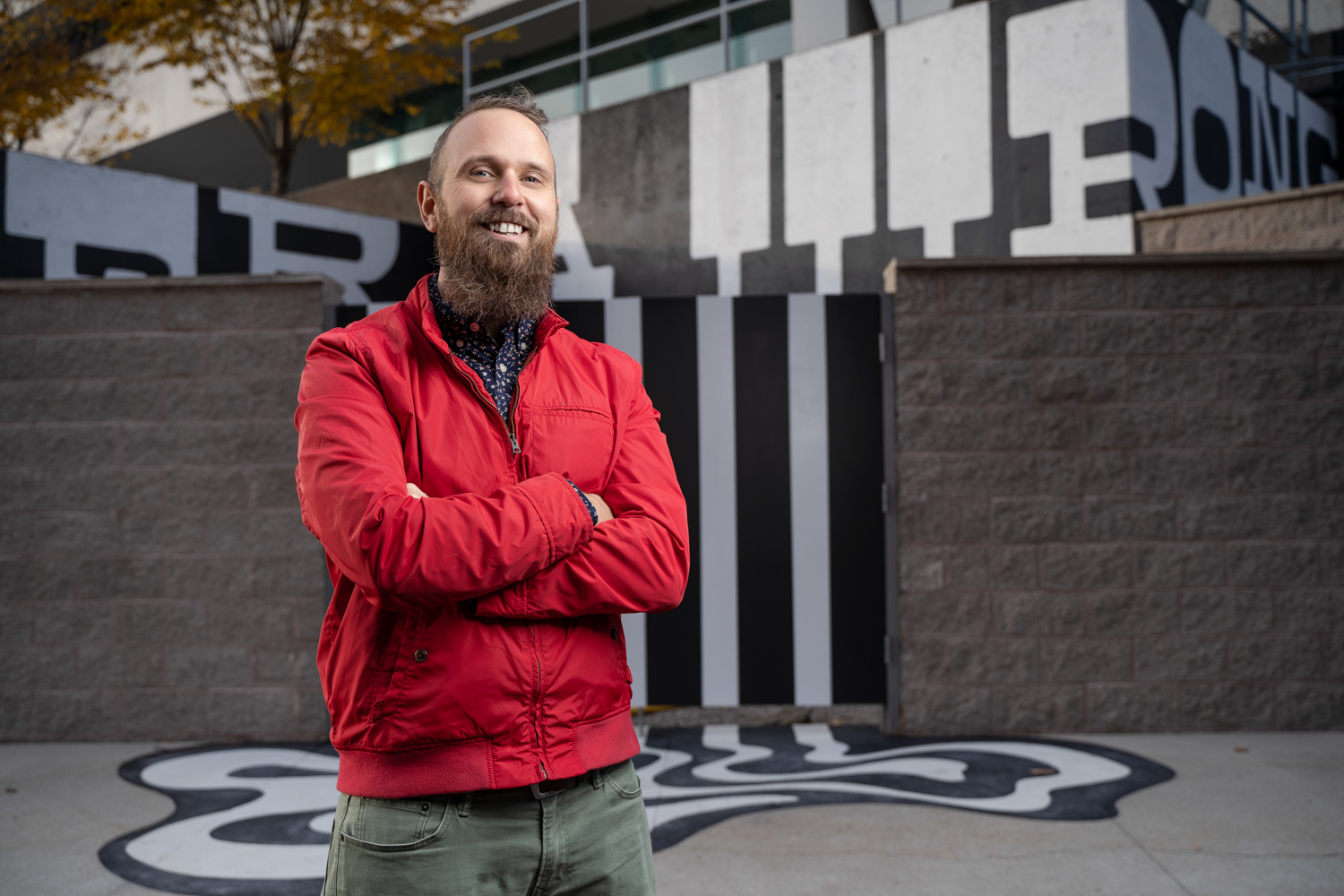 Scherzer sees his public art as complementary to other artists' work throughout the region. For artists here in northwest Ohio, creating public art is not a competition – it's a collaboration.
"Myself and a lot of my friends and peers, we kind of look at the whole Toledo outdoor landscape as a curatorial experience," Scherzer says. "So it's really great to be part of that and all the things that I contribute to it, I'm very conscious of how what I do fits in with what everyone else has done and making sure that we don't get too much of the same thing."
If northwest Ohio wasn't as supportive as it is to local artists, it would be a much duller community. The public art and murals that saturate the region make it a unique, interesting and vibrant place to live and, Scherzer says, residents and local organizations recognize that fact.
"We, I don't think, have a problem with having people show up for arts, and it's usually in demand for its entertainment value. You'd be hard pressed to find a fundraiser that doesn't include the work of a local artist in it," Scherzer says. "The thing that keeps me here is, you can create a situation that gives you so much latitude to do all of the things."
Scherzer has no qualms owning up to being the quirky teacher at Fremont Ross High School – after all, he built Poof! in the forensics classroom at the school, the only space large enough to house it. But starving artist? In northwest Ohio, Scherzer says he's not worried about that.
"There's financial latitude. I'm able to operate on a teacher's salary and own a house and also be able to have some flexible money in order to experiment and try things out," he says. "Like many places in the Midwest, this is also a place where you can run into all sorts of minds, you know? You get constantly stimulated by different ways of thinking, which is really valuable for me."
On a given day, Scherzer might be putting paint on walls, woodworking, laser cutting or engraving, or solving technical problems at the school through automation, something he finds fulfilling and satisfying. And that's all after a day of teaching his students. But when he finds time, he and his partner, Lindsay Williams, enjoy "aggressive" travel, filling every moment with an activity, exploring the local art scene and taking in as much as possible.
Whether Scherzer is traveling, painting or creating a massive interactive piece of art, you can bet he's solving some sort of problem right here in the Toledo Region. And when that problem is solved, he's on to the next one.
"I don't sit still well. I like having problems to solve, I feel way more comfortable with that," Scherzer says. "You know, it's done and fantastic. What's the next challenge?"