In the Limelight

—
Carlos Ruiz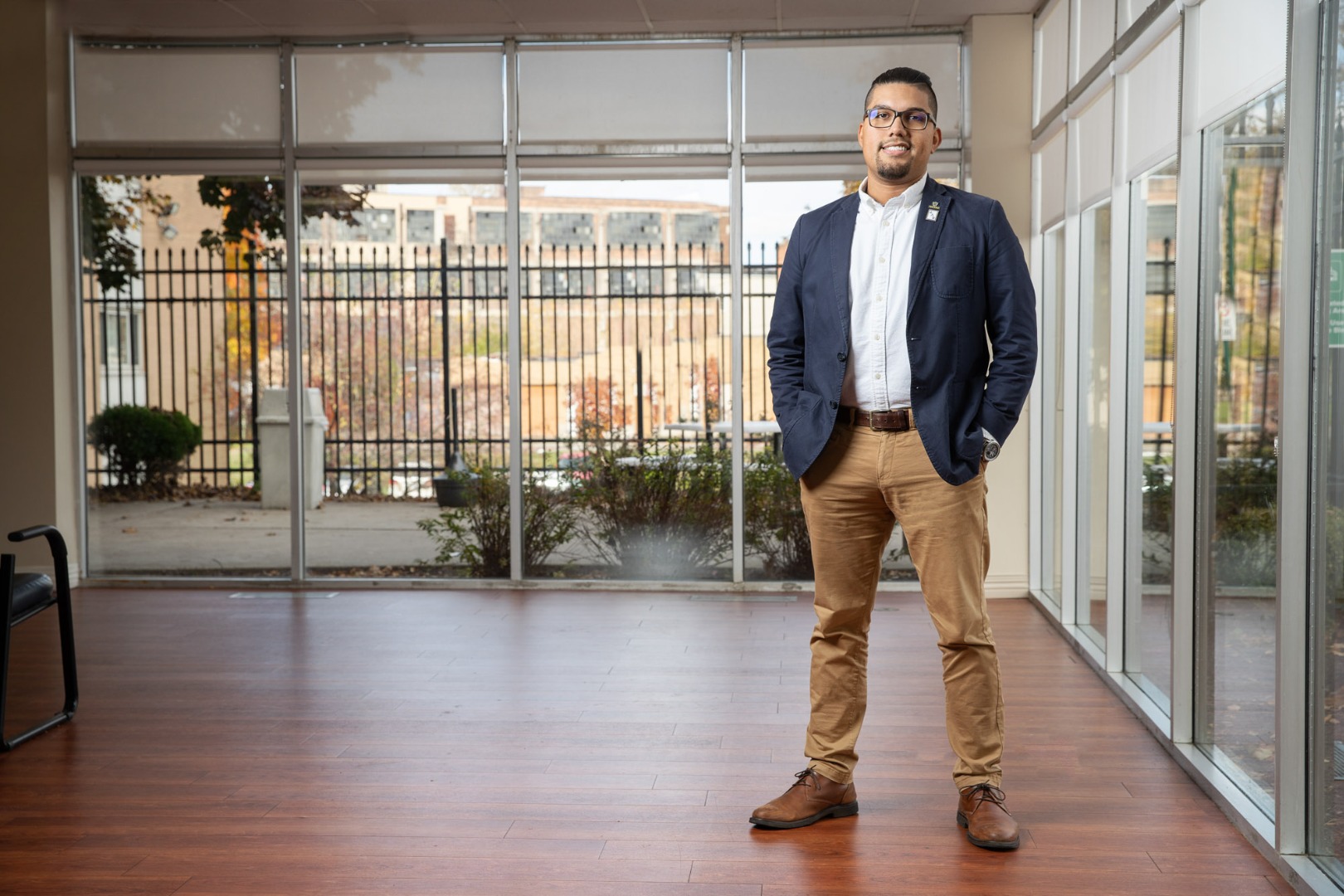 Carlos Ruiz gives back to the city that gave him so much
Carlos Ruiz likes to be behind the scenes. Instead, he frequently finds himself center stage.
He was voted class president three of his four years at Lake High School. At the University of Toledo, Ruiz was president of both his fraternity, Sigma Lambda Beta, and of the Latino Student Union. He served as vice president of the Latino Alliance of Northwest Ohio for five years, and served a term as president of the University of Toledo Latino Alumni Affiliate.
Ruiz and his family moved from Managua, Nicaragua, to Miami, Florida, when he was merely months old. He spent four years in Miami before his family moved up to Toledo, where he's spent the last 27 years. For all intents and purposes, Ruiz says, Toledo is his hometown, and he wouldn't have it any other way.
"It's funny because I knew I wanted to – and would – go to UT. It's the only school I applied to, and I was fortunate enough to get a full academic ride," says Ruiz. "My parents have elementary educations, so they always drilled into us that they brought us here for us to have better lives, more so than them, and so making something of ourselves was not an option."
Ruiz graduated from UT with a finance degree, and set to work at the Lucas County Department of Job and Family Services (JFS). He moved on to the Lucas County Auditor's Office, where he worked for five years, then took his current role as director of finance at the Zepf Center, where he's been since September 2018. The position at the Zepf Center seems to be fate; both the CFO and CEO from his time at JFS are now at the Zepf Center.
"It really affirms the idea of, and the importance of networking," Ruiz says. "The fact that (Toledo) is a smaller big town, it's really dependent on you to network and create these opportunities for yourself."
While Ruiz believes strongly in the mission of the Zepf Center, a non-profit that provides services to those with mental health conditions in Lucas County, he says that board and volunteer positions he holds in northwest Ohio are really where he explores his passions.
"There are many individuals in this town who have played an active role in making sure that this is a welcoming city, and there are many of us involved in various cultural, myself specifically Latino, organizations that will continue to advocate for communities," Ruiz says. "It's these types of things that more so define me; being able to provide better resources, better opportunities – not just for the Latino community, for everyone."
In addition to his roles with the Latino Alliance of Northwest Ohio and UT Latino Alumni Affiliate, Ruiz is chair of Adelante, the Latino and Community Resource Center, a position which he holds near and dear to his heart. Ruiz was in Adelante's youth program in elementary school and worked there as a youth specialist in college. Ruiz says he was afforded the opportunities he has today thanks to the encouragement of others, and wants to pay that forward.
"Sabina Serratos, our executive director, she taught me the most important phrase, which is why I think it's important to give back: 'As we climb, we must lift,'" Ruiz says. "That quote has always been very important to me, and that is why I think it's so important for me to give back with my time or resources, whatever it may be, ideas. Because so many that came before me took the time to help a person like me."
He's just 31 years old, but Ruiz says he's always been pushed to take on bigger roles, get more involved and entrusted to be a leader. He recalls an older fraternity brother and a mentor sitting him down privately. It was a solemn experience, Ruiz says. The pair told him they saw potential in him and that he needed to get more involved.
"I'll never forget that sit down we had. I was like, 'F***, man.' It was a lot on my shoulders," Ruiz says. "I think when people believe in you like that, it becomes your responsibility. It becomes your responsibility to give back and not let them down because, you know, when you have the ability to lead or even the time to give back and you're not doing it, I think it's a slap in the face to all those that believed in you."
So, Ruiz has taken the challenge. He's also become an advocate for Toledo wherever he can, and admits he gets offended when others – especially longtime Toledoans – knock it. He's a strong believer that, if a person isn't involved here, it's because they just haven't taken the initiative. However, he sees a major change in the way residents feel about the region as more and more people share their passion for it.
"I really feel like the city is getting a much different light shed on it as of late," Ruiz says. "It's incumbent upon the people to go out there and look for something to get involved in and not expect for something to fall in their lap. Chances are, if there's something that you like, Toledo has something to offer you."
Ruiz enjoys spending time with his two sisters and parents, who are still in Toledo, and his fiancée, Ana Reséndez, who is in nursing school at Terra Community College in Fremont. He loves playing volleyball at the docks in the summer, and is a UT football season ticketholder. He's excited to watch northwest Ohio grow, and feels proud to be here.
"I feel like I've been very blessed. I feel like the city has played a major role in the opportunities it's afforded me. So, since it's given me so much, I feel it imperative for me to give back," Ruiz says. "I feel very lucky and privileged to be an active member of this town and helping contribute to its turnaround and to its growth. Hopefully this is just the beginning."