In the Limelight

—
Chris Aldrich and Phil Myers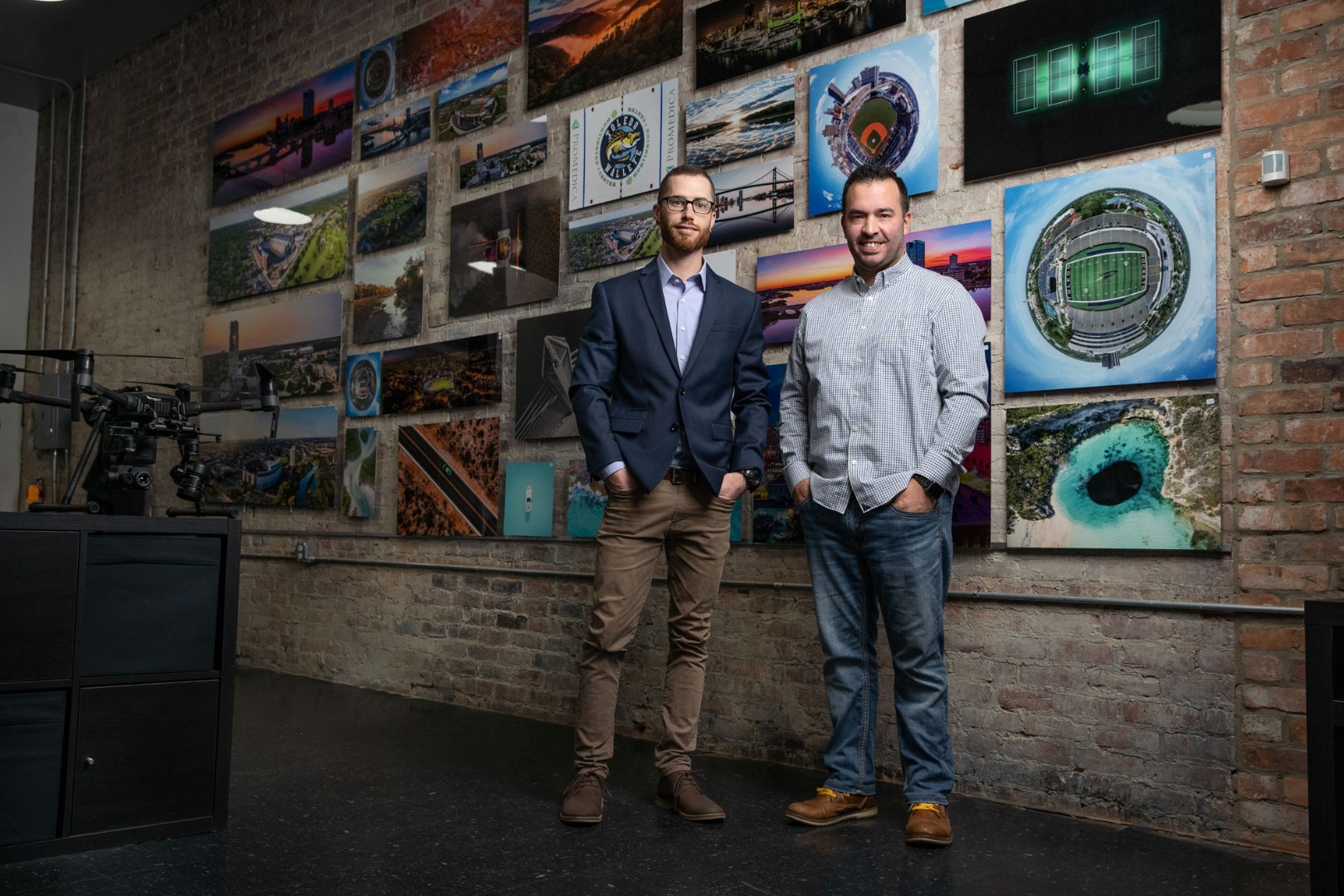 Phil Myers and Chris Aldrich give Toledoans a bird's eye view of the city
Have you ever found yourself walking through downtown Toledo when a drone whizzes by? You watch as its blinking lights turn this way and that, sizing up a building or a particular view of the river. You wonder where it's headed or who's flying it.
Here in Toledo, you can bet that drone belongs to TAM (Toledo Aerial Media), run by Chris Aldrich and Phil Myers.
Aldrich and Myers, both northwest Ohio natives, have known each other for years, bonding over their mutual love for cars and tech. Myers was an early adopter of the GoPro, and used it frequently to take pictures and videos of cars. Then, in 2013, something else caught his eye: drones. Myers was immediately interested, but at the time he and his now wife, Jessica, were budgeting for their wedding.
"I said, 'You know what, I'm going to buy this drone and I'm going to make money off it. It's going to be huge,'" says Myers. "That's when the drone industry started to come alive, and you can use it for real estate and construction."
Meanwhile, Aldrich was in the process of moving to Florida. Still in close contact with Myers, Aldrich decided to bring the TAM model to Florida under the name Blacktip Aerial. However, he didn't stay from Toledo long, and moved back in 2016. Not wanting to compete with Myers, Aldrich proposed a simple solution: merge the companies.
"I was so busy here, I was like, I need somebody else," says Myers. "It was a perfect fit."
With Myers' talent in operations and development and Aldrich's penchant for business, the partnership was natural. Blacktip Aerial now operates under TAM's umbrella, which they use for more tropical clients. Through TAM and Blacktip Aerial, Aldrich and Myers have traveled all over, from California and New York to Texas and even the Bahamas. And while traveling and flying a drone all day may sound like fun, the pair is quick to say they're still running a business, and a day on the job can be grueling.
"Last trip we put 1,200 miles on the rental car in one week. A different hotel every night – it's wild. So when people ask, 'How was your vacation,' I laugh," says Aldrich. "You go, go, go all day, you check into at a hotel at night, you get everything on chargers and prep the gear. You go out to eat and then you're in bed. It's a grind."
Plus, Aldrich and Myers didn't just pick up a drone and fly it one day; they're FAA certified commercial drone pilots, certified in thermal analysis and aerial mapping, and they even provide drone training to first responders. In 2014, a friend of Myers' who was an officer for Oregon Police Department reached out. The chief was looking into drones for missing person recovery. More specifically, the department was considering buying a $100,000 drone from a Canadian company.
"We set them up with the equipment and trained them. We saved the City of Oregon over $40,000 because they spent less than half of what they were going to spend on equipment that was probably three years behind what was current," says Aldrich. "Then, Toledo Police Department saw that and said, 'We want that.'"
First responders can use drones equipped with thermal analysis technology to find missing persons or, in the City of Oregon's case, to find ice fishermen in danger. The cost savings are incredible: rather than spend valuable time with the helicopter locating the person – time that could mean the difference between a rescue and a recovery – officers can send out a drone, locate the missing person using thermal analysis rather than just the naked eye, then send the helicopter directly to that location. No time wasted.
For commercial purposes, TAM has worked with Amazon, Titleist, Discovery Channel, Ducks Unlimited, Roush Performance and The Ohio State University, among others. Working with large clients can be technically difficult, but it's rewarding, says Aldrich. During one project for a local hospital, Aldrich and Myers were tasked with getting a sunrise shot of the building. Aldrich and Myers mounted the client's $90,000 camera, equipped with a $17,000 lens, to their $10,000 heavy-lift drone. In order to have everything ready for sunrise, they arrived at 4 a.m. to set up over $100,000 of equipment in the pitch black using flashlights. Lifting that much tech high into the air was stressful to say the least.
However, what Aldrich and Myers have become known for around northwest Ohio isn't their commercial work or first responder training, but for their beauty shots of downtown Toledo. In fact, their drone photography has become so popular in the community that the men have become accidental ambassadors.
"People are like, 'I want that in my office,' because they're proud. We've had people buy prints for their son or daughter going to college that want to put it in their dorm and be reminded of home," says Myers. "It's a nice feeling when we can give that to someone indirectly: the thoughts of home just from the photos we take. It's humbling."
Aldrich says many people are surprised to see Toledo's skyline from a bird's eye view. When they were selling prints at a local show, Aldrich says, one person couldn't believe the skyline shot was Toledo – they thought it was Los Angeles.
"We consider ourselves ambassadors for Toledo because there are people who are like, 'Thank you, you make Toledo look so good,'" says Aldrich. "I'm like yes, Toledo is good. We're not just making it look good – it is good."
Being small business owners is taxing and they don't find themselves with much free time, but Myers, who lives in southeast Michigan, simply enjoys relaxing with Jessica and his in-laws, who the couple is very close to. Aldrich, who lives in northwest Ohio, loves the ocean, and enjoys fly fishing and SCUBA diving in addition to spending time with family.
The owners of TAM hope to continue to grow their business, both expanding their client base around the country as well as here in Toledo. The company has worked with Metroparks Toledo, ProMedica, The University of Toledo, Bowling Green State University, and the Toledo Mud Hens and Toledo Walleye. No matter how big they get, both Aldrich and Myers are committed to staying right here in their hometown to watch the skyline grow, and photograph it along the way.
"When people look at our photos, they're like, 'Wow, it does look nice.' I'm like, 'It's always looked like this. You're just not seeing it,'" Aldrich says. "We're proud that we're based here."
"We have pride in the fact that we grew up here, started a business here, we have an office here, we represent here," says Myers. "It's been great being in northwest Ohio."