In the Limelight

—
Dave Zenk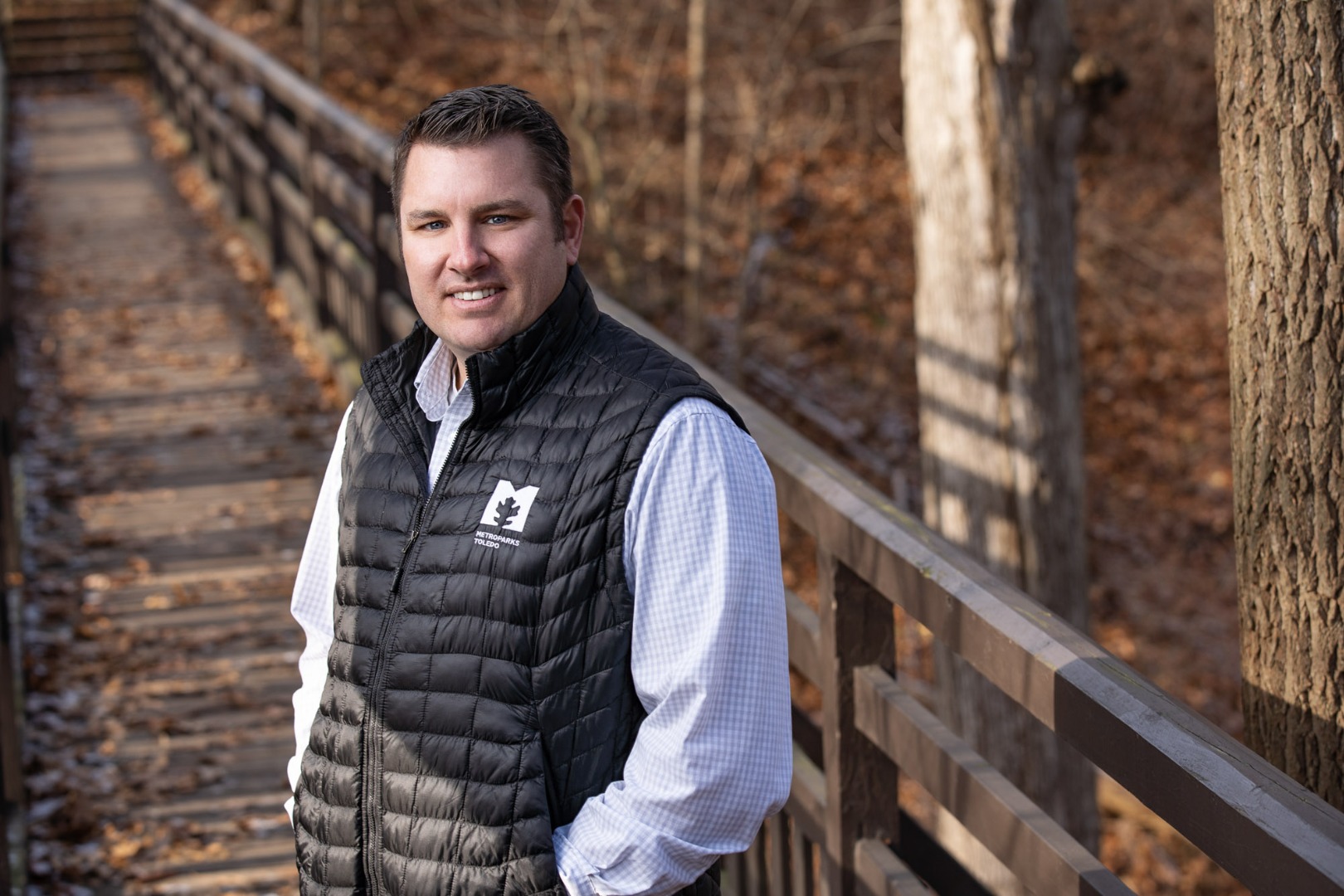 Dave Zenk wants every northwest Ohioan to love where they live
If you ask Dave Zenk where he's from, you'll get an interesting answer. The son of a General Motors cost accountant, Zenk spent his childhood moving about every three or four years. His family is spread across the U.S., so he never felt he had roots in just one city. So, when it came time for Zenk and his wife, Pam, to choose where to start their family, Zenk says they could've gone anywhere.
However, having graduated from The Ohio State University and having lived in Cleveland for a short time, Zenk was familiar with Ohio. Then, a job opening caught his eye: a park manager with Metroparks Toledo. The problem? He felt he had no relevant experience.
"I remember me and my wife talking about it and she was like, 'Well, I'm sure you could do it, but what the hell do you know about managing a park?'" Zenk says, laughing. "Once I got in and really understood what this place was about and the system that it represented, it took a matter of months before I realized this was kind of what I was meant to do. I was really excited."
Zenk says getting the job was "dumb luck," but taking the position in 2005 was clearly the right choice. He was a natural. He would move up in the ranks until 2016, when the Board of Park Commissioners appointed Zenk to his current position as executive director of Metroparks.
In that role, Zenk has a front row seat to the natural wonders northwest Ohio offers. As someone who didn't grow up in the region, he's made a concerted effort to show residents – especially Toledo natives – what's in front of them.
"Really, that perspective of having lived literally coast to coast is what let me as an outsider to really appreciate what this region has, and also gives me the ability as an outsider to sort of push back," Zenk says. "The quality of life institutions – whether it's art museums, the zoo, opportunities for education – all of these things are on par with any location in the country. Add this list up. If you were to look at that list, it's a pretty badass place to live, right?"
Zenk and Pam now have three children: Chloe, Carter and Cohen. Zenk's love for the outdoors didn't come from his parents, he admits, but was the result of his childhood playing in the woods. He remembers setting out early in the morning, equipped with a backpack and some lunch, to go on adventures with friends. He spent his childhood flipping over rocks, playing in streams and catching crayfish. He and Pam have done their best to encourage a love of nature in their own children, too.
"You make the decision consciously when you become a parent: how do you want your children to grow up?" says Zenk. "When my kids go to a sleepover at a friend's house, they're often bored because all of their friends are on electronics and want to play video games for hours. If given the choice, my kids now always want to be outside, always want to have a fishing pole in their hand."
Zenk relents that, for many families, this sort of childhood isn't realistic. Letting your children spend their summers without parental supervision, romping around with a backpack and some lunch may be frowned upon today. Plus, families who live in urban settings simply don't have the same level of access to green space. As executive director of Metroparks, Zenk wants to change that. Metroparks now has a goal of placing a park within five miles of every resident.
"We started to look at places in the community that we didn't have a presence. There was almost a correlation between some of the most impoverished portions of the community and the fact that there was no quality open space," he says. "Sort of the next evolution of our growth was really understanding the role and the obligation we play in transforming our region's identity and sort of putting it on the map."
Zenk's commitment to bringing parks to every Toledo resident adds to Metroparks' original vision of preserving and restoring the region's natural history. The Howard Marsh project, for example, restored 1,000 acres of wetlands, and received the national Innovation in Conservation Award by the National Recreation and Parks Association.
Zenk is encouraged by these awards and the headlines he sees – headlines, he says, Metroparks should have been receiving from the beginning. The Cannaley Treehouse Village in Oak Openings Preserve at first raised some eyebrows, but seeing the excitement has inspired Metroparks employees. Zenk laughs when he mentions one headline from Columbus Navigator: "Toledo Is Getting A Super Cool Treehouse Village And We're Incredibly Jealous."
"There are, frankly, few places that have the types of outdoor recreation opportunities that we have here in a very short period of time. If you think about it, in literally a 45-minute drive, you can be walking on an Oak Openings sand barren, which is a globally significant natural system. In 45 minutes, you can drive over and be in a coastal wetland or on a shore of Lake Erie, which is one of the largest bodies of fresh water in the world," Zenk says. "With everything the park system is doing, it dovetails cleanly into my personal ambitions, and why this is such an awesome place."
Zenk and his family enjoy fishing, mountain biking, SCUBA diving and, really, anything adventure-related. He's also on the boards of Destination Toledo and ConnecToledo. Though this may not have been Zenk's hometown, he's found an incredible community here, and he's inspired by the work his peers do every day to move the region forward.
"The area's largest employers are just incredibly giving and continuously support what the next big initiative is. That's something you don't often see in other communities," Zenk says. "There's a real sincere interest right now from leaders who come from all walks of life to really participate in shifting the needle. Success breeds success, so the ball is rolling."