In the Limelight

—
Ivonne Mendoza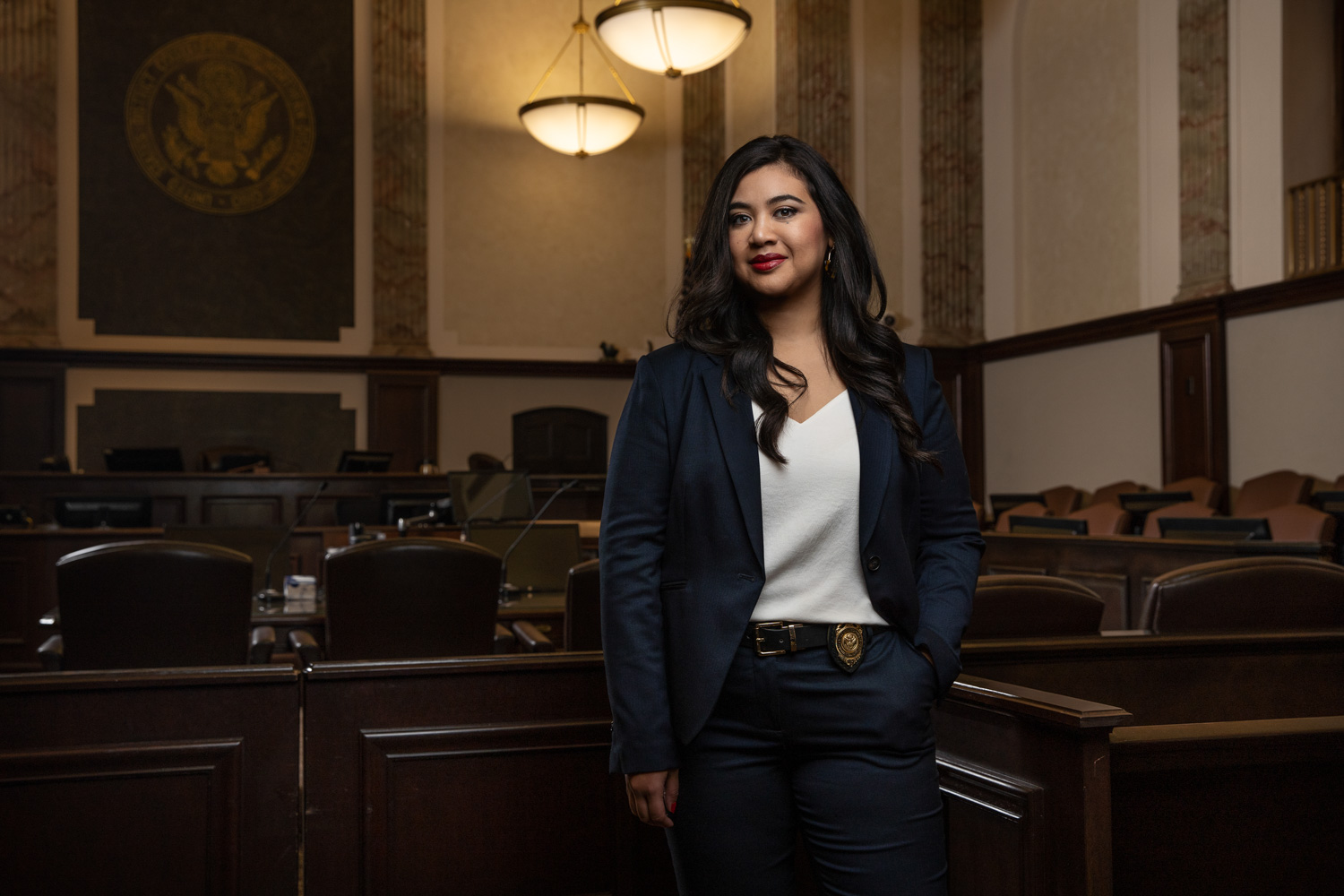 Ivonne Mendoza wasn't born in northwest Ohio, but she's still from here
Ivonne Mendoza wasn't born in Toledo. She didn't originate in the Midwest. Or the United States, for that matter. She was born in Managua, Nicaragua.
Still, ask Mendoza where she's from and she'll say Toledo, Ohio.
Mendoza moved to Miami, Florida, from Nicaragua with her parents and two sisters when she was just 1, then to Willard, Ohio, before settling in Toledo when she was 10. Growing up, she always viewed Toledo as the perfect size – a large city, but still small and warm.
"I do remember being young when I lived in Willard and my cousins lived in Toledo. It was like, 'We get to go to Toledo!'" says Mendoza. "In my eyes, it was a big city. Moving here, you feel that city feel, but this is home, you know? It's a community. I'm part of this. It just always felt right."
Mendoza found a love for the court system at a young age, growing up watching cop shows with her dad. She didn't want to be a lawyer nor a police officer, but she knew she wanted to be part of the world of law. Her parents didn't make it to middle school, but Mendoza is proud to have gone to Bowling Green State University as a criminal justice major. She interned at Court Appointed Special Advocates at the Lucas County Juvenile Court system and discovered a passion. She applied for a full-time position and began work at a youth treatment center through the Lucas County court system just a month after graduation.
"Toledo is leading the way in regard to juvenile reform and rehabilitation, understanding that detention and jail does not work, and we're spending all this money and the kids are getting worse," Mendoza says. "We're being taught cognitive behavioral therapy, we're being taught evidence-based therapy. This is what a probation officer does, whereas at other places, it's totally different. … I will always credit the city to my career, my beliefs, everything."
During her final few years at Lucas County, she obtained a graduate degree in organizational leadership from Lourdes University in its global immersion track. Then, in 2018, Mendoza became a United States Pretrial Services and Probation Officer – a federal job. And one of the best parts was the ability to stay right here in Toledo.
"It's so cool to have the mentality of, I work for the U.S. government but I live here in Toledo, Ohio, you know?" says Mendoza. "This is what I do here, and this is my little piece of the big, huge puzzle."
Mendoza's professional life has trickled into her personal life, opening doors to become pieces of other puzzles as well. During her time at the juvenile court level, she was always pushed to meet kids in the community rather than the office, attend meetings and get to know others in the region. Many of the kids she interacted with would visit the Sofia Quintero Art and Cultural Center, learning to grow their own food, create art and become well-rounded young people. She joined the boards of Sofia Quintero as well as the Latino Alliance of Northwest Ohio, which connects representatives around Toledo because, Mendoza says, "at the end of the day, we all have the same goal."
As a Toledo transplant, Mendoza says she sometimes gets frustrated about the negative perception that still permeates the city – usually through its longest residents. She says the negativity is less about reality and more about Toledo's past.
"I definitely get defensive about Toledo. … It was not my hometown, but it is my home town, so I'm going to defend it," she says. "If you're going to complain, I need to hear a solution immediately after. I don't have time for that. It has changed, but some people's mentality hasn't."
Mendoza credits her grandma and sister, Guisselle, for her deep-seated love and dedication for her community. Though Mendoza claims she's not a natural public speaker or lover of the limelight, Guisselle has always encouraged Mendoza to volunteer and get involved.
"I don't like the word religious, but it was this love and appreciation of God and what he instills," Mendoza says. "Public servant: that's what my grandma was. It's everything – everything is just trying to show gratitude."
Mendoza's love for her community doesn't end at the boundaries of northwest Ohio, however. She's an avid traveler and has visited more than a dozen countries; her top three include United Arab Emirates, Cuba and Ireland. A major perk of her new job, too, is domestic travel, and she's gotten to see newly beloved cities like Charleston, Tampa and San Diego. Her appreciation for Toledo only grows with every city she visits.
"Toledo has given me these opportunities – you have all these avenues here," she says. "Whatever your goal is and your target is, you're going to find it here. There's just so much happening."
For now, Mendoza is happy to live here in Toledo with her two Maltese dogs, Coco and Luna, and now a year into her job with the federal government, she looks forward to growing and thriving in her role. Now settled in her career, she looks forward to stepping up her involvement in community work once again. After all, one of the great things about Toledo, she says, is its flexibility and willingness to accept you at whatever point you're at.
"It's just such a diverse community that it's like, whatever you're trying to do, even if you're still getting your footing or growing and building as an organization or business, Toledo is just kind of this perfect place to be able to learn and grow," Mendoza says. "So I feel like places that start here, they're going to grow up and be chains in other cities, and it'll be like, oh, your hometown is Toledo. … It's pretty cool because you're kind of a part of it."
And for those considering a move to northwest Ohio, go for it, Mendoza says.
"You can do these things and, honestly, you can probably do them better and cheaper here. … It always kind of makes me proud," she says. "Toledo is somewhere you want to be."