In the Limelight

—
Jason Kucsma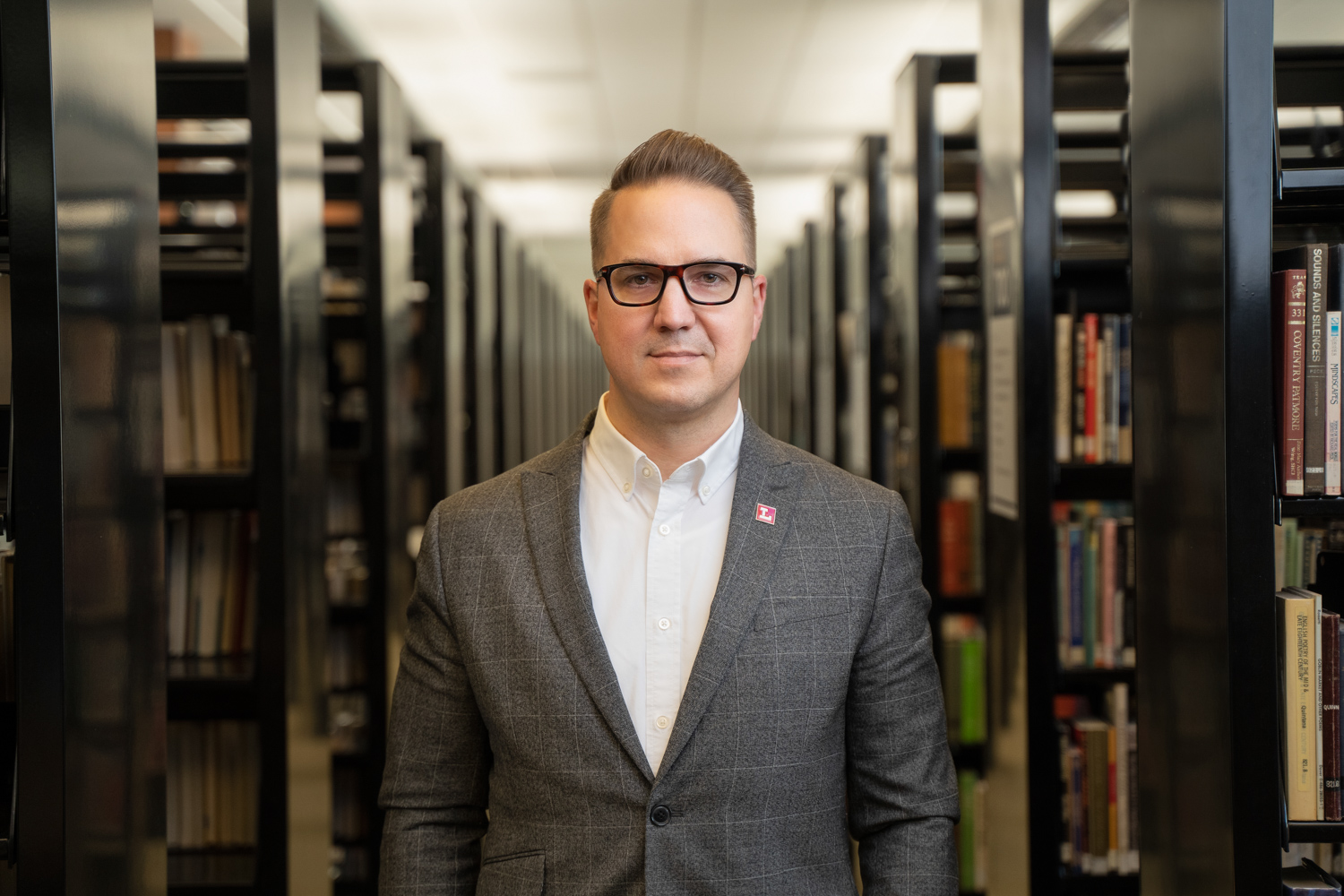 Jason Kucsma's roots in Toledo inform the decisions he makes now
Jason Kucsma is an advocate for keeping Toledo interesting.
When he first arrived to the Toledo Region from his hometown of Willoughby, outside of Cleveland, to pursue his undergraduate degree from Bowling Green State University for communications, the city looked quite a bit different than it looks today. While he was pursuing his master's degree in American culture studies at BGSU, he founded an independent magazine, Clamor, billed as "your DIY guide to everyday revolution," and a nonprofit organization called Allied Media Projects, which brought together independent media makers to share resources and skills and still exists today in Detroit.
Kucsma, at the time sporting pink hair, stretched ears and a lip ring, wouldn't know that he was building a foundation in the town where he would soon raise his children. But first, Kucsma would take a few detours.
He met his girlfriend, Megan Plesea, and the pair headed to Tucson, Arizona, each to pursue a graduate degree in library science. Then, they were off to New York City, where they would stay for almost a decade.
"It's a great city to live in, so much to do," Kucsma says. "But at some point, we realized that we weren't taking advantage of all the things that made us want to move to the city, because we were working so much, trying to save money. It's a very expensive place to live."
Then, in October 2014, Kucsma got a call from a recruiter asking if he might be interested in the deputy director position at the Toledo Lucas County Public Library. He and Plesea, now married, didn't take long to decide. While they enjoyed New York, they now had infant twins and were living in an 800-square-foot apartment in Brooklyn.
"Having met my wife here and knowing the quality of life in the region and the cost of living, and knowing how great this library system is – all those factors really played into this," Kucsma says. "So, we're like, yeah, that's a pretty easy decision coming back to Ohio."
The Kucsma-Plesea family moved back to the Toledo Region, more specifically Sylvania, which gave them the walkability they had in Brooklyn and a tight-knit community. While they were away, they found, northwest Ohio had grown – but it hadn't lost its original charm.
Kucsma looked different, too. He was now a husband and a dad, his pink hair had faded and he no longer wore a lip ring. But he hasn't lost his willingness to speak up or the desire to bring positive change to his community – now he's simply doing it in a suit and tie.
"I have a background in punk rock, independent publishing. I love the weird stuff, that's the stuff that I think is really important for the fabric of this region," Kucsma says. "How do we grow in a way that still honors the creativeness or the creativity, the weirdness, the local identity of different neighborhoods, holding those still in high regard?"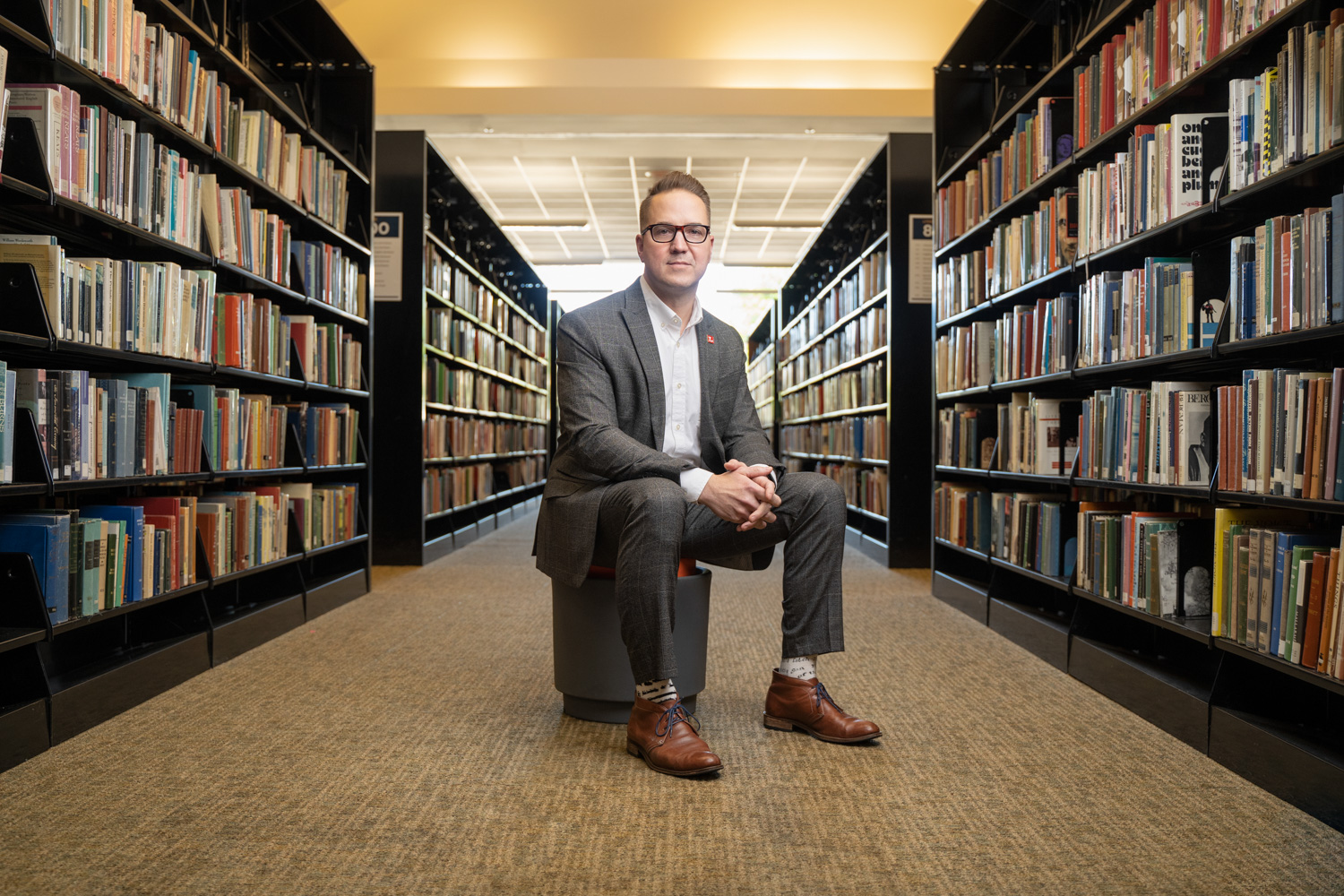 In 2019, Kucsma was appointed the role of executive director of the TLCPL following the sudden and unexpected death of Clyde Scoles, who had held the position since 1985. Then, months later, COVID-19 brought the world to a halt. Kucsma and his team had a goal of making the library the place for northwest Ohioans to think of first when they thought of connecting with others, expanding their horizons, and even applying for a job or benefits. Now, in 2022, the library is finally able to refocus its sights.
"We've been in crisis mode here as an organization to some extent since the beginning of 2019," Kucsma says. "It's nice to finally be in a spot where we're kind of thinking about where we're going to be in the next four or five years as opposed to what's in front of us right now."
Kucsma is highly collaborative, and immediately got immersed back into the community after he and Plesea returned. Particularly rewarding is his role as co-chair of the Toledo Area Cultural Leaders, an informal group comprised of leaders from many of the quality of life organizations in the region, including the Toledo Zoo and Aquarium, Metroparks Toledo, Imagination Station, Toledo Symphony Orchestra, the Arts Commission, and Toledo Opera, among others around the Toledo Region.
"It creates a space for collaboration," says Kucsma. "That's really important, and I don't think exists in a lot of other cities, where those organizations potentially would be competing with each other or whatever, but actually having us collaborate or giving us space to collaborate."
Kucsma also serves on the boards of ConnecToledo and Mercy Health. Considering his schedule, it's doubly impressive that the library executive director speeds through two books per week.
"I think I've been really fortunate in my career, and I've been able to have a lot of great opportunities, and so being able to serve on those boards and to offer my talents in other ways outside of the work that I've been doing, I feel like it's an obligation," he says. "Working on the boards is a way for me to give back to the community in a way that's closely aligned with the work that I do here."
Kucsma says the access to leaders in the Toledo Region is unmatched in other cities. Here in northwest Ohio, Kucsma rubs elbows with regional leaders and changemakers, and that means being able to wield influence in his own right, too.
"That's one of the things that appeals to me, too, about being here, is that access to being able to affect change here is so much more attainable," Kucsma says. "I was in New York for almost a decade and I never got to have a conversation with the mayor in the same way that I can have a conversation with Wade (Kapszukiewicz) if I'm having issues that we want to deal with."
But when he's not offering his thoughts and collaborating with community leaders, he's exploring the Toledo Region with Plesea, communications coordinator for West Side Montessori School, and their 7-year-old twins, Aaron and Audrey, also known as the "bright stripes," a riff on rock duo The White Stripes. In the Kucsma-Plesea household, living in the Toledo Region is easy but quirky, and that's just how they like it.
"It was a part-time job living in a place like New York City. … I think there's a certain level of comfort (in the Toledo Region) that makes it easier to be more creative and think about other ways that you can help improve the community. You're not always struggling just to get to work," Kucsma says. "Yeah, I feel completely privileged to be here, and I just want to do my part to continue making this a great place to live."