In the Limelight

—
Joe Okos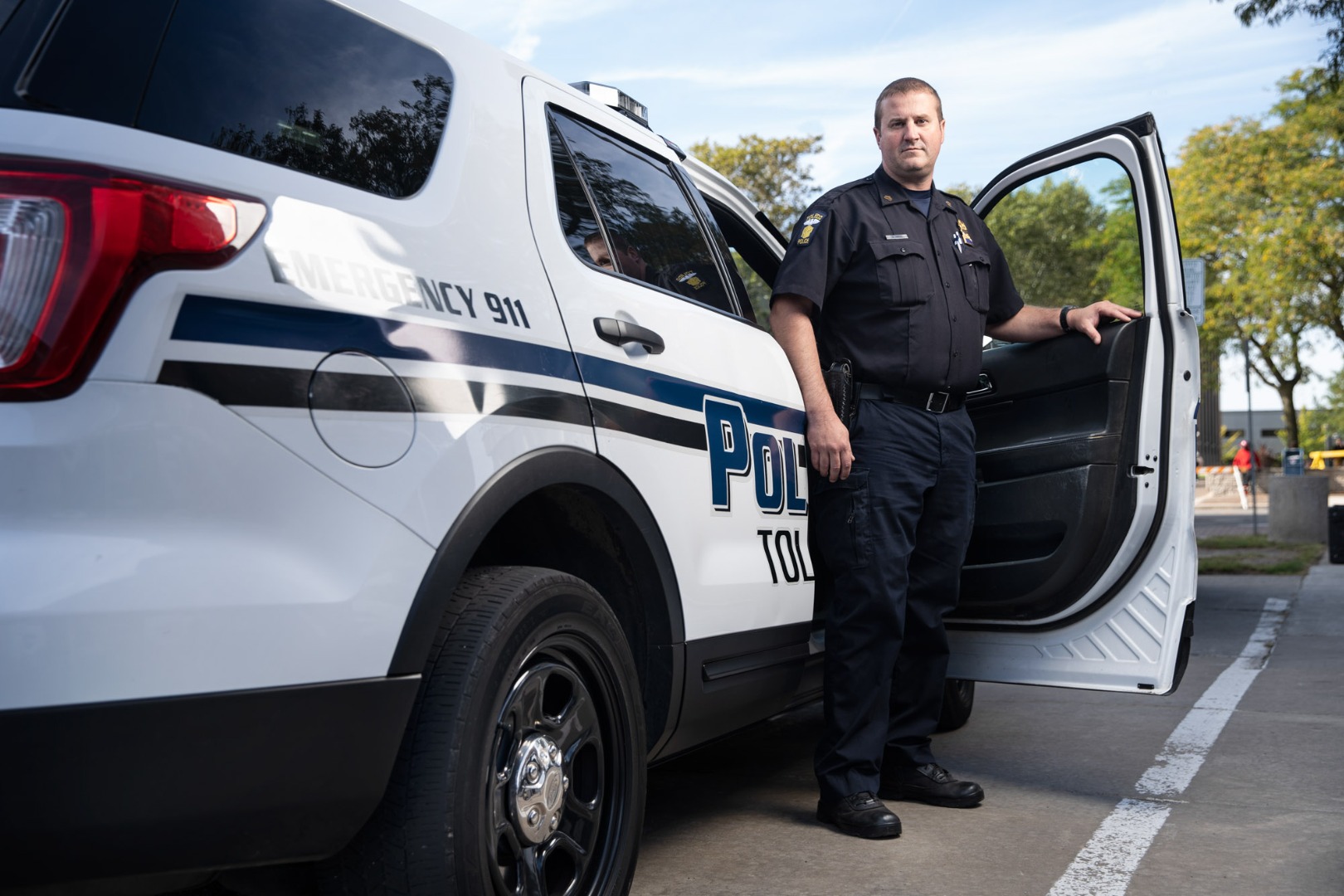 Joe Okos takes the phrase "protect and serve" to heart
City of Toledo Police Department's Sgt. Joe Okos was shopping with a child during his 12 Kids of Christmas event. The program, which he founded, pairs underserved children with police officers, firefighters and other service members, and they go shopping for holiday gifts the children might not get otherwise.
The shopping carts are typically filled with bright toys and gadgets: trucks, dolls, video games. But this time, one child had a different gift in mind.
She wanted a Christmas ham for her family.
"She'd never had a Christmas dinner. That one was…" Okos pauses, his voice shaking. "I pulled that money out of my pocket."
His philanthropic work doesn't end there. Okos also founded Project Hands Off, which educates children on what to do if they find a firearm. Charitable work comes naturally to Okos. His father, Joseph Okos, who passed in 2002, was also a Toledo police officer who cared deeply about his community.
"It's just my thing. I like to help. It's always been a part of my family," says Okos. "My dad actually spent a little bit of time in the Rosemary Cathedral orphanage when he was a kid, so we were raised to give back. So, we do our best."
Before returning to his birthplace, a 100-acre family farm in rural northwest Ohio, Okos spent 28 combined months overseas with the Marines. He bounced from Japan and Korea to Iraq and Kuwait, but coming back home to carry on his family's traditions – both in taking over the family farm and in his police work – was a relief. He met his now-wife, Amber, a Fremont native, and they had two kids: Joey, 12; and Juliet, 9.
"It's hard leaving your Marines, but I came back, I had a really good opportunity to get on the police department," Okos says. "It was time to move on to the next thing."
As for Operation Hands Off, Okos says, there's a disconnect in the community right now regarding common sense and firearms. Okos doesn't want to teach children that firearms are inherently evil, but to prepare them in the case that they stumble upon a weapon. The program is free of charge, and Okos estimates around 10,000 children have been through it.
Between his charitable organizations and work, on top of his kids being involved in sports, Okos admits he doesn't have much free time. However, when he does find some, Toledo is the perfect place to be.
"You can't beat the area; it's got a mix of everything I like to do. I like to hunt, I like to fish – I can get out and do all of that. I mean, everything. Our parks systems here are some of the best I've seen around," Okos says. "We have the Mud Hens in the summer, the Walleye in the winter; I get my kids out to those. There are a lot of craft breweries around here. I might dabble in those a little bit."
You might expect anyone who's spent 13 years as a police officer in a city to get cynical, but not Okos.
"Everybody is friendly here, everybody is approachable, very open-minded," says Okos. "I like to think we're open to other people and other ideas."
The northwest Ohio region is a great place to raise a family, he says, not just because it's affordable, but because of the amenities that surround residents.
"If you develop the mind to learn new things, then you're going to be a better learner. Around Toledo, you've got a lot of that," says Okos. "You've got the art museum, any of the sports venues. You've got outdoors with the parks and recreation stuff. You've got automotive, you've got a lot of engineering stuff around here."
Okos also mentions that he views the area as a great place to start a business thanks to the wealth of transportation options in the area, including the nearby Toledo Express Airport, Maumee River and rail shipping. Plus, there's a wide variety in consumers and local talent.
When asked about the future, Okos says he hopes to continue growing both Operation Hands Off and 12 Kids of Christmas. Though 12 Kids of Christmas has grown to about capacity in Toledo, he'd like to see it expand to other agencies and cities. He also dreams of what downtown might look like in another few years.
"It's almost starting to go back to what I picture the '50s as; open storefronts, eateries, places you can walk downtown to," Okos says. "I'd like our parks system to at least stay the same, if not grow larger. … Stuff like that to add to the quality of life around here and bring that level of money up for people."
When asked if he hopes one of his children will carry on the legacy of police work, Okos has a simple request.
"My big push for them is to go to college, get an education, find something they like. If his passion is digging ditches and hers is braiding ponytails, that's what you've got to do. It's a long life, you've got to be happy," says Okos. "The thing I always tell them is I earned my entire living on my shoulders. I want you to earn it on your brain."
To learn more about Operation Hands Off and 12 Kids of Christmas, visit Okos' Feet on the Street Facebook page @FOTS.org.