In the Limelight

—
Joshua Cooper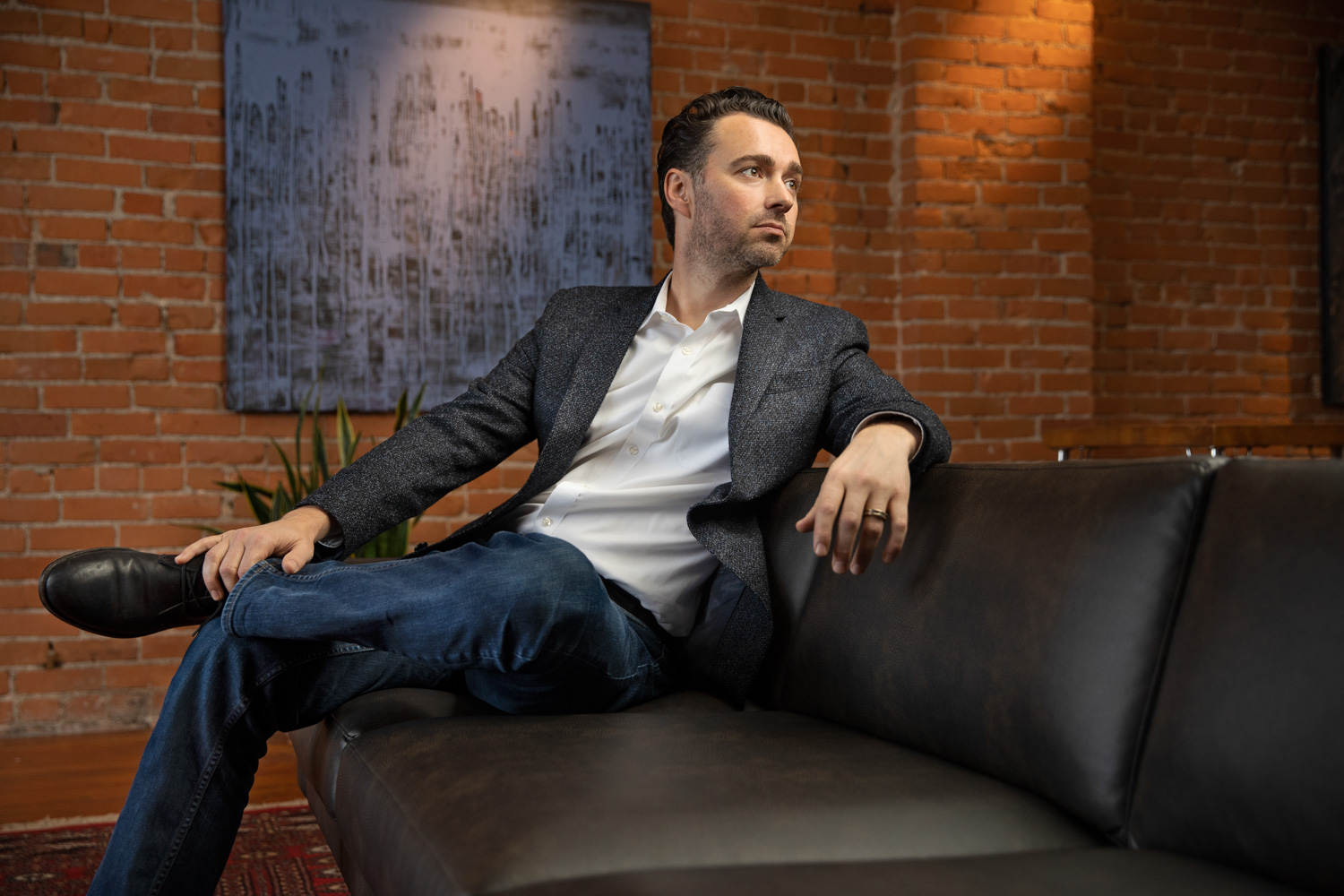 Toledo is the perfect home for Joshua Cooper, his family and his business
Joshua Cooper sits in his company's space on Adams Street. With a gray-clad kitchen, original hardwood floor, exposed brick walls and natural light, the newly renovated location is perfect for Whitelabel. The web development company offers a full suite of services to its clients, from building a strategy and designing a website to architecting, developing and supporting large scale enterprise applications. Extended reality, machine learning, blockchain; you name it.
And it all started here, in Cooper's hometown of Toledo.
The journey to Whitelabel was less a straight line and more of a zigzag – but Cooper wouldn't have it any other way. After graduating from the University of Toledo, Cooper headed out to Chicago to work as a headhunter. However, he felt no matter how well he did his job, he wasn't in control of his fate. To try something different, he applied to the UT College of Law and got a full scholarship. A sign, he thought. So, he returned home.
He completed law school, but then came a new problem: most of his work meant quietly writing at a desk. The environment wasn't suited for the very extroverted, active Cooper. On to the next venture.
With a team of other entrepreneurs, Cooper launched the social gifting app Givt. The company floundered, but it wasn't a total loss.
"We had built this really cool team, we really liked each other; it was a talented team. We failed for a lot of reasons, but it wasn't for lack of talent," Cooper says. "We said, you know, let's stay together and continue to build something new."
So, six years ago, Whitelabel was born. But they didn't want to make the same mistakes as last time; Whitelabel focuses on its employees as much as its clients by always evolving, which keeps employees engaged, learning and happy. And keeping its employees was important – they were good.
"We believe in the people here big time. There's a lot of smart people, and we've found, generationally speaking, there's a generation coming up that is really tech savvy that was born with the internet," Cooper says. "I would say a few of us have a bit of a chip on our shoulder, proving we can do what we're doing in Toledo and compete with agencies in New York City."
He credits that not just to his employees at Whitelabel, who come in and out of the newly renovated Adams Street space freely, working a few hours in the office here and there to get some face time with coworkers before heading home to work privately. Toledo and its culture right now have also helped him and his company succeed. Cooper is on the EPIC Toledo advisory council as well as on the board of the Toledo Area Small Business Association.
"If you want to meet someone in Toledo, you can. Ask around, you can get an introduction," Cooper says. "I quickly realized when I joined EPIC, there are a lot of people doing cool things here, and that was inspiring for me. It was just valuable to meet those people – it's turned into business. It's turned into new employees."
But it's not just Cooper's professional life that's thriving here in Toledo; it's his personal life, too. When asked what he's looking forward to most, his answer is simple yet surprising: right now.
"I want to freeze this moment in time," Cooper says. "Honestly, I'm looking forward to now. … Yeah, I'm excited about where Whitelabel's going, I'm excited about where the city's going. But I'm also just excited for Saturday, you know? I'm excited for today, frankly, to get in my email and do my work because I like it. I'm happy in the present."
Cooper mastered the art of Zillow soon after moving back to Toledo from Chicago, and has bought and sold three houses here since. He credits that to Toledo's extremely affordable real estate market, something his Iranian-born wife, Negar, was very attracted to as well. Negar and Cooper now live in their dream home, which sits on two-and-a-half acres of wooded land, with their 5-year-old son, Rassa, and newborn daughter, Sarva. For about half the year, Negar's parents travel from Tehran to live with the Coopers.
Their multigenerational arrangement is perfect, Cooper says, and he hopes more families will adopt the multigenerational model in the future. That's the most important thing in the city to him: his family. The culture here makes it easy to build a close one, and that's something Cooper can't imagine his life without.
"The thing that makes Toledo so great is the quality of life and the time we get to spend with our children. I'm not sitting in traffic for an hour to go home every day," he says. "For us, the lifestyle lends itself to be very present with your children. And I can't think of something that's more important for your kids than just being there."
But the Coopers don't have to be here in Toledo. Whitelabel employs plenty of folks all over the country, and Negar works remotely as well. However, they can't imagine living anywhere else. In fact, they outright refuse to. There's something here that the Coopers love being part of.
"The renaissance that's happening – the spirit of people participating in that. Seeing the buildings downtown be reestablished, seeing people take pride in the waterfront, the new parks opening. I mean, dude, our parks system is unbelievable," Cooper says. "But, at the end of the day, it's the people. Just quality, Midwestern people.
The community isn't just accepting to Joshua Cooper, native Toledoan. It's also been accepting to Joshua Cooper, partner of Whitelabel, as well. He says residents are always excited to welcome a new business, support local and encourage growth wherever they can.
"People are rooting for you here. People are excited for the momentum we've established, and I think in anybody's life, being part of a movement is something that's memorable," Cooper says. "We all want meaning and purpose in our lives. I feel like this generation that's making moves in Toledo does feel like they're part of something – a renaissance that's important, that's going to be impactful and, hopefully, help future generations."