In the Limelight

—
Kendra Smith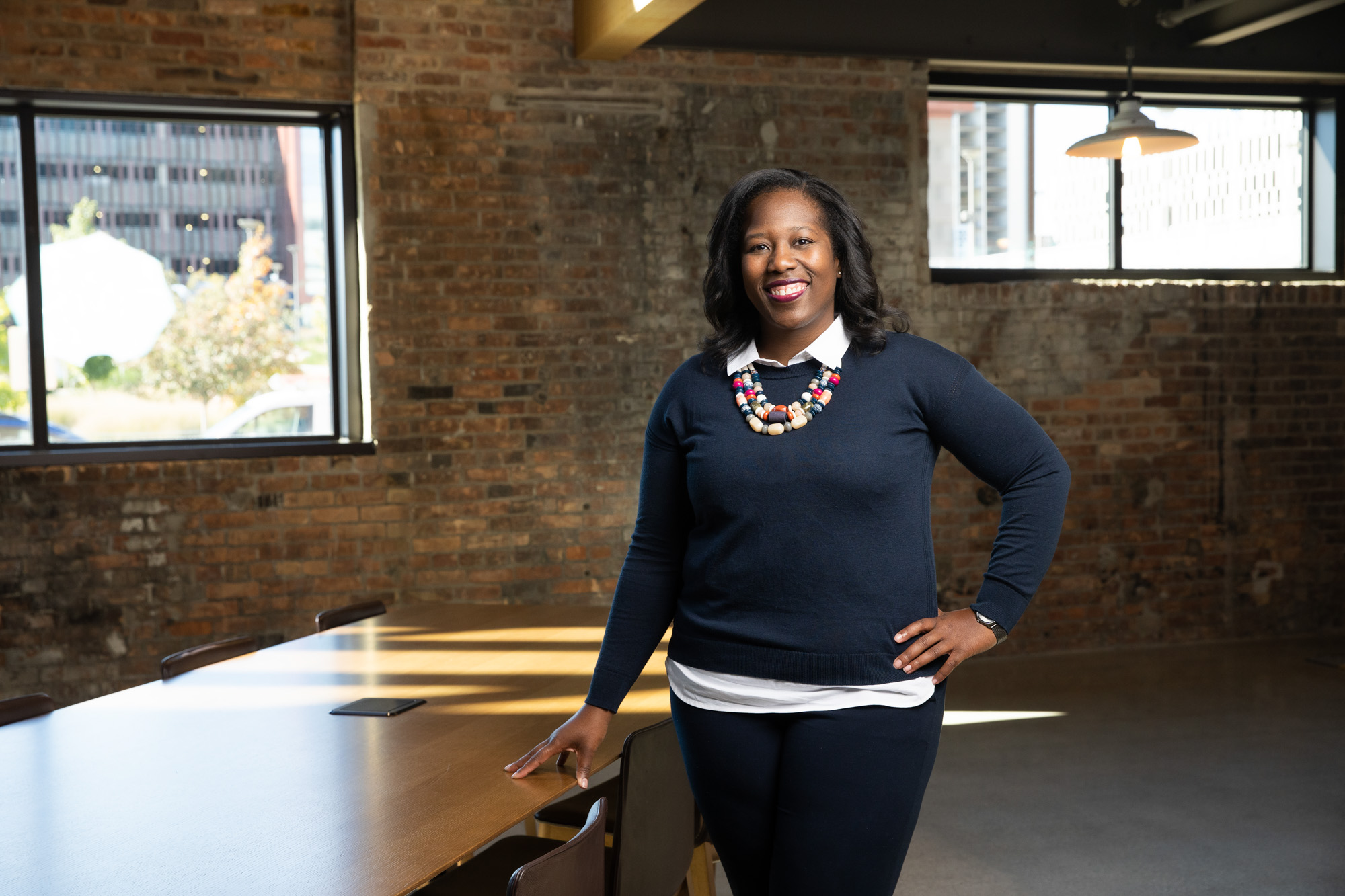 Kendra Smith cares about every neighborhood
We all know people who love to talk about themselves. No matter where the conversation turns, they will always find a way to steer the conversation back to them.
Then there are people like Kendra Smith of Bon Secours Mercy Health. Ask Smith a question about herself, and she will somehow turn the conversation to housing, her community and development. It's clear that Smith cares deeply about helping northwest Ohio grow and about providing a better future for the underserved.
Smith got her master's degree in urban studies and community development from Cleveland State University before moving to Chicago to work in real estate development and construction management. Her passion for helping build sustainable and affordable housing for families in need was born.
"I've been really fortunate that I found my love of community and neighborhoods really early," Smith says. "Planning does not always take into consideration the financial ramifications of what we're planning. It's very spatial, it's very structural."
Then, the Cleveland native got a call from the Toledo Museum of Art. They'd stumbled upon her resume, and were beginning to work on urban planning. Smith seemed like a perfect fit for the new initiative.
"I said, 'Toledo? I drive through Toledo on my way home from Chicago, but I can't promise you I've ever spent 15 minutes of my adult life in Toledo,'" says Smith. "I walked in (to the Toledo Art Museum) and I thought, 'Where am I again?'"
Smith, who says she's visited nearly every major art museum across the U.S. and Europe, was impressed.
"How cool is it that an art museum is forward-thinking enough that they want to bring somebody with an urban planning background in to help them think through how they want to become this really great anchor institution?" says Smith. "So I decided, 'Yeah. Let's do this.'"
After some time at the museum, Smith was given the opportunity to get back into housing and community work through Preferred Properties, a Toledo-based non-profit that develops affordable housing for people in need. Then, another opportunity came in at ProMedica's Social Determinants of Health, where she worked for over a year before another big name in the Toledo Region – Mercy Health – caught wind of her work. So, she accepted the role of vice president of community health there. In just a few short years, she was able to join major Toledo players as they made a real effort to connect all neighborhoods of Toledo.
"I'm in charge of creating new strategies, community health, social determinants and equity in Ohio and Kentucky markets, so I still have Toledo but also in Lorain, Youngstown, Lima, Springfield and Cincinnati," Smith says. "So, really, going from very micro neighborhoods all the way to a regional approach."
The role also addresses community health and wellness and prevention opportunities as well as the implementation of community health. She works to create social determinants partnerships and address health and equity throughout Ohio and Kentucky – but she never forgets about her neighborhoods.
"My mission always is, how do you take the best practices but also the hardest-learned lessons from various industries – from various levels of roles – and one, not just craft a journey that makes sense personally, but how do you use that journey to do the best you can for a community?" Smith says. "At the end of the day, these things are all interconnected, whether it's housing, arts and culture, these are all going into the betterment of a community."
From the Toledo Museum of Art to ProMedica and now to Mercy Health, Smith has been able to build a career that is both supportive of the community in which she lives as well as fulfilling – one that aligns with her personal goals.
"To have leadership that says hey, we understand the value of being on the ground in the community, and we're going to bring in a team of folks to be able to do that – it's been pretty great," she says. "I've been really fortunate to be able to do my passion with a different twist, and to continuously learn every day."
Smith has fully integrated herself into the fabric of Toledo. Not only does she work downtown, but through her role at Mercy Health she's been able to get out into the neighborhoods that she loves. She previously served on the board of the MLK Kitchen for the Poor, is a board member of the Rotary Club of Toledo and was recognized as one of Toledo's 20 Under 40 in 2017.
"Toledo for me has been – it was just professionally the best move I could have made," Smith says. "(I have been) able to navigate this non-profit landscape in Toledo in such a meaningful way, and in a way that has allowed me to see the impact of my work and my partners' work."
Smith is still young and, she says, she's involved in things now that she never imagined when she was living in Chicago. There are unique opportunities here in Toledo for young people, and she's a perfect example.
"You can have your first executive director job here because there's such a need for good people, and folks are willing to give you that shot on the job and figure it out," she says. "You have to take that first step somewhere, and that type of move for me was still 10 years down the road in Chicago."
Smith loves the opportunities Toledo has afforded her, but as vice president of community health at Mercy Health, she knows as well as anyone that there is still room for growth. Here, she says, it starts with the way we discuss northwest Ohio.
"I don't meet a neighborhood I don't love; neighborhoods are what I do. How do we, equitably across the board, talk about Toledo and the region?" she says. "It's always great to talk about downtown Toledo and all the fun things, but there are people who don't want to be within 10 feet of downtown anywhere. So how do you talk about rural communities, your suburban communities, across the board?"
Though her personal and professional lives are so integrated with one another, Smith loves to stay busy outside of her career and volunteerism. She travels frequently, naming trips to Cuba and Japan in past years. Traveling is a viable hobby, she says, thanks to the affordability of living in northwest Ohio.
"When your rent is $3,000 a month, let's be honest, you don't have the luxury to just plan multiple big vacations in a year. And that, for me, is just something that's really important – to just get out and travel," Smith says. "If somebody had said to me, 'You're going to be able to buy a house less than two years after being in a new place,' I'd be like, 'No, what are you talking about?'"
Now that Smith is about six months in to her job at Mercy Health, she looks forward to really digging in and continuing her work with community health. She always enjoys meeting new people in the region and connecting with like-minded residents. Smith encourages anyone considering a move to northwest Ohio to keep an open mind.
"Give it a shot, you'll really like it," she says. "I think you'll feel supported here and you'll feel encouraged, but you'll also feel empowered here. You can make that journey your own and have a lot of opportunity for success."