In the Limelight

—
Malena Caruso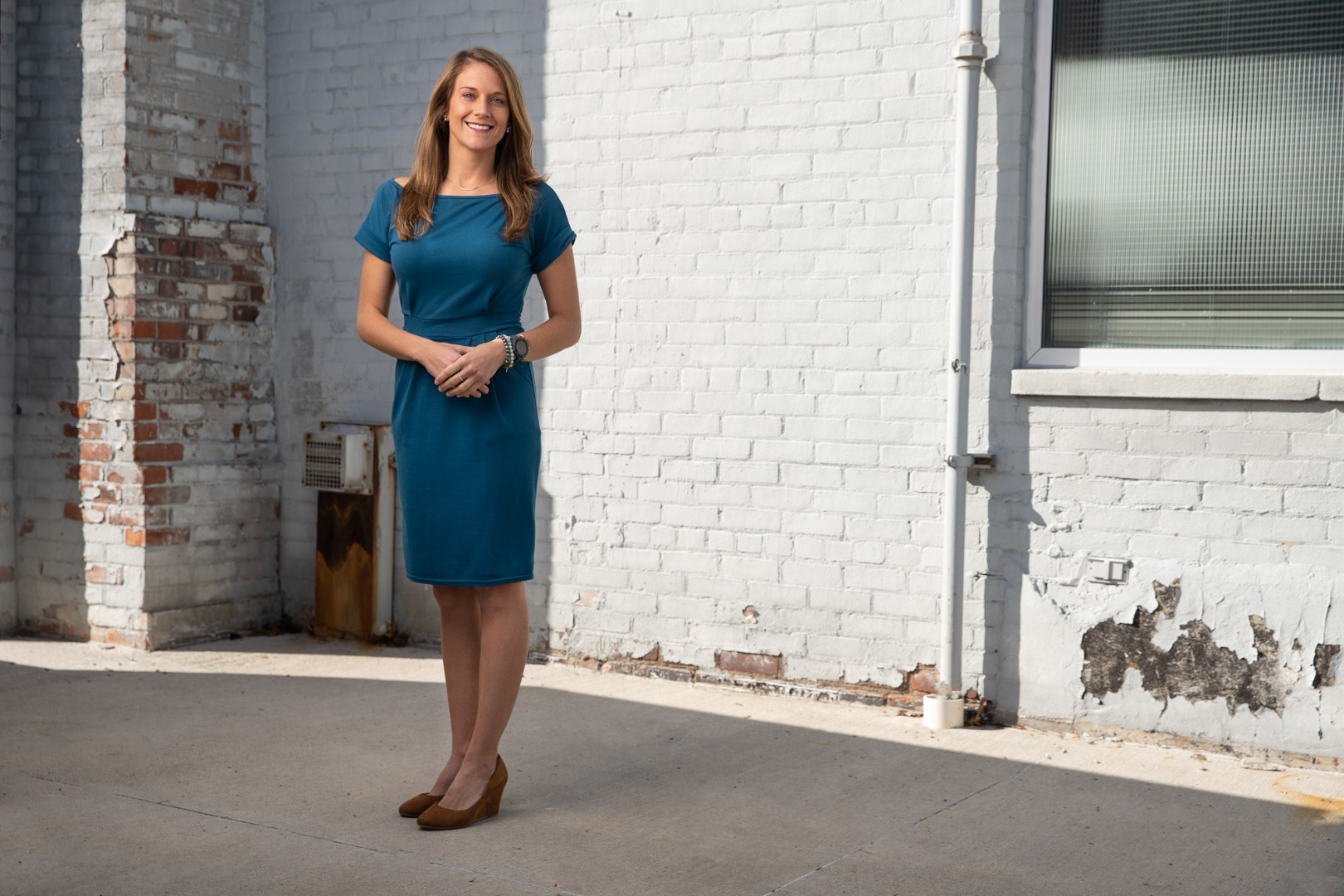 Malena Caruso's winding road brought her to Toledo
Toledo newcomers are frequently asked, "What brought you here?" For Malena Caruso, the answer is less of a straight line and more of a maze.
To put it as quickly as possible: Caruso is from North Canton outside of Akron. She attended the University of Kentucky with the intent to get into retail pharmacy. After her first year at UK, she transferred to Kent State University. Then, a friend mentioned off-hand to Caruso, a sports lover, that she should instead be a sideline reporter. So, she changed her major to journalism two years before graduation. The job brought her to Washington, D.C., where she worked for the Washington bureau of ABC News, working with ABC's owned-and-operated affiliate of 13abc here in Toledo.
Then, friend and mentor Michael Wilbon planted yet another idea in her head: go to graduate school. More specifically, go to grad school at the Medill School of Journalism at Northwestern University in Chicago. So, she did. Toledo became Caruso's "drive-by city," as it marked the halfway point between Chicago and her hometown. She wound up back in Washington after graduation and soon found herself on the phone with folks from 13abc. They wanted her to be on the air. So, Caruso decided to give her former drive-by city a shot.
Does that get us up to speed? Not yet.
A longtime lover of yoga, Caruso went through her yoga teaching certification during her time in Chicago. After roughly a year at 13abc in Toledo, Caruso decided to take time off from news to instead focus full-time on practicing and teaching yoga. Seemingly a trend in Caruso's life, she was contacted yet again, this time from a former 13abc boss who had moved to WTOL 11 and wanted her to come back to news. Again, she obliged and went back to news full-time in 2016.
A full-time job, however, wasn't quite enough for Caruso. So, on Oct. 12, 2017, her 30th birthday, Caruso opened the Toledo Asana Room with the intent to bring Ashtanga yoga to downtown Toledo.
After living in big cities for so long, Toledo felt like the perfect fit for Caruso's business and to put down roots for her new life.
"Being in Toledo, I was a bigger fish in a smaller pond. … I knew I could have an impact here because there was so much in its infancy," Caruso says. "There were so many ways to get involved to do things, and it really happened organically. And, truthfully, it really happened through yoga."
After teaching at 6 a.m. Monday through Friday for two years at the Toledo Asana Room, Caruso decided to close the studio space. Once again, she had received a call – this time from The Toledo Club – to run the yoga program there. She's now lead yoga instructor, and teaches Ashtanga yoga to members and non-members alike.
In order to widen the reach of Ashtanga yoga, she also teaches classes at the Sylvania Branch of the Toledo Lucas County Public Library, and for the past three years has run the Toledo Mud Hens' yoga program at Hensville Park on Saturdays during the summer, which is capped off every summer with Om in the Outfield at Fifth Third Field.
But her love of wellness doesn't end with yoga. She's also an avid runner and member of the Toledo Roadrunners. She completed her sixth marathon in November 2019.
Caruso thrives in times of change, and in August 2019, she moved from her on-air position at WTOL 11 to The Arts Commission's marketing coordinator. She's also a dedicated and involved member of the community, and serves on the board of Food for Thought, advisory board for EPIC Toledo and serves on the leadership team for the Leukemia and Lymphoma Society. In 2018, Caruso was one of the Women of the Year candidates for LLS, and she raised more than $35,000 for blood cancer research. On top of all that, Caruso established the Champions of Hope 5K, which is now an annual fundraiser for LLS.
Finally, we're up to speed.
Caruso lives her life by the philosophies of Ashtanga yoga, and wants to share those philosophies with others. She jokes, "yoga has made me a better Catholic."
"When you're a student of the practice, you also feel this commitment to the integrity of the practice and sharing it as true as you can to how it's been taught," Caruso says. "Knowledge not passed on is wasted. So, for me, it's about being able to share it, because if I can't share it with you, what's the purpose of knowing it?"
Being in Toledo, Caruso says, is the perfect place for her. She's close to family and the opportunities in Toledo are unmatched, especially for young people and business owners looking for ways to get involved.
"You have an opportunity to make an impact and, I think, if you're a business, when you're looking at quality of life for your employees, we have some of the best metro parks in the area, it's so easy to travel, great schools here and great people," says Caruso. "If you're a young person, come here. I did, and now I'm 32 and I'm able to say that I've kind of made an impact."
With her experience, network and dedication, Caruso could move anywhere she wants – it's no secret. However, she has chosen Toledo to be her home and the home of her yoga practice, and she has no plans to leave.
Caruso considers herself a connector; someone who sees the potential between people and can create a spark.
"I think there's such an influx of people moving downtown that I want to create more of a community, so that's kind of my goal; to use the studio and yoga practice for that," says Caruso. "I wouldn't mind raising kids here. I think it would be similar to where I grew up in North Canton."
Her goals and hopes for the future aren't just personal though. She looks to the future of Toledo and is excited to watch it continue to grow – and be part of that growth.
"I think we have the opportunity to be innovators in transportation and in environmental aspects. Like, let's be the first people to clean up Lake Erie. Let's be the first to create sustainable water – that's what I want to see," says Caruso. "I don't see risk, I just see opportunity. What is failure? The first time you do it."