In the Limelight

—
Nick Amrhein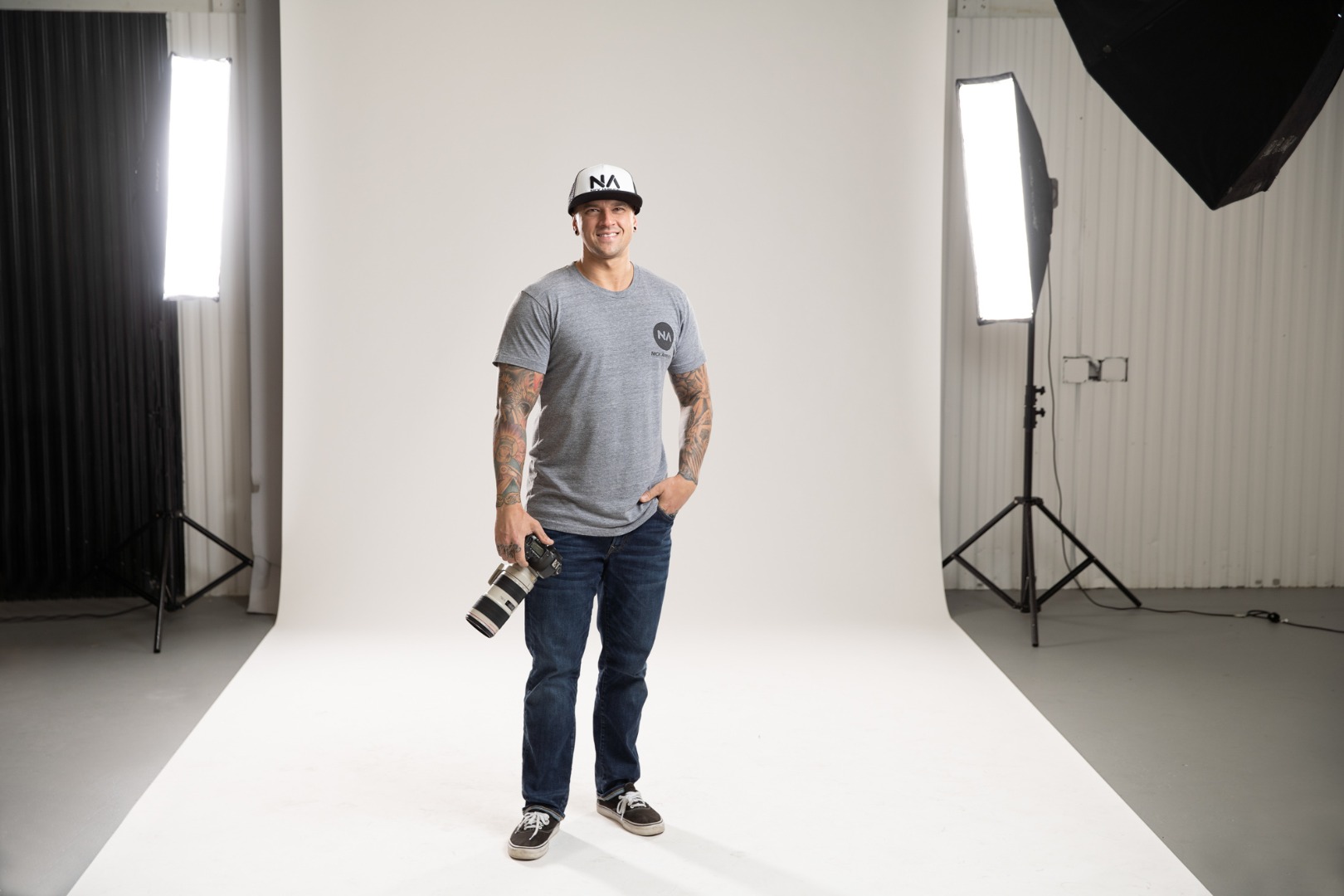 Nick Amrhein returns from LA to Toledo and rediscovers home
Nick Amrhein found his calling early. At just 15 years old, the Oregon native picked up a VHS camera and began filming himself and his friends as they rode from the east side, over the bridge and into downtown Toledo, "like little rats running the streets, skateboarding and filming each other with cameras," Amrhein says.
He knew his passion for photography and videography would take him far, and he knew he was destined for big things. He didn't know it then, but those big things would take place right here in northwest Ohio. But it didn't start out a fairy tale.
After graduating from Clay High School, Amrhein found himself, vomiting and sick, being rushed to the emergency room by a friend. His blood sugar levels were over 1,500 milligrams per deciliter – normal range is around 100. He was told that, had his friend not brought him in, he'd likely be dead. Amrhein was diagnosed with Type 1 diabetes.
"They were like, 'Here you go, this is a syringe and this is a vial of insulin, and you're going to be doing this for the rest of your life,'" Amrhein says. "I'm like, 'Oh my god.' It really woke me up. I'm ready to do something with my life, like, right now."
He decided there was no better time than now to fulfill his long-held dream of moving to California. So, with $1,500 in his pocket and a Honda Accord barely hanging on to its front bumper, Amrhein said goodbye to Toledo and set out for Los Angeles.
"I just kind of winged it. It was like, three of us in a one-bedroom apartment," he says. "One dude lived in the kitchen and me and the other dude split the bedroom. I lived with a pillow and blanket for the first year and lived off peanut butter and bread. I was 18, fresh, ready to go."
For about three years, Amrhein hustled for every job he got. He scored an internship and assisted photographers, met interesting people and experienced excitement, but never felt his big break was coming. Soon, he began to yearn for home.
"I missed the streets that you know, the businesses that you know, the people that you know," Amrhein says. "The bars where you can walk into the bar and see a friend and grab a drink – just the familiarity of everything. I really, really missed it."
So, Amrhein moved back to northwest Ohio, planning to work service jobs and take a break from the stress of running his own business. But Toledoans had other plans for him.
"When I came back, people were like, 'You're crazy, why did you come back?' … But at the same time, people respected it. What happened was people started asking me for my services," he says. "Wow, a lot of people are asking me for work. And I was like, let's just start. Let's start my business 100 percent and not work for the man."
He quit his side job and went all in on his business in 2010, saying yes to every job opportunity he got. Soon enough, he had too much work and too little time, and began to turn down jobs that didn't align with his goals. He focused chiefly on what he loved – commercial photography and videography – and was rewarded with even more work. He won the Toledo City Paper's Best Of award two years in a row, and finally felt like he was hitting his stride.
His dream had been to move far away, but now he can't imagine himself anywhere else.
"Toledo has kept me here because it's like, why would you give it up? I've been blessed," says Amrhein. "I don't really advertise, I don't go out of my way to try to find business. It just comes. And it's been coming for 10 years."
After living off of peanut butter and squeezing himself into a crowded apartment in LA, Amrhein was seeing Toledo through an entirely new lens. But it wasn't just his perception that had changed – the city itself had evolved, too.
"When I was a kid riding over from the east side on my skateboard to downtown, I remember it felt like a ghost town. Don't remember seeing a lot of people," Amrhein says. "It only clicked when I came back from LA and I was like, man, I really love this place. I can really call this place home. But growing up, it just never occurred to me."
Amrhein says Toledoans embraced him immediately after he returned from LA, and while he feels living and working in California legitimized him and his work, he feels that Toledoans supported him and gave him a shot in a big way. Thanks to Toledo's tight-knit community, Amrhein began receiving calls from new clients who had seen previous work and were interested in booking him, too.
"Toledo is a really cool place. It has a big city feel but it's a small community. It's not too big and not too small, it's just kind of like this perfect little hub of people, connections, businesses," he says, "and if I do a good job for a client, what's cool is this town is so small – but so big – it will get passed around. And it happens so many times."
Now 33, Amrhein enjoys skateboarding, his Harley-Davidson motorcycle and CrossFit. He competes in CrossFit whenever he can, and also finds fulfillment in donating his time to the American Advertising Federation. He also spends plenty of time with his girlfriend and his favorite studio assistant, his 5-year-old Chihuahua, Chopper. Now a decade into running his business, Amrhein is thriving right here in Toledo.
"It really just feels like Toledo has created its style and personality," Amrhein says, "and it really feels like you can say you're proud of Toledo and the people here."
Learn more about Nick Amrhein at nickamrhein.com.