In the Limelight

—
Nicole Khoury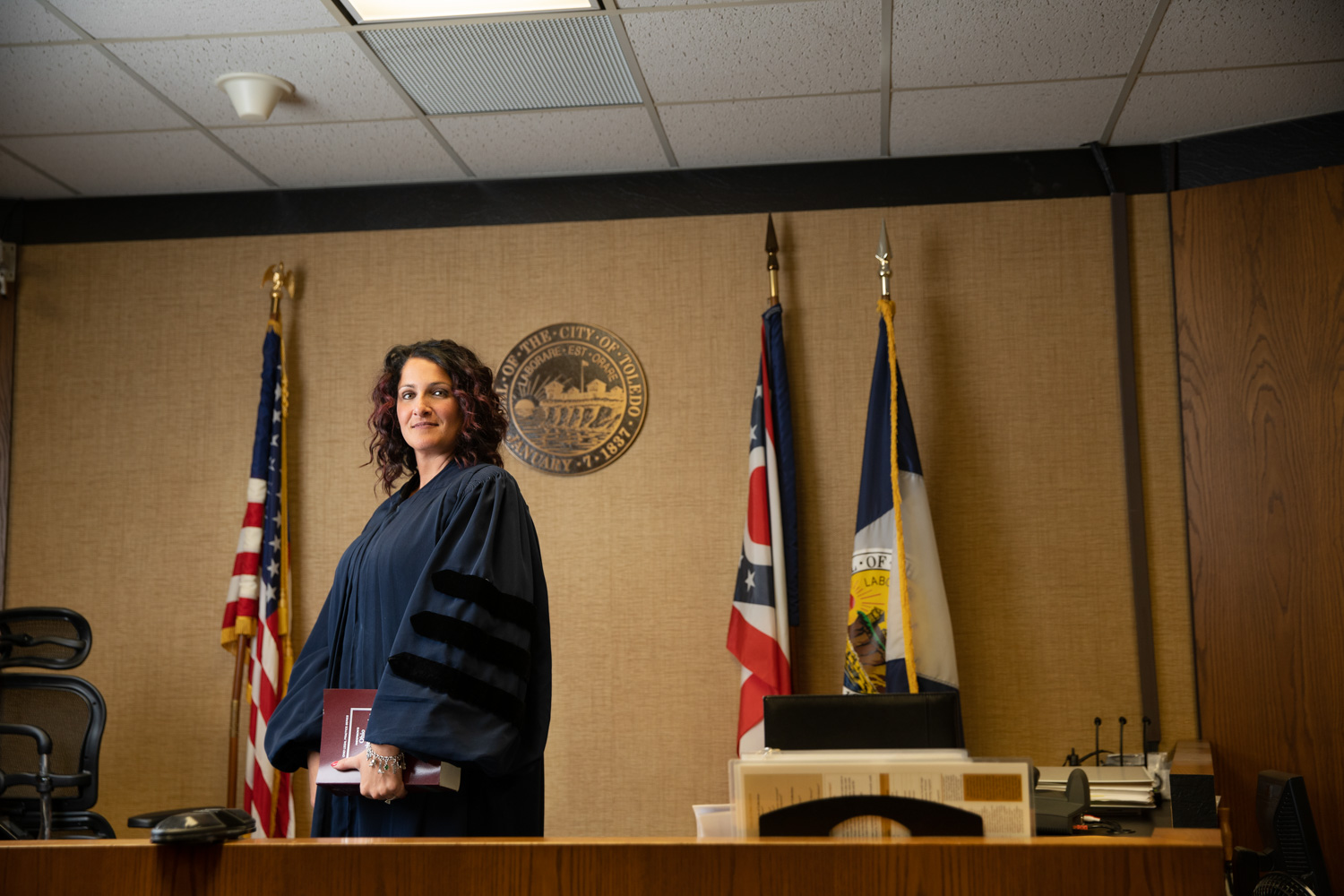 Nicole Khoury makes a difference whether holding a guitar or a gavel
All over northwest Ohio, you can find people who are working to make the region better. Not better in the sense that residents can do more downtown or have more events to fill their weekends, but better in the sense of becoming a more compassionate, welcoming place to live.
One of those people is Toledo Municipal Court Judge Nicole Khoury.
Khoury was born and raised in the South End. She left northwest Ohio briefly to attend Hillsdale College in Michigan, then came back to get her law degree at the University of Toledo. She initially thought she'd go into entertainment law, but after working with local criminal defense lawyer Alan Konop, she changed her course. After graduating from UT, she got to work immediately at the public defender's office.
"I think I would do well, you know, in a bigger city as well," Khoury says. "But I enjoy the size of the town we're in, and I enjoy being able to affect a broader scope of people. When you're in a town that's a nice size like this, but not too overwhelming, you're able to make a bigger impact on your community."
After running a campaign focused on positivity, Khoury's term began in January 2018. However, her seat at the Municipal Court is just one part of what makes Khoury an important part of the Toledo community. At the end of the day, she exchanges the bench for a stage.
Khoury's entire family is musically gifted, and she began playing the piano at age 4. During her law school days, she began to play gigs with friend Jon Barile. That turned into regular acoustic gigs, which snowballed into the founding of rock cover band Arctic Clam in 2010. Frontwoman Khoury plays guitar and sings.
"I'm able to do a lot of different things and wear a lot of different hats, and I think a lot of that is attributed to this town," Khoury says.
Through music, Khoury found a way to give back. In 2008, Khoury founded Project iAm, which has distributed more than $215,000 to local families affected by autism. With it came Acoustics for Autism, an annual music festival to support Project iAm.
"I saw a need in our community to help individual families and not just focus on the providers of the resources for autism," Khoury says. "So, using my talents as a musician and the unbelievably giving music community that we have, we were able to organize our first Acoustics for Autism, and it just snowballed from there."
The first Acoustics for Autism brought 13 bands to The Village Idiot from noon to midnight. In 2019, the 12th annual iteration hosted 68 bands across seven stages, and the event has brought in acts like Joan Jett and Parliament-Funkadelic. While Khoury has had to step back from fundraising and promoting for the event due to her responsibilities as judge, she still helps in any way she can. Her husband and fellow Arctic Clam member Scott Hayes took over event promotion.
While some may find the combination of rock 'n' roll and the court system to be strange, Khoury says, Toledo gives its residents the opportunity to get involved wherever they want.
"My whole life, I've really tried to help people, whether it's through charity work or the work as a public defender or just everyday helping other organizations. … I'm still able to do that in this role," Khoury says. "I love that I'm able to do everything that I'm able to do. You can create your own successes here – and your own failures, of course."
Though some may use a position with the Toledo Municipal Court as a stepping stone, Khoury says, that's not her. The work she does every day in the courts is personal, and part of her goal to help uplift the residents of northwest Ohio.
"I'm able to help people – everyday people – that have everyday problems, and watch their transformations one court date at a time," Khoury says. "If it's something as simple as having faith in them to get their license or getting someone clean from heroin, you get to see the progress up close and personally here. … I'm very, very, very happy with my job."
Khoury still lives in the South End, and is excited to see the changes happening not just in downtown Toledo, but throughout northwest Ohio. That means, whatever you envision your future to be, you can do it here in Toledo. And you can do it affordably.
"You can tell people are interested in revitalizing downtown. Downtown is doing great, but I would also say we've got some great little nooks and crannies of neighborhoods, and you can raise a family here as well," Khoury says. "You can make your own path here and follow it. Your life is what you make it."
You can catch Khoury either in the courtroom or as part of Arctic Clam in one of the bars or venues around northwest Ohio. You can check out the band's schedule on its Facebook page @ArcticClam. But no matter where Khoury's musical and law journey take her, Toledo will always be home.
"Right now I am, for the first time in my life, at complete peace with where I'm at," Khoury says. "I have a great home, I have a great job, I have an amazing husband. I have a great life, and I wouldn't change anything about it."