In the Limelight

—
Sara Swisher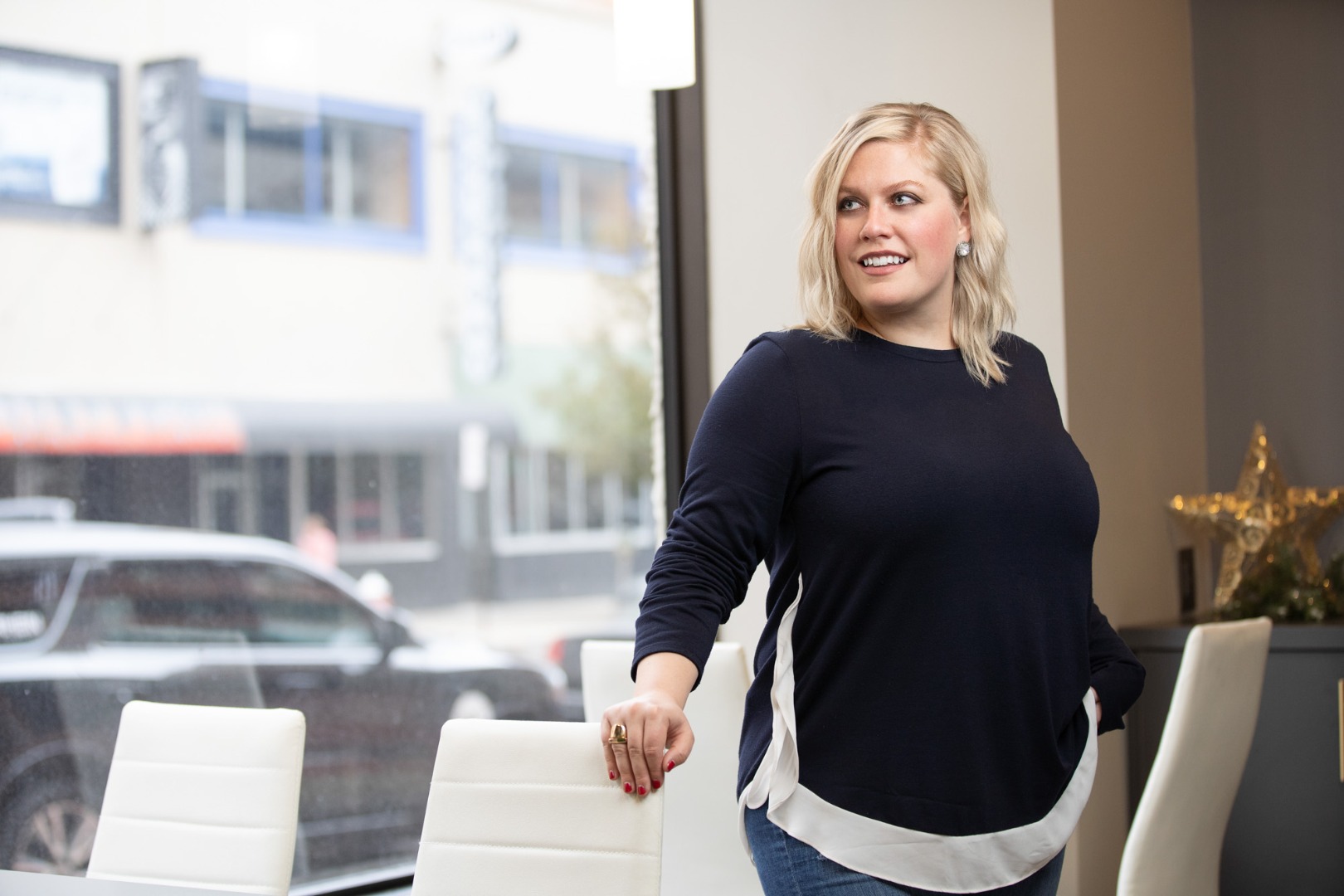 Sara Swisher finds meaning in her position with the Chamber
Sara Swisher lives by the idea that there is no I in team. Swisher grew up in Bowling Green, a tight-knit city that shuts down for major festivals and community gatherings. Though she ended up at Bowling Green State University as a theater major and a dance minor, she was always interested in learning how she could become an outspoken advocate for her community – wherever that may be.
Swisher had a brief stint in Nashville after college, before she moved back to her hometown. While working as a manager of a local restaurant, one of Swisher's servers mentioned she might be a good fit for a job opening nearby at the Toledo Regional Chamber of Commerce.
"When I heard this role was at the Chamber, it just seemed like it had a cool energy around it. You're attracting, retaining, developing people who want to be here; people who want to grow here," says Swisher. "It just seemed like such a cool fit."
She started the job in 2013, and moved from Bowling Green to downtown Toledo a couple years later. Though she had performed at the Valentine Theatre and was familiar with downtown Toledo to a certain extent, when it came time to move here, she began to see it through a different lens.
"A lot was happening downtown. There was a boost in new restaurants and breweries, the energy was just on the upswing," Swisher says. "That was something I wanted to be part of, so I ended up moving downtown. I got to walk to work, I got to walk to meetings. I got to be a part of this growth and revitalization that was going on."
Seven years later, Swisher is vice president of talent and workforce at the chamber. She's still passionate about downtown, and bought a home just a few minutes outside of town in West Toledo. In just a handful of years, Swisher says, northwest Ohio and downtown specifically have seen a staggering amount of change.
Swisher recalls the first time she went to check out the apartment she would eventually move to, and meeting her mom downtown. Her mom pulled into an empty lot on the corner of Monroe and Washington, and as Swisher got into her mom's car, she told her mom: take note.
"I said, 'They just announced that they're building Hensville Park here,'" Swisher says. "To be able to sit in that parking lot then, and now I'm going to a concert there tonight, it's just incredible to watch how far it's come in five years. It really is."
While her role with the Chamber has offered her plenty of opportunities to be part of that change, Swisher has taken an even more active role in the community in her personal life, too. She serves on the boards of the Great Lakes Collaborative for Autism, the Toledo Zoo and Aquarium, ConnecToledo, and ProMedica Metropolitan Hospitals. She's just 32 years old, but she says northwest Ohio offers young professionals exceptional opportunities to get involved in leadership positions.
"I really feel that if you live in Toledo, you can lead here. Our community is really open to that," she says. "It's important to find things you connect with and you find are important. Then, just get involved and see where you can really help."
Northwest Ohio residents have the chance to be part of something exciting, Swisher says, not because of the region's size, but because of a renewed spirit of innovation and advancement.
"It's really something special to be able to say you're here right now and a part of that, because you literally feel like, every time you come to something downtown or in a neighborhood, you feel like you're contributing," she says. "It's just a really, really cool feeling to be in a big city but know you're part of building it."
It's not enough for Swisher to be part of that change and work within the city, however. She feels that it's important for northwest Ohio residents to combat negative – and often misled – views of the region through the way they live their lives. She says a recent Chamber campaign, which highlights the region's changes, is really shedding light on what living here is actually like.
"Those of us who are living this life, we have to show people this is what it is," Swisher says. "That imagery, that brand, shows the life that I feel like I live here, and that's just something I want to share with others. Like, this is what I connect with, and this is what I feel like I'm experiencing."
Thanks to the region's affordability, Swisher is able to do what she loves most: travel. In the last few years, she's visited Barcelona and Italy, and she'll be going to Egypt in spring. She also enjoys Toledo's wealth of restaurants, especially her favorite spot, Kengo Sushi and Yakitori. She also loves spending time with her schnauzer, Bailey.
Swisher says she identifies strongly with being a millennial; particularly the idea that millennials find meaning in what they do. Spend any amount of time talking with Swisher, and it's clear that she's found meaning in her position with the Chamber. Last year, Swisher was recognized with the national Association of Chamber of Commerce Executives' 2019 40 Under 40 award. When asked what the award meant to her, Swisher credits the team that surrounds her.
"To be recognized in our industry for what we're doing here in the community, I think that's just really, really cool," Swisher says. "It just makes me want to continue to work harder, strive more to make an impact, to make this the best place that we can."
As she continues to grow in her role – and be part of the growth in northwest Ohio – Swisher wants to bring more people to the region and show them what's happening here. She says the northwest Ohio community is welcoming, excited to show newcomers what it's got and connect them to the resources that are here. But, at the end of the day, Swisher is simply enjoying her job and being a part of Toledo's evolution.
"I want my passion to be my work and I want to feel like I'm part of something that's bigger than myself," Swisher says. "That's how I want to spend my time and live my life."