In the Limelight

—
Tom Van Wingen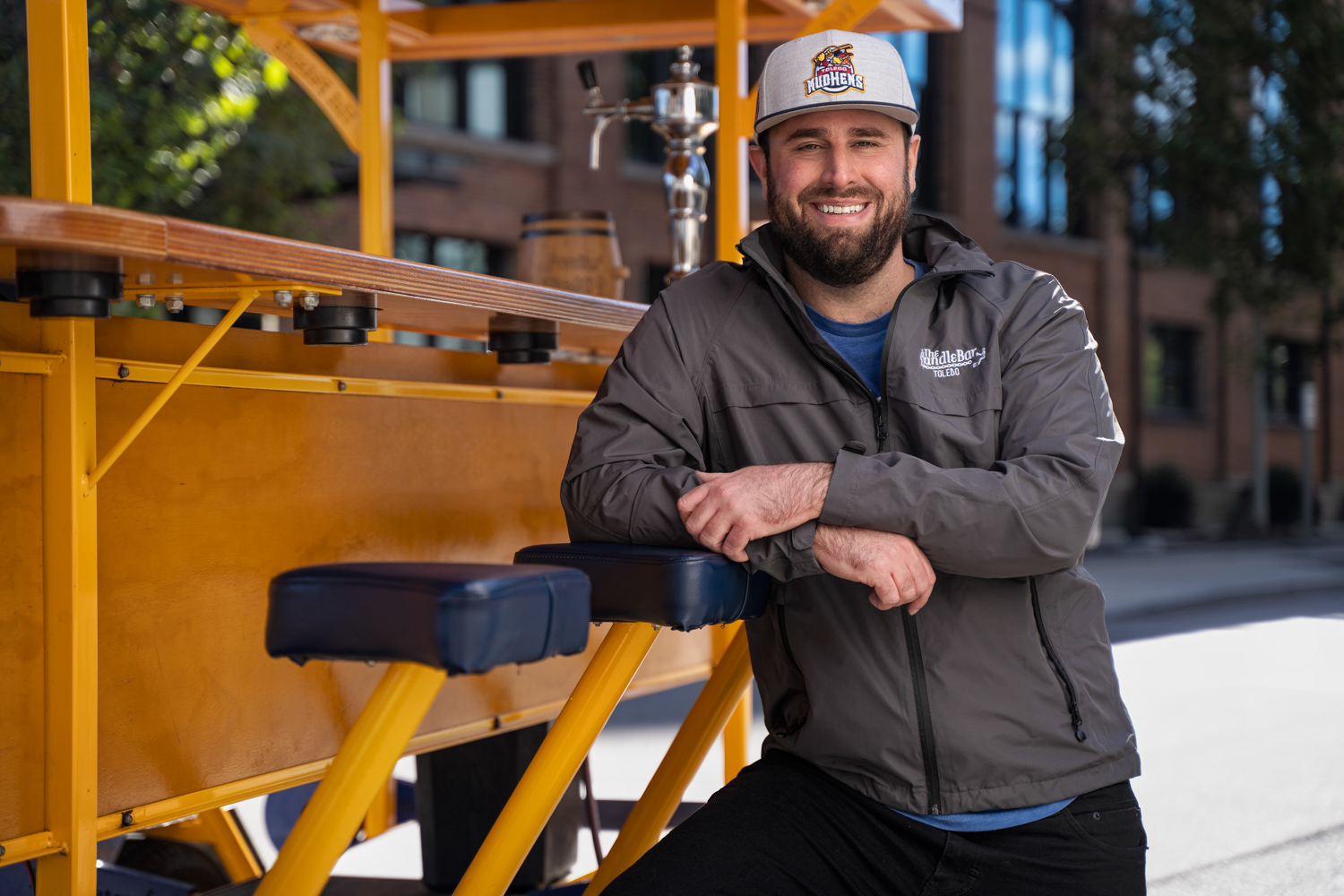 Tom Van Wingen shows off the fun in the Toledo Region
While Tom Van Wingen was making great money working for a consulting firm in Detroit, mainly in the field of medical device manufacturing, he wasn't really in love with what he was doing. He was spending most of his days working with clients who, for the most part, weren't happy to be working with him.
"I was working with a lot of clients who weren't happy to be doing what they were doing, or weren't even happy to be working with you as a consultant," says Van Wingen. "Even though I didn't really love what I was doing, I was making money. It's hard to step away, but you have to prioritize yourself. It took me a few years to realize that."
So, with enough money saved to sustain him for a year, Van Wingen left his job. He was living in Detroit at the time and hooked up with his friends, Stephen and Brian Lindsay. The brothers had started The HandleBar, a pedal pub business, in Indianapolis in 2012. They'd found success in the business, and four years after its inception they were looking to expand.
Van Wingen saw a great opportunity to get involved. In 2016, he helped the Lindsays start up The HandleBar in Detroit, working as their first employee there. Van Wingen was hooked by the concept; what could be better than pedaling around an exciting city with happy strangers as they drank, enjoyed a beautiful day outside and simply had fun? Soon, he was looking for new ways to get involved, and that culminated in finding a new market for The HandleBar.
They identified Toledo as a city with potential; not only was it close enough to Detroit for Van Wingen to commute back and forth, its downtown is interesting, bustling with activity and offers diversity in businesses and neighborhoods.
"A big thing that helped make it work in Toledo – I always try to give the Adams Street crew credit here because, having several unique neighborhoods within a downtown, it makes it so a tour becomes something bigger than you even realize," Van Wingen says. "We take a lot of joy in showing people the less beaten paths."
The business took off quickly. While Van Wingen was initially commuting back and forth between Detroit and Toledo, he soon saw the high demand for a business like The HandleBar, and in 2017 uprooted his life in Michigan.
"We decided that without a doubt, Toledo made the most sense," he says. "Within a year of starting the company, I knew that Toledo was going to be where I was going to end up. … I sold my house and moved to downtown Toledo with my dog Jimmy."
Van Wingen became the majority owner and operator of The HandleBar Toledo. Despite being a Michigan native who was introducing an entirely new concept to the Toledo Region, the community was immediately on board.
"It's wonderful. This community embraced me and The HandleBar Toledo with open arms," he says. "The thing that was cool when we were starting, and still happens now, is people thank me for bringing this to Toledo, and I'm like, no, thank you for making this happen, you know?"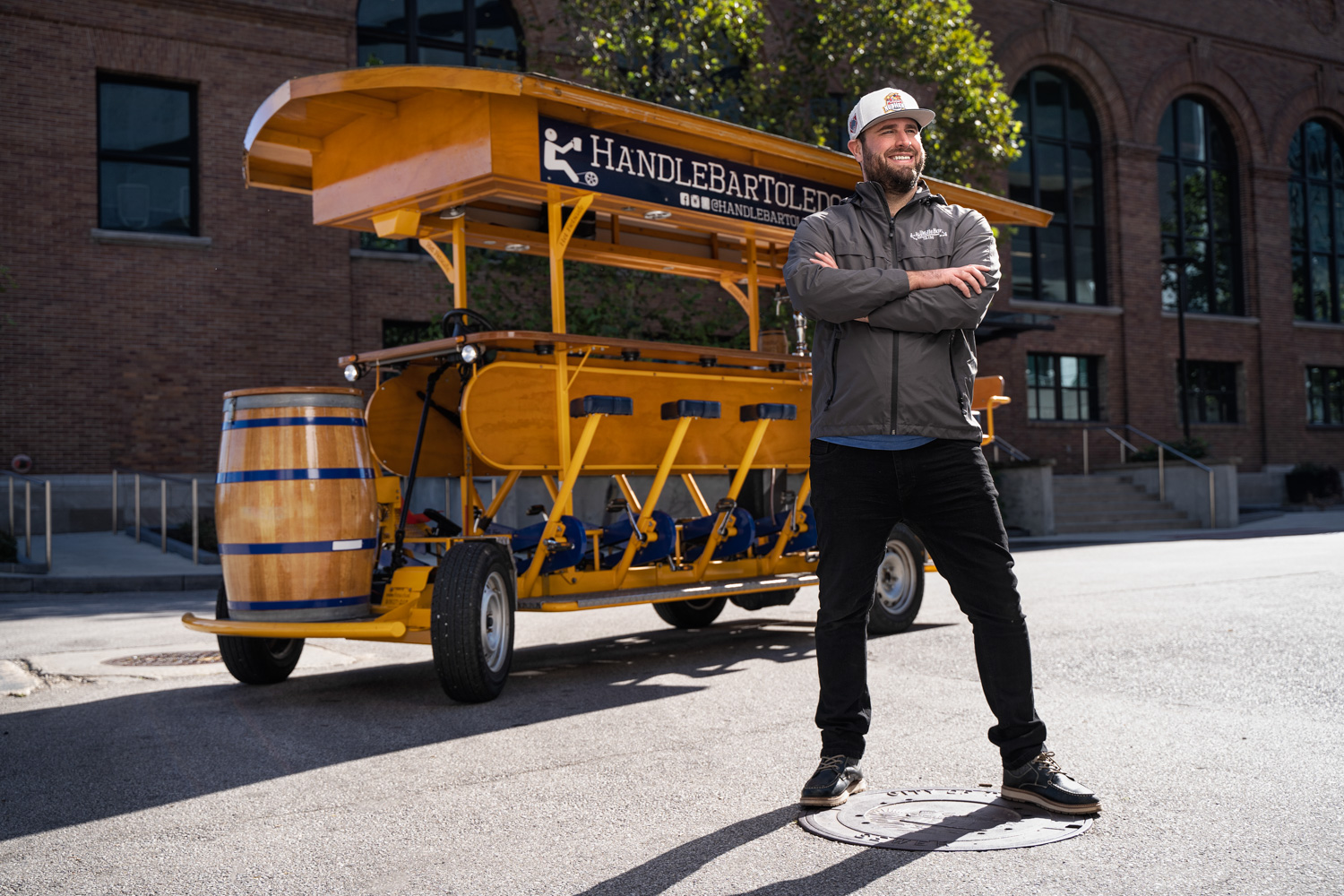 The Toledo transplant became an impromptu yet expert tour guide downtown. For two hours, strangers hop onto The HandleBar and take in the sights and sounds, wooing at passersby, singing happily and pedaling, drink in hand. There are always naysayers, Van Wingen says, but they're all won over soon enough.
"Everyone becomes a woo girl over the course of the tour. We've had plenty of skeptics climb on board and they say, I'm just kind of here because my wife's bringing me, whatever," Van Wingen says. "I just tell them, by the end of the tour you're gonna be having a blast. Just join the fun, keep an open mind. And, sure enough, they are woo girls themselves by the end of it."
Looking back just a few years ago, Van Wingen's life looked very different. Before moving to Detroit, he had lived in Ann Arbor, Chicago and Milwaukee, but because his job required a fair amount of travel, he didn't feel he was part of any of those communities.
"The biggest thing I was missing in my previous life in the engineering and consulting world was a connection with the community that I was working in," Van Wingen says. "I couldn't be a part of a volleyball team or a basketball team. Eventually, that kind of wears on you. Especially for me, being a part of a community is important and having a connection to the community you live in is important. The way that I figured out how to do that is with The HandleBar."
Van Wingen bought a house in west Toledo and spends his free time doing anything social and outside with his girlfriend, Katie Hart, a psychologist for the local school district. Here in the Toledo Region, Van Wingen has found the connection to his community that he longed for.
"I have great neighbors; I talk to my neighbors on either side every day. It's a neighborhood that has a combination of young families and the grandparents. You get a lot of families that have been in that area for generations and I can see why," he says. "There's so much to do here. There's so much diversity in what you can do, the food you can eat. It's got a lot of the benefits of a big city without the negatives of a big city."
Van Wingen says he loves the access to water that the Toledo Region provides, whether it's during a short trip out to Put-in-Bay or a boating excursion out on the Maumee River. He also gets out on the golf course when he can as well as heading to the Metroparks Toledo with Jimmy, Katie and Katie's dog. The only thing missing here, Van Wingen jokes, is an NBA team.
"That's a pipe dream, and I say that kind of jokingly because I don't feel like there's anything missing here. If I want to, I can go see my Detroit Pistons in under an hour. When I lived in Chicago, you couldn't get to a Bulls game in under an hour," Van Wingen says. "Whatever you're into, you can find it here in Toledo. We have a world class art museum, we have world class sporting in the Mud Hens and the Walleye and we have world class outdoor activities. … If you're a young person and you're looking to really build your own self up, this is a place you can do that."