In the Limelight

—
Zobaida Falah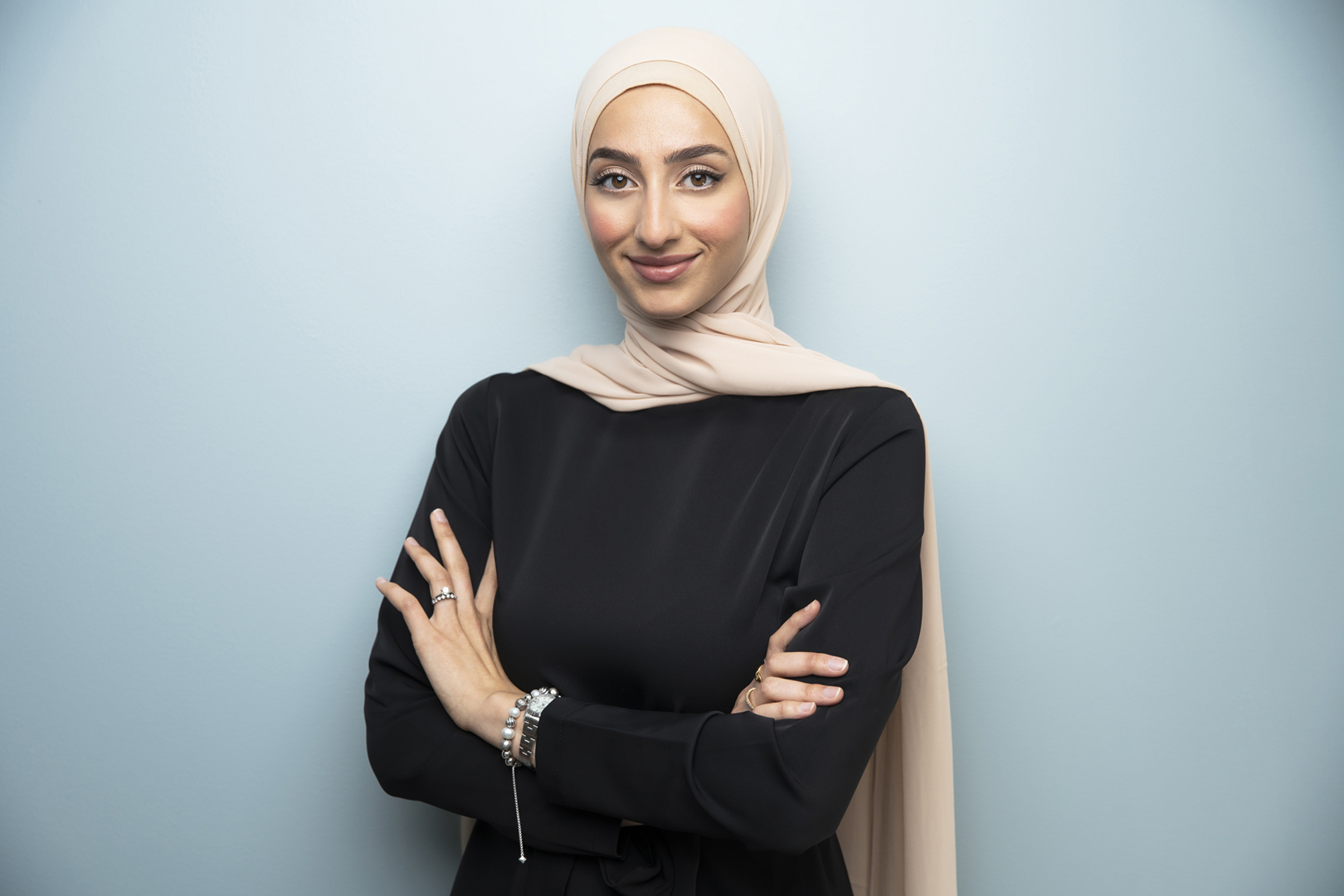 Zobaida Falah aims to cure the world through nutrition and empathy
An English and math teacher in Cincinnati, Zobaida Falah watched as her students ate cookies, chips and soda through class. They were just 13 and 14 years old. She was baffled. These were pivotal developmental years in their lives – shouldn't they be eating healthier?
"They're like, 'Oh, well, healthy food just doesn't taste good,'" Falah says. "I think at that age they're programmed to think that. There's this whole societal stigma around 'healthy food tastes bad,' and I wanted to change that."
Falah, who worked as a real estate agent on the side, had an idea. She wouldn't tell anyone about it for a few years, but she began saving money, meeting with potential investors and building a brand. But creating a healthy snack wasn't enough. Falah needed to feel like she was making a real and positive impact through her work.
"I was unsatisfied living a privileged life, and I just felt so useless and I felt like I had no purpose in life," she says. "It was engrained in me at such an early age where you have to be so appreciative of what you have."
The idea was clear: create a nutritional snack bar that incorporated the black seed and donate one bar for every bar sold. However, while her family was all still in Cincinnati, she knew she'd soon be moving up to Toledo with her husband, Abdurrahman Mustapha. After moving to Toledo four years ago, she began volunteering at organizations such as Cherry Street Mission. Seeing the need for assistance in Toledo gave her the conviction to continue building the company privately before launching here in northwest Ohio. In fact, she was so private about her intention that she didn't tell her husband about the idea until after they married.
"When you're working on something, just keep it quiet and hustle on the low and launch when you're ready," she says. "That jump when I launched it took so much courage to say, 'Guys, for the last couple of years I've been working on this company.'"
In June 2016, Falah launched Cure, the result of years of planning, testing the recipe and shoring up the mission. She even changed how the almonds were chopped prior to launch so that recipients of her donated bars could easily chew them. Her diligence paid off, and the launch was a success. Falah soon found herself featured on Al Jazeera Media Network's current events channel AJ+. But why the black seed? The answer goes back to the days of the Prophet Muhammad.
"There's a saying by the Prophet Muhammad, peace be upon him, that the black seed is a cure for everything but death. And at first you're like, come on, it sounds absurd, right? But there's so much research done all across the world backing up that, oh, this seed can actually be a cure for many things," Falah says. "Hippocrates, the Greek physician, he spoke about its digestive benefits. People who don't even follow the Islamic faith follow the black seed."
Falah grew up eating her grandmother's recipe made with black seeds, honey, almonds and other spices; the inspiration for Cure's roasted almonds and honey bar. Cure now offers three flavors; roasted almonds and honey, coconut cashew, and peanut butter; as well as black seed oil and turmeric and black seed supplement capsules – all halal, all upholding her mission of providing healthy products created with the black seed.
Falah and her husband now have a 2-year-old daughter, Nusayba, and she feels northwest Ohio is the perfect place for both her business and her family. She loves how welcoming and accessible the area is to families in particular, and has always been able to find a private spot to calm her daughter or find a changing table. Plus, she says, people in Toledo are kind and she can always find something fun to do.
"I feel like everyone in Toledo is always willing to help," she says. "For me, it's fun to try new foods. I love coffee shops and downtown Toledo has awesome coffee shops. Everybody's so nice."
In addition to being a business owner and avid volunteer, Falah is a board member of Toledo Streets Newspaper, which is written and sold by Toledo residents who experience homelessness. Not only does it help its reporters to build invaluable skills, it provides them with jobs and a sense of stability.
"I'm very blessed to be a part of it," says Falah. "It's exactly in line with what I want to do."
When Falah isn't volunteering or running her business, you can find her traveling, golfing, at Purebarre or spending time with her family. However, Falah isn't the type of person who needs an escape from her job – it's what she loves to do, and finds fulfillment in. Even Nusayba loves her mother's goals, and enjoys helping her mom unbox and pass out bars. Falah hopes that, by watching her parents, Nusayba grows to learn the importance of giving back, too.
"I think empathy is something that's very lacking in this world," Falah says. "I don't understand, because everyone I meet has such strong empathy. But as a whole, where is it? I think about that all the time."
Falah looks forward to continuing to grow her business and her roots here in Toledo, and help others along the way. She's thankful for the support she's received both from the community and her family.
"I don't believe in self-made; I don't believe in the notion that you're 100 percent self-made," she says. "Everybody made you. You took some inspiration from everybody. I learned compassion from my mother and business from my father. Everybody had a part in it."
As a small business owner in Toledo, Falah hopes her mission inspires others to give back. After all, she says, giving back is how she's been able to find peace.
"Understand that this world is temporary. You're living for other people, to help other people; that's what I found happiness doing," she says. "What am I doing for the world? Even if it's not on a huge scale – millions of people don't have to know what you're doing. It's just what helps you sleep better at night."