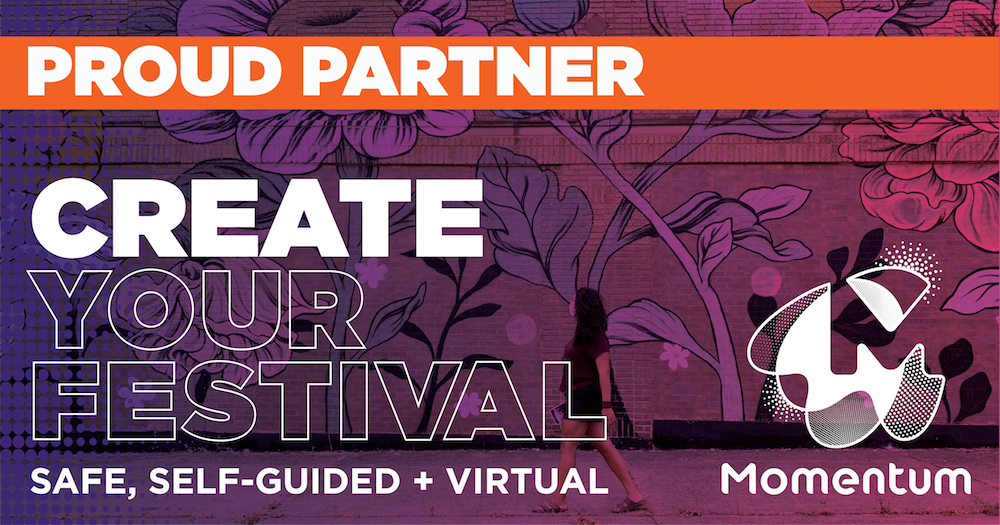 Momentum 2020: Staying Connected While Socially Distant
Momentum 2020 presented by The Arts Commission is in full swing through Oct. 23 with new pandemic-friendly programming.
In a year filled with uncertainties and unexpected challenges, one thing remains constant: the Toledo Region community is strong, and the Toledo Region is a great place to be. And through Oct. 23, with Momentum 2020 presented by The Arts Commission in full swing, the Toledo Region is an even more exciting place to live and visit.
Event organizers throughout the Toledo Region – and the world – have had to find creative ways to adapt to keep their eventgoers safe and healthy during the pandemic, and that wasn't a problem for The Arts Commission. After all, creativity is kind of their thing. Momentum, which is typically a three-day event centered on art and music in downtown Toledo, runs Sept. 17-Oct. 23, and features new Virtual and Discoverable programming to keep attendees engaged and socially distanced.
Guide yourself through the Discoverable activities, which focus on the exploration of downtown and uptown Toledo. You might just find something you've never seen before.
"The Toledo Region features loads of amenities, easy-to-navigate thoroughfares and beautiful natural landscapes," says Momentum Festival Manager for The Arts Commission Crystal Phelps. "Additionally, Toledo has a community of local businesses, non-profits and community institutions that embrace the spirit of collaboration. The Momentum Festival wouldn't be possible without all of these things!"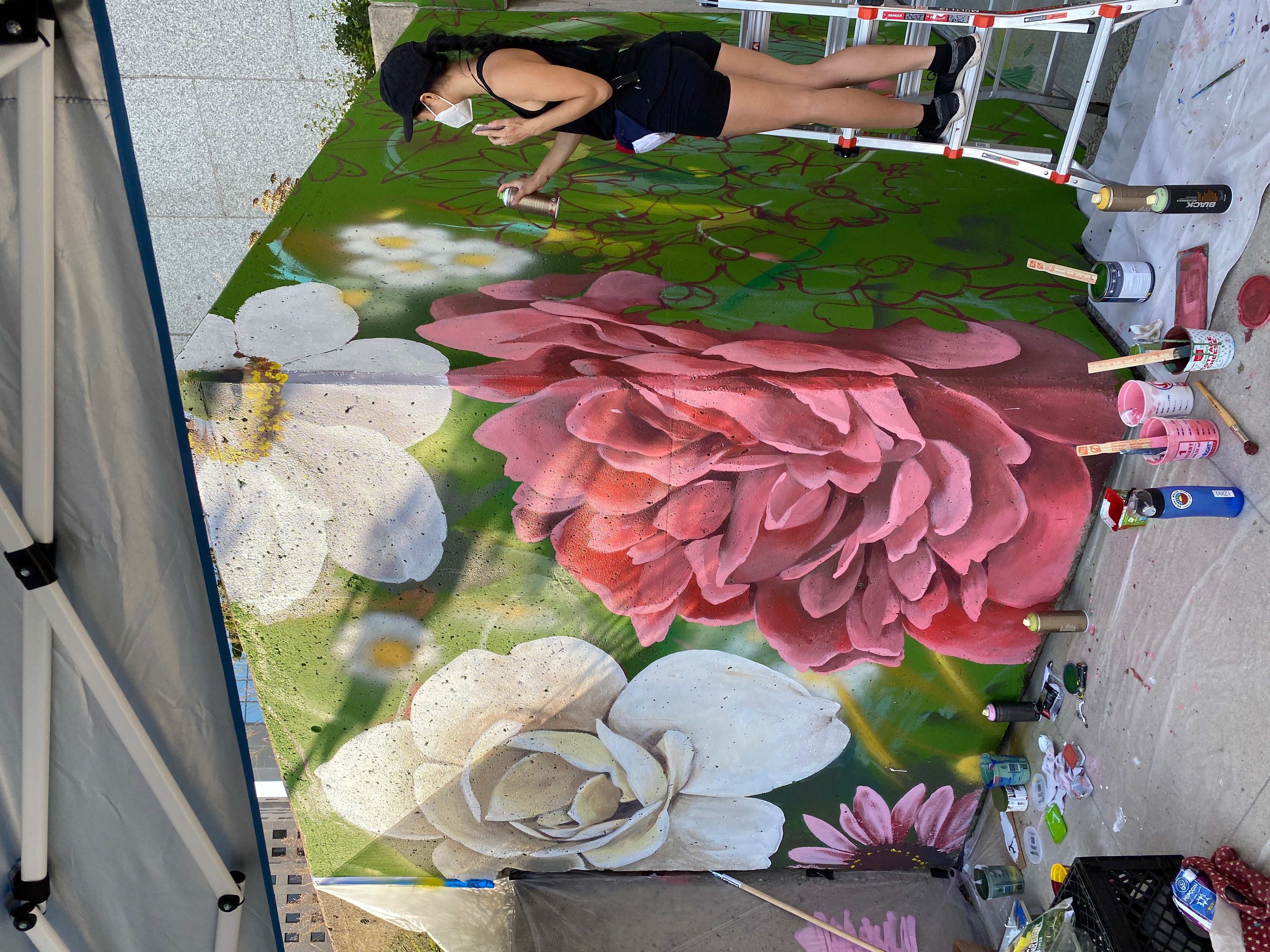 Engaging with local art and artists means engaging with the community, and during a pandemic that has left many of us feeling disconnected from our community and from one another, the Momentum Festival couldn't have come at a better time.
"Access to arts experiences provide an opportunity for folks to find joy in moments that might otherwise be overwhelmingly challenging," says Phelps. "Furthermore, exploration in this way (discoverable and suggested experiences for those that might have trouble deciding where to start) allows residents and visitors to reimagine the landscape of our city."
There's plenty to get excited about during this year's festival and, as always, Momentum is a treat for all five senses. From exploring the Toledo Region's public art and stepping into the Toledo Museum of Art to enjoying the coffee shops, restaurants and food trucks that make Toledo the foodie destination that it is, the festival is perfect for a date, a family trip or even a solo journey.
"I love the spirit of collaboration, connecting people and the increased personal communication that I'm experiencing in a time of disconnect and isolation. I am most looking forward to following along with folks discovering and engaging in the programming via social media," says Phelps. "The Toledo Alphabet project by Graphite Design + Build is a real treat too. We are glowing with Toledo pride!"
Though connection to the arts and a sense of normalcy is on full display during the Momentum Festival alongside public art, The Arts Commission has worked hard to ensure attendees feel safe and comfortable.
"In previous years the Momentum festival has focused on critical mass over the course of three days," Phelps says. "Now we are promoting safe and separate experiences that last over the course of five weeks – even longer if you choose to visit our website and archive of activities!"
A collaborative culture is strong here in the Toledo Region, and it's certainly clear to see throughout the Momentum Festival.
"The Momentum festival would not be possible without the support of our sponsors: ProMedica, Owens Corning, The University of Toledo, Huntington Bank, Buckeye Broadband, KeyBank National Association Trustee for the Walter E. Terhune Memorial Fund, NSG. Inc., Fifth Third Bank, Aly Sterling Philanthropy, The National Endowment for the Arts, and The Ohio Art Council," says Phelps. "Our partners and community organizations have embraced the spirit of collaboration during these unprecedented times. 2020 partners include: The Ability Center, Destination Toledo, Imagination Station, Market on the Green, Metroparks Toledo, the National Museum of the Great Lakes, Toledo Lucas County Public Libraries, Toledo Museum of Art, Toledo Opera, the University of Toledo's Black Theatre Ensemble, and Walter E. Terhune Art Gallery housed at Owens Community College."
To get started on your Momentum Festival journey and stay up to date on everything happening through Oct. 23, follow the festival on social media on Facebook at Momentum Toledo Festival, Instagram at @MomentumToledo or visit the website at momentumtoledo.org.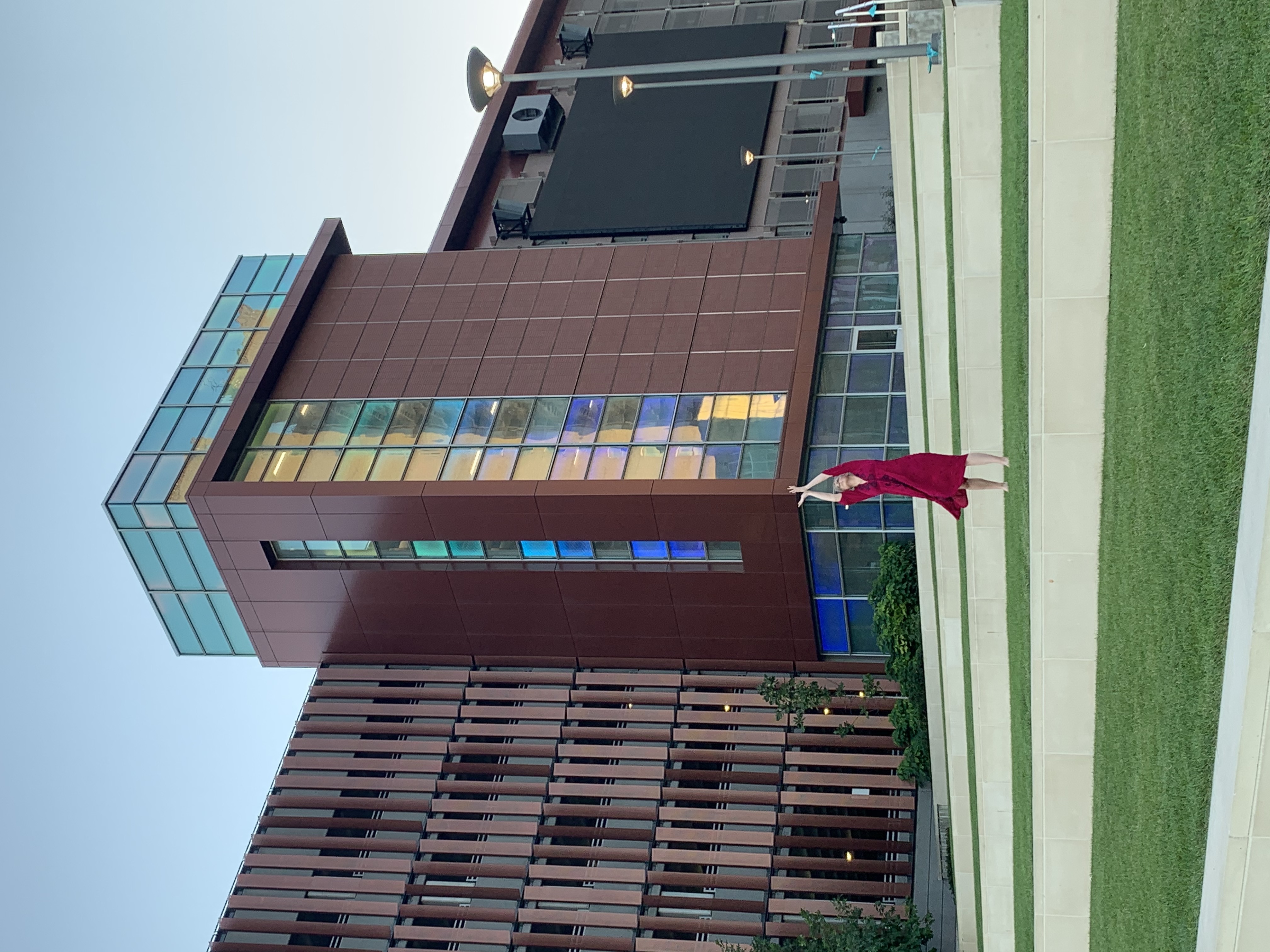 About the Virtual and Discoverable programming with Crystal Phelps, Momentum Festival Manager
Virtual programming
"Virtual programming is designed to promote artists and provide safe access to artwork. They will provide the opportunity to connect visual artists with sales opportunities and exhibitions and provide access to audiences for performing and literary artists. Virtual programming includes performances by Toledo Opera residents, a virtual artist market, an online variety show, theater performances and downloadable coloring pages!" – Crystal Phelps
Discoverable programming
"Discoverable programming is self-guided and promotes exploration of the downtown and uptown areas. They include exploration of existing public art infrastructure along with new projects and activities. Each of these discoverable elements falls under the umbrella of a Downtown Toledo Scavenger Hunt that folks can complete then be entered into a raffle for some fun local prizes!" – Crystal Phelps
Other initiatives from The Arts Commission
The fun doesn't start nor stop with the Momentum Festival, and The Arts Commission certainly hasn't missed a beat­­ when it comes to phenomenal arts programming, initiatives and events here in the Toledo Region. If you're still searching for exciting things to do, look no further.
The Art Loop: "The Art Loop team is working on a second release of the very popular "Art Box" which will be available for purchase online in November. It features art supplies and project suggestions by local artists," says Phelps.
Merit Award: Look out for the launch of the Merit Award application. The award recognizes "outstanding local literary, performing and visual artists, rewarding the many hours and personal resources each artist dedicates to their platform," Phelps says.
Art in Public Places: More projects are in the works for this program, and The Arts Commission will soon release a new Field Guide, which divides the collection into nine zones throughout the greater Toledo area so you can easily plan your Art in Public Places journey. An updated ABC's of Public Art book will also release later this year, helping to introduce your little ones to the public art that breathes life and creativity into the Toledo Region.
The Arts Commission is always rolling out new initiatives, programs and events, so don't miss out! Keep checking back to theartscommission.org or sign up for the newsletter.